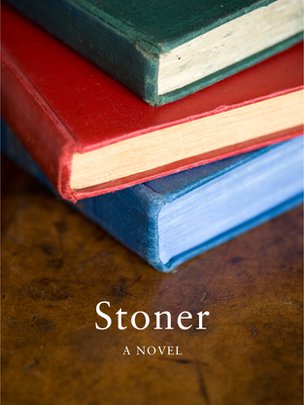 Yesterday I sang the praises of John Williams' overlooked 1965 novel Stoner. Today I summarize a recent New York Times review of the book that points out that the novel has a "profound faith in art." No wonder I loved it so much.
Analyzing the novel's staying power, reviewer Steve Almond writes,
[T]here is something distinct and thrillingly subversive in the resurgence of Stoner. I am no doubt overstating the case, as fanatics do, but I find it tremendously hopeful that Stoner is thriving in a world in which capitalist energies are so hellbent on distracting us from the necessary anguish of our inner lives. Stoner argues that we are measured ultimately by our capacity to face the truth of who we are in private moments, not by the burnishing of our public selves. It is, in other words, a searing condemnation of our current cultural moment—one that happens to have been written nearly 50 years ago.
As Almond sees it, Stoner is an antidote to our narcissistic celebrity culture. We have devolved, Almond says, from a society that values character to a society that values personality and performance:
To read the book today is to recognize how shallow our conception of the heroic has become. Americans worship athletes and moguls and movie stars, those who possess the glittering gifts we equate with worth and happiness. The stories that flash across our screens tend to be paeans to reckless ambition. We might be willing to watch a drama about a meek high-school science teacher, but only if he degenerates into a homicidal meth tycoon. Heck, even our literary memoirs have to tell a "larger than life" story to find a wide audience.
I'll note that Alexander Pope was complaining about something comparable in 1711 when he wrote Rape of the Lock so it's not an entirely new phenomenon. But the problem is still real and it probably means that, even as Stoner gains fans, it will never be widely read. The novel's protagonist is the antithesis of a headline grabbing personality:
As for William Stoner, he's the archetypal literary Everyman taken to the 10th power—a timid medievalist who spends his life amid ancient texts. He looks upon the university with sincere reverence, as a sanctuary for those who still believe in the world of ideas. Long before his retirement, he is regarded as a relic around campus. He would qualify as something closer to a fossil today.
Almond uses his review to take a number of potshots at our obsession with social media before hitting us with a zinger. First his attack:
Consider our nightly parade of prime-time talent shows and ginned-up documentaries in which chefs and pawnbrokers and bored housewives reinvent their private lives as theater.
And this is what the rest of us are up to, as well. Consider the growth industries in our tech sector: social-media companies like Facebook and Twitter, look-at-me apps like Instagram and Snapchat, content-sharing websites like YouTube and Pinterest that serve as founts of personal marketing. If you want to be among those who count, and you don't happen to be endowed with divine talents or a royal lineage, well then, make some noise. Put your wit—or your craft projects or your rants or your pranks—on public display.
Otherwise, you wind up like poor Stoner: a footnote in the great human story.
And now for Almond's zinger:
But aren't nearly all of us footnotes in the end? Don't the dreams we harbor eventually give way to the actuality of our lives.
As a fictional hero, William Stoner will have to dwell in obscurity forever. But that, too, is our destiny. Our most profound acts of virtue and vice, of heroism and villainy, will be known by only those closest to us and forgotten soon enough. Even our deepest feelings will, for the most part, lie concealed within the vault of our hearts. Much of the reason we construct garish fantasies of fame is to distract ourselves from these painful truths. We confess so much to so many, as if by these disclosures we might escape the terror of confronting our hidden selves.
If you buy Almond's account of our existential anguish, then you might appreciate why he sees Stoner as a redemptive work of art that is also about the redemptive power of art. While Stoner is repeatedly "forced to confront his own weakness, his limitations as a son and a father and husband and scholar," Almond observes that he nevertheless "refuses to turn away." This is what it means to lead a truly examined life, and it is what separates our greatest artists from the rest of us—and why we look to them for guidance and inspiration.
Stoner's reward for living an authentic life is a deathbed epiphany. Here's author John Williams in the novel's concluding pages:
There was a softness around him, and a languor crept upon his limbs. A sense of his own identity came upon him with a sudden force, and he felt the power of it. He was himself, and he knew what he had been.
To which Almost asks,
How many of us can say the same of ourselves?
Added observation – To follow a related line of thought, Stoner makes reference to the intensity with which World War II veterans sought out education after returning from the war. My father was one of these veterans, first at Carleton College and then at the University of Wisconsin, and he often talked about how special the time was. Here's Stoner's experience as a teacher of these students:
The years immediately following the end of the Second World War were the best years of his teaching; and they were in some ways the happiest years of his life. Veterans of that war descended upon the campus and transformed it, bringing to it a quality of life it had not had before, an intensity and turbulence that amounted to a transformation. He worked harder than he had ever worked; the students, strange in their maturity, were intensely serious and contemptuous of triviality. Innocent of fashion or custom, they came to their studies as Stoner dreamed that a student might—as if those studies were life itself and not specific means to specific ends. He knew that never, after these few years, would teaching be quite the same; and he committed himself to a happy state of exhaustion which he hoped might never end. He seldom thought of the past or the future, or of the disappointments and joys of either; he concentrated all the energies of which he was capable upon the moment of his work and hoped that he was at last defined by what he did.
Maybe I owe to my father my own conviction of literature's urgency.