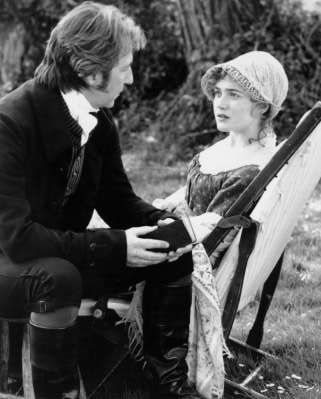 First of all, a happy birthday to Jane Austen (thanks to my mother for pointing this out).  Jane would have been 234 today.
My students have been bothered by the Marianne-Brandon marriage that concludes Jane Austen's Sense and Sensibility, and I'm inclined to agree with them.  Kat Vander Wende reasonably pointed out that the sought-after "magical happy ending" belongs more to Brandon than to Marianne.  After all, as a young man he loses the woman he loves to his brother (at the insistence of their father), and the resulting unhappy marriage leads to  her fleeing and ultimately dying in disgrace.  Marianne is Brandon's second chance.
But he is twice her age (37 to her 19), and there's a sense that youth should marry youth.  As Cat Holland noted (I have two Cats in the class), it's not as though Marianne has entirely found herself or established an independent identity when she gets married.  She's not like, say, Jane's Austen's Emma, who marries a father figure but acts independently and seems to know her own mind.  While not exactly forced to marry Brandon, a weakened Marianne seems to be acceding to gentle pressure from her mother and sister to make this advantageous match.  Here is how Austen puts it:
Mrs. Dashwood was acting on motives of policy as well as pleasure in the frequency of her visits at Delaford; for her wish of bringing Marianne and Colonel Brandon together was hardly less earnest, though rather more liberal than what John had expressed. It was now her darling object. Precious as was the company of her daughter to her, she desired nothing so much as to give up its constant enjoyment to her valued friend; and to see Marianne settled at the mansion-house was equally the wish of Edward and Elinor. They each felt his sorrows, and their own obligations, and Marianne, by general consent, was to be the reward of all.
With such a confederacy against her- with a knowledge so intimate of his goodness- with a conviction of his fond attachment to herself, which at last, though long after it was observable to everybody else- burst on her- what could she do?
So she marries him out of gratitude?  Austen almost seems to enjoy sairizing this 19-year-old who once seemed so sure she knew what was and was not acceptable in a husband. (Brandon definitely does not fit Marianne's original criteria.)  It's like telling your teenager daughter, "I told you so."
To be sure, Austen assures us that Marianne comes around.  However, the author tells us this rather than showing it.  In fact, one has the feeling that Marianne falls in love with the happiness she brings Brandon rather than with the man himself.  Here's the passage.
Colonel Brandon was now as happy as all those who best loved him believed he deserved to be: in Marianne he was consoled for every past affliction: his regard and her society restored his mind to animation, and his spirits to cheerfulness; and that Marianne found her own happiness in forming his, was equally the persuasion and delight of each observing friend. Marianne could never love by halves; and her whole heart became, in time, as much devoted to her husband as it had once been to Willoughby.
Is this a case of a woman learning to fall in love with her husband as though she were in an arranged marriage?  Such as occurs, say, with Ezra Pound's "River Merchant's Wife"?  Here's an excerpt from that poem:
At fourteen I married My Lord you.
I never laughed, being bashful.
Lowering my head, I looked at the wall.
Called to, a thousand times, I never looked back.
At fifteen I stopped scowling,
I desired my dust to be mingled with yours
Forever and forever and forever.
It is little wonder that Sense and Sensibility has never been as popular as Pride and Prejudice, which gives us a marriage that we celebrate with unalloyed pleasure.
But as I have grown older, I have come to appreciate what Austen does in Sense and Sensibility.  The first of her published works may be her most autumnal.  The world is a harsh place and women in the grip of passion get taken advantage of.  Marianne is fortunate that she does not end up like Brandon's ward Eliza (the illicit daughter of his former love), who is ruined by Willoughby.  If she had married Willoughby and then learned what he had done to Eliza, she would have been shattered.  Brandon at least has a number of positives.
It is not only the reader that is dissatisfied.  Even sensible Elinor feels a "pang for Willoughby."  She looks at him and sees lost promise.  Had he not been caught up in sensuality and self, his marriage with Marianne could have brilliant.  I think Austen has the same regret with Henry Crawford in her later novel Mansfield Park.
The sour taste we are left with (if that's what we have) can lead us to challenge the society and the behaviors that force Marianne to choose prudence over passion.  Years ago I remember a critic accusing Austen of being afraid of passionate romance and, essentially, killing off an exciting match.  "Marianne has been betrayed, and not by Willoughby," D. W. Harding writes in an essay entitled "Regulated Hatred in Jane Austen."  But I find Austen to be clear-eyed and pessimistic, not afraid at all.  She knows the world and knows the compromises that women have to make if they are to fashion acceptable lives for themselves. She doesn't have illusions about Marianne's choice but understands human nature well enough to know what it's capable of if left unchecked.  Marianne gets a good man and she lives, if not happily ever after, at least as well as can be expected.  We supposed to be disappointed and then we're supposed to learn how to live with our disappointment.