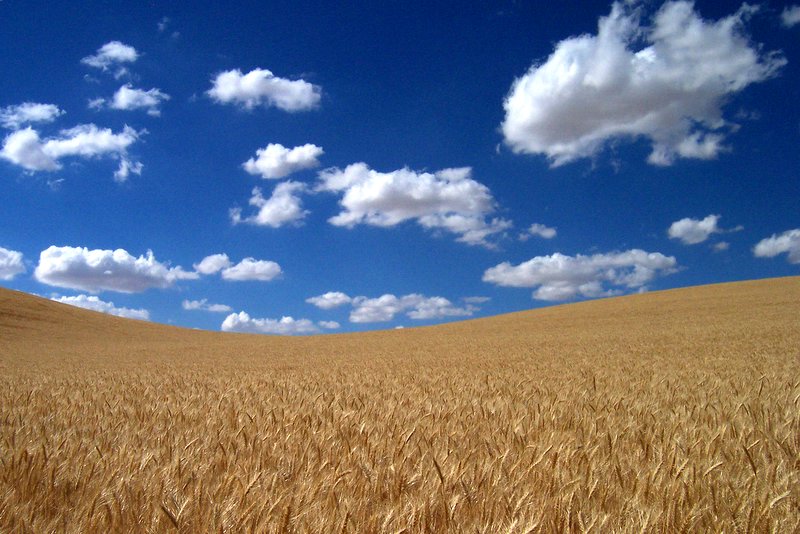 Spiritual Sunday
Here is a harvest poem that moves quickly from an actual harvest (in the first line) to a heavenly one. The clouds are like sacks of grain, their meal drifting across the skies, and we can gaze upward and glean them with our eyes.
As Gerald Manley Hopkins sees it, God reveals himself to us through the beauty of nature—it is almost as though he is a lover, rapturously offering us his lips, greeting us through these cloud banks.  They are realer and rounder than anything we can get elsewhere.  The "azurous hung hills" are God's "world-wielding shoulder," at once majestic and "very-violet sweet!"
God may rapturously offer us His beauty, but it is up to us, the beholders, to respond. When we do, we will find that our hearts rear wings "bold and bolder" until if feels as though we are hurled off the earth. Observe Hopkins' accented words, which capture his heightened state.  The poem is an ecstatic love note to a divine creator.
Hurrahing in Harvest
Summer énds now; now, bárbarous in béauty, the stóoks [hay ricks] ríse
Around; up above, what wind-walks! what lovely behavior
Of sílk-sack clóuds! has wilder, wilful-wávier
Meal-drift moulded ever and melted across skies?
I wálk, I líft up, Í líft úp heart, éyes,
Down all that glory in the heavens to glean our Savior;
And, éyes, héart, what looks, what lips yet gáve you a
Rapturous love's greeting of realer, of rounder replies?
And the azurous hung hills are his world-wielding shoulder
Majestic — as a stallion stalwart, very-violet-sweet! —
These things, these things were here and but the beholder
Wánting; whích two whén they ónce méet,
The heart rears wings bold and bolder,
And hurls for him, O half hurls earth for him off under his feet.