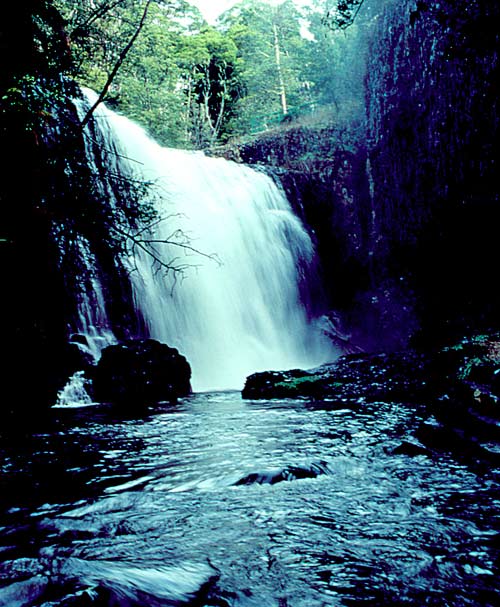 Spiritual Sunday
I still haven't gotten over the waterfalls at Yosemite—does one ever?—and so am sharing a spiritual interpretation of a waterfall by the 17th century mystical Anglican poet Henry Vaughan.  I've mentioned in a previous post  that I have mixed feelings about Vaughan (especially by how he sees the natural world cordoned off from the spiritual, a view which, as I have noted, Emily Dickinson rejects), but there are some powerful moments in this poem, including one that consoles me about the drowning death of my oldest son. It's a difficult work so I will discuss it stanza by stanza.  If you want to read it all in one piece, you can go here.
The poem begins with Vaughan sitting by the waterfall and thinking about the passing of time and our eventual death.  It's an "emblem poem," which means that he looks at the waterfall as something to be deciphered or decoded as a message from God.  But he also clearly loves just sitting and watching it:
With what deep murmurs, through Time's silent stealth,
Doth thy transparent, cool, and wat'ry wealth,
Here flowing fall,
And chide and call,
As if his liquid, loose retinue stay'd
Ling'ring, and were of this steep place afraid,
The common pass,
Where clear as glass,
All must descend
Not to an end,
But quick'ned by this deep and rocky grave,
Rise to a longer course more bright and brave.
The sights and sounds of the waterfall remind the poet that God both chides us for being afraid of descending to "this deep and rocky grave" and calls us join Him.  It is as clear as the glassy water (or is he saying that we are transparent to God?) that "all must descend."  (It's as if the long lines are the water when it is flowing straight, the shorter lines the water when it is falling—meaning that this is a triple waterfall, two short falls and then a lengthy one.)  We descend "not to an end," however—in fact, our descent over this "steep place," which frightens us, will only quicken our transition from our earthly journey to "a longer course more bright and brave."
For that thought, he thanks both the stream and the bank he sits on to watch it.
       Dear stream! dear bank! where often I
Have sat, and pleased my pensive eye ;
Why, since each drop of thy quick store
Runs thither whence it flow'd before,
Should poor souls fear a shade or night,
Who came—sure—from a sea of light?
Or, since those drops are all sent back
So sure to Thee that none doth lack,
Why should frail flesh doubt any more
That what God takes He'll not restore?
I once read this stanza as involving condensation—the water that goes over the fall will eventually rise again to make future waterfalls, just as the falls at Yosemite are renewed by snow and then snow melt every year.  But I now think that ultimately he's making a contrast.  Sure, we are like the drops of water going over the falls and, like them, we have come from a "sea of light."  But unlike the water, we have been reassured that we will rise again.  Because of this reassurance, we need not "fear a shade or night."  What God takes, He will restore.
The last stanza speaks to God consigning us to be cleansed.  Although we, like the waterfall, hurtle over cliffs and are dashed on the rocks below, the experience frees us from our tainted lives.  The water, which seems to describe an arc towards death, is actually a fountain of life:
       O useful element and clear!
My sacred wash and cleanser here;
My first consigner unto those
Fountains of life, where the Lamb goes!
What sublime truths and wholesome themes
Lodge in thy mystical, deep streams!
Such as dull man can never find,
Unless that Spirit lead his mind,
Which first upon thy face did move
And hatch'd all with His quick'ning love.
As this loud brook's incessant fall
In streaming rings restagnates all,
Which reach by course the bank, and then
Are no more seen: just so pass men.
O my invisible estate,
My glorious liberty, still late!
Thou art the channel my soul seeks,
Not this with cataracts and creeks. 
The second verse of the Genesis creation story reads, "And the earth was without form, and void; and darkness was upon the face of the deep. And the Spirit of God moved upon the face of the waters."  Vaughan imagines that God is similarly moving over the killing waters that he is observing.  God's "quick'ning love" will hatch new life out of "the loud brook's [and our own] incessant fall."
Finally, at the end of the waterfall, Vaughan talks about these tumultuous lives "restagnating"—becoming momentary rings in the receiving pool that radiate out to the bank "and then are no more seen."  "Just so pass men," he tells us.
He, however, does not plan to restagnate.  Although we may vanish, we have an "invisible state," a late but glorious liberty.  Unlike cataracts and creeks, which go only down, we have a channel that goes upward.  We came from, and will return to, a "sea of light."
I lack the supreme confidence that many have (or at least that many declare they have) that we will return to this sea (i.e., go to heaven).  I hope but question.  But the poem recalls for me a healing conversation I had with a Jesuit priest from Barcelona about a year and a half after Justin died.  The passage that recalled for me our talk is the following:
What sublime truths and wholesome themes
Lodge in thy mystical, deep streams!
Such as dull man can never find,
Unless that Spirit lead his mind . . .
The Jesuit talked about how young people Justin's age are often very open to the working of spirit and that it might indeed be possible to see Justin as embarking on a mystical quest.  Justin was actively seeking God when he died, and I am convinced that he dove into the St. Mary's River because he was feeling exuberant that day and was spontaneously devising a cleansing ritual.  After all, he had just run up to the cross on Church Point crying "Jesus, Jesus" before diving into the water.
I am also convinced that he was not seeking death.  There is no way he could have known that the currents were unusually treacherous in the (normally safe) spot where he entered. (He had swum there as a child.)  But the idea that, as he drowned, he may have started opening up to truths and themes that are closed to dull minds—that the waters were mystical and had secrets to reveal—well that's in essence what the Jesuit priest was telling me.   I find the thought deeply comforting.
******
Further thoughts:  Although, as I noted in Tuesday's post, Wordsworth tells us to put down the "dead leaves" of our books and go experience nature directly, there are a number of wording echoes that lead me to think that Tintern Abbey (the subject of Monday's post) was influenced by "The Waterfall." In other words, Vaughan may have helped teach Wordsworth how to see waterfalls.
But even more meaningful to me is the way that both Vaughan and Wordsworth seem to be working with an idea that we come from a sea of light and are returning there.  You have just seen how Vaughan expresses it.  Wordsworth memorably tries to put it into words in his "Intimations of Immortality from Recollections of Early Childhood."
I won't go deeply into that poem here, but in it he sees us coming into this world "trailing clouds of glory . . . from God who is our home."  Then, though we lose sight of this during our "noisy years," we have "intimations" or "shadowy recollections" of it.  "Though inland far we be," he writes,
Our souls have sight of that immortal sea
Which brought us hither,
Can in a moment travel thither,
And see the children sport upon the shore,
And hear the mighty waters rolling evermore.