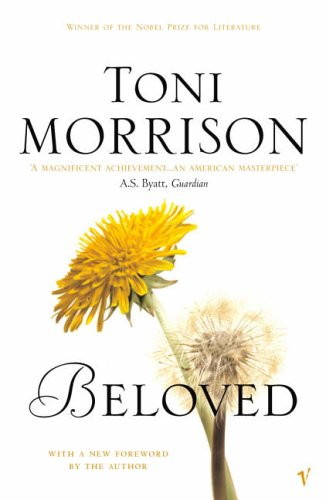 Wednesday
For me, it was déja vu all over again. Some 20 years ago I visited the office of the Superintendent of Schools in St. Mary's County, Maryland to protest the banning of Toni Morrison's Song of Solomon in classrooms. (You can read my account here.) Now a Virginia legislator is going after Morrison's Beloved.
In a case of journalistic malpractice, Washington Post Jenna Portnoy never asked the legislator what exactly he found objectionable about Beloved. Reading between the lines, however, I think I have a pretty good idea. He believes men should have control over women's bodies, and the novel graphically shows the ugliness of such a stance.
In addition to missing a key question, the article also has a spectacularly stupid opening (I don't use that adjective often). Here's how it starts:
Sen. Richard H. Black doesn't think of himself as squeamish. When he was a young Marine helicopter pilot in the Vietnam War, his aircraft took ground fire four times, he was wounded in combat, and he received the Purple Heart.
But the Northern Virginia Republican said he was so stunned by the "moral sewage" in Pulitzer Prize-winning novelist Toni Morrison's Beloved that he did something he professes to never have done in nearly two decades in office.
He abandoned all diplomacy and told a constituent exactly what he thought.
Just because you are a decorated veteran doesn't make you an expert on what constitutes "moral sewage." I thank Sen. Black for his heroic service but he doesn't get to determine what we should be squeamish about. Currently there are legislators throughout the south, perhaps a few of them ex-servicemen, who are declaring themselves squeamish about transgender people, same sex marriages, and gay adoption. For the sake of a punchy opening, Portnoy sacrifices logic.
But back to Black's attacks. Apparently they grew out of an interchange that he had with an English teacher about a proposed law
that would have required teachers to give parents advance notice if they planned to assign material with sexually explicit content in class. Parents would then have had the right to "opt out" their children from reading the offending books in favor of an alternative.
In response to the teacher's defense of Beloved, Black described the novel as
"profoundly filthy" and "smut" and derided the teaching of "such vile things," even though Beloved is routinely part of the curriculum in Advanced Placement English courses.
Black elaborates:
I want teachers who won't teach such vile things to our students. Slavery was a terrible stain on this nation but to teach it does not mean you have to expose children to smut. The idea that you would oppose allowing parents the opportunity to be better informed about what their child is reading is appalling and arrogant. You do not know better than the parents.
And upon further questioning by Portnoy:
If you scar the minds of children when they're young, you're going to have problems later in life," he said. "It's no wonder we've got the problems we do with kids today, when we're exposing them to this type of thing in the public schools.
Here's my theory about why Black detests Beloved. First of all, the book's depiction of slave owners' brutality makes him uncomfortable. What I think transforms his discomfort into hysteria, however, is their assault on the pregnant Sethe.
Sethe is a slave on the Garner farm, which initially is a relatively benign place. When Mr. Garner dies, however, his sick widow must turn to her sadistic "school teacher" brother-in-law to run things. In a powerful scene, the school teacher's two sons hold Sethe down and suck milk from her breasts as he takes notes. Sethe's husband, who witnesses the scene, goes mad, and when Sethe informs Mrs. Garner, the school teacher whips her mercilessly, causing a "tree" to appear on her back.
Sethe escapes to Ohio but then, when the school teacher comes to retrieve her and her children (thanks to the Dred Scott decision), she tries to kill her children and succeeds with her two-year-old daughter. She goes to jail rather than back to slavery and, after she is released, her dead daughter proceeds to haunt the house.
According to the Washington Post article, in 2002 Black wanted to lift a ban on spousal rape, arguing that it was a legal impossibility. (So spousal rape is one thing he's not squeamish about.) Also, when Virginia legislators were considering an abortion bill, he sent to them "tiny pink plastic models of a fetus." In other words, he believes that the state should come down on the side of husbands who are accused by their wives and that it should take away women's ability to control their own bodies.
It makes sense, then, that he would object to the novel's attack on tyrannical whites who are asserting their control over black women. It's uncomfortably close to Black's sense of his white patriarchal prerogatives.
Add to that the long history of white racists' fascination/repulsion with black female sexuality (repulsed because fascinated), from slave masters who raped their slaves to politicians like Ronald Reagan who attacked the fertility of black welfare mothers. In recent years, the anti-abortion movement has focused particularly on shaming black women. Mix it all together and Black's reaction appears overdetermined. No wonder he uses phrases like "moral sewage," "profoundly filthy," and "vile things."
Now ask yourself who you would rather have teaching your child. Do you want a bloviating representative or an English teacher who understands adolescents and cares about their growth?
Elaboration: The fascination/repulsion dynamic works as follows: Racists are drawn to black female sexuality because it is exotic and speaks to repressed longings within them. But they are ashamed and therefore revolted by these longings and therefore lash out against black women. The dynamnic operates in the case of Morrison's school teacher. He vicariously enjoys watching his sons assault Sethe and then is ashamed when she reveals the violation to his sister and lashes out (literally in this case) against Sethe. The Virginia representative recognizes himself in the school teacher and lashes out against Toni Morrison for exposing his shame.
He'd be a much happier man if he grappled with the difficult truths offered by the novelist. And a better legislator as well.