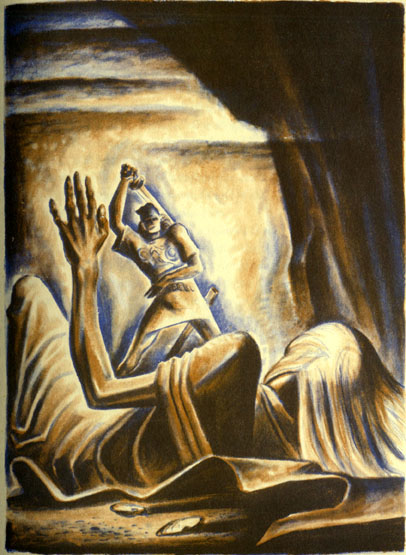 I am still vibrating from the powerful student essays I received last week. I talked about one yesterday and will share another today. This is one from a student whose mother is dying of brain cancer.
Erica Rutkai (she is letting me use her name) decided to move from California to the east coast when it was time to go to college so that she could be close to her mother. When she heard how the figure of Grendel's mother in Beowulf had aided me in grieving for my son, Erica thought that the epic might have something to teach her as well.
Erica speaks from the position of someone who knows what it means to grieve—and also to hide out from grieving. This knowledge gives her special insight into Beowulf.
As she read Beowulf the first time, Erica found herself angry at its depiction of the mother. Why should someone grieving for her son be seen as a monster, she wanted to know. As she started to reconstruct the society of the time, she came to the conclusion that the warriors saw grieving as a weakness that must be pushed under. But by repressing their fear, they made it monstrous.
Erica finds significant the following passage, where Beowulf first meets a Hrothgar reeling from Grendel's nightly attacks. Beowulf says,
I can show the wise Hrothgar a way
to defeat his enemy and find respite–
if any respite is to reach him ever.
I can calm the turmoil and terror in his mind.
Otherwise, he must endure woes
and live with grief for as long as his hall
stands.
"It seems to me," Erica writes, "that the author is simply suggesting that grief is something Hrothgar can overcome with warrior-like brute force." Those who succumb to grief, on the other hand, are deemed unworthy.  As a result, Erica notes, grief comes to be seen as an "end-all emotion" which you either conquer with "relentless strength" or you live with all your life.
Erica takes exception as well to a passage later in the epic. After Hrothgar has lost his best friend Aeschere to the Mother's revenge raid, Beowulf tells him not to "indulge in mourning." Mourning is not an indulgence, Erica protests:
As far as my personal experience goes, it was a scary thing to really and truly open up to the grief over my mother for the first time. It marked the end of my denial—for the most part—and it is probably still the most emotionally intense experience I have had to date. I can personally say that when I chose to let grief in, I never expected to become as emotionally fragile as I did. In a way, Beowulf's calling mourning an indulgence is just another sign of his emotional inadequacies—his inability to let himself lose faith and then find it again.
Erica does give Beowulf credit for being willing to meet Grendel's Mother face to face. But although he dives into the lake where she lives—dives into the feelings of grief—he holds part of himself back. He is "hidden behind his warrior mask and sword and not prepared to face grief head-on, with his own emotions."
Erica is skeptical of the great sword, forged by giants before the flood, that Beowulf finds and uses to kill the monster. She says that she believes "that the poet, with no real solution for the problem of grief, simply created the sword as a way to escape a real answer, a real struggle." And she adds,
While reading this, all I could find myself thinking is, 'Where's my giant's sword?' The truth of the matter is, in reality, Beowulf would have been forced to confront his emotional grief, like the rest of us humans, but neither the poet nor the society understood or felt comfortable enough to really feel grief. So instead, Beowulf hid behind his armor and his weapons, under the pretext that he was on the good side and grief was on the bad side.
Because he doesn't face up to grieving, Erica says that Beowulf merely delays the inevitable. Only at the end of the poem, when he is dying of dragon wounds, does she see him yielding to grief. She concludes,
The biggest lesson to take from this is simply that grief will get you. If not now, it will come later, and denying yourself the emotional freedom to be honest with your own heart will only work against you in the end. Grief is not always a bad thing to feel; it allows you to come to terms with, and reconcile with, things in your life that cause you pain. In this way you grow and mature with greater wisdom, and even [develop] coping skills.
And then, because Erica is still in the midst of high grieving and is determined to be scrupulously honest about how she feels—she knows she is in no position to make definitive statements—she questions what she has just said. Her essay ends with the following paragraph:
Personally, I do not always believe what I say in the paragraph above—grief does that to you sometimes—but now, as I reflect on this paper, I can see clearly how I have grown, learned, and experienced guilt in a way that has made me, well, more aware of what I need in life, what I want, and who I love. If anything, there is that."
The hero in the poem brings out the hero in the reader. The poem confirms Erica's sense that she is involved in a long and arduous epic journey. Earlier in the essay she writes,
It has been a long while since my family received the diagnosis, and, as any human would, I wrestle with grief and depression daily. Sometimes it gets the best of me while other times I subdue it. It is an everyday struggle, but in the end, I realize that it is something we must all face.  Confronting such an event so early in my life may make me stronger than even Beowulf himself.
There is no doubt in my mind that Erica is right. Because she is willing to be vulnerable and acknowledge her fears, she has already proved herself a greater warrior than Beowulf.
Note: The photo below shows Erica (foreground), her sister, and her mother in 1994, when the world seemed much happier and more innocent.