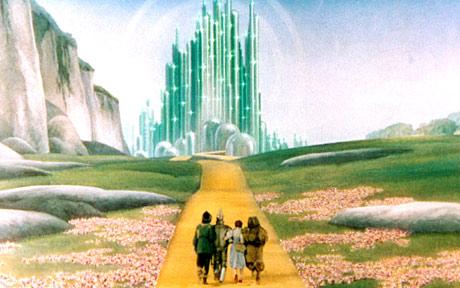 The latest issue of the New Yorker (April 18) contains a number of fascinating accounts written by immigrants about coming to America.  In one of them Azar Nafisi, author of Reading Lolita in Tehran, talks about how her idea of America was shaped by the American literature that she read as a girl.  Here's a passage describing books that got her attention:
How did it start, this relationship with America?  When I was a young girl, in Tehran, my English tutor told me the story of the Wizard of Oz.  It was the first time I had heard of America, of Kansas, and of cyclones. Later, I came to hear of a river called Mississippi: Adventures of Huckleberry Finn was the book that I returned to most often, during the years I taught English in the Islamic Republic of Iran.  Throughout the book, Huck and Jim turn the decent, civilized world on its head.  They are subversives, but compassionate ones, trusting their own instincts and experiences.  The more I read of American books, the more I encountered other characters who seemed to do something similar—Ralph Ellison's Invisible Man, F. Scott Fitzgerald's Gatsby, Zora Neale Hurston's Janie.  It was this aspect of America—its vagrant nature—that I connected to.  America somehow encourages this vagabond self, and that is surely why so many people who migrate feel at home here.  They can be outsiders yet still belong.  Years before I became an American, I had already made my home in the imaginary America.
The works we take for granted are doorways into other worlds.  Or as Emily Dickinson puts it, "There is no frigate like a book to take us lands away."
Note: Other posts about Nafisi, written in July 2009 when the Greens were protesting the fraudulent Iranian elections, can be found here, here, and here.
Go here to subscribe to the weekly newsletter summarizing the week's posts. Your e-mail address will be kept confidential.