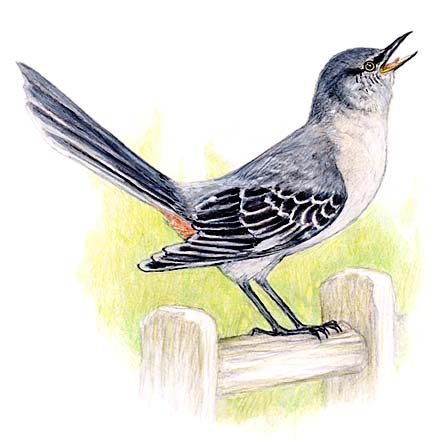 Saturday – Something Light
Songbirds are out in force these days including the king of the American songsters, the mockingbird. Here are a couple of testimonials, the first from Tom Robbins's novel Skinny Legs and All, followed by two Scott Bates poems.
For Robbins, mockingbirds are the consummate artists because "they are out to rearrange reality":
Mockingbirds are the true artists of the bird kingdom. Which is to say, although they're born with a song of their own, an innate riff that happens to be one of the most versatile of all ornithological expressions, mockingbirds aren't content to merely play the hand that is dealt them. Like all artists, they are out to rearrange reality. Innovative, willful, daring, not bound by the rules to which others may blindly adhere, the mockingbird collects snatches of birdsong from this tree and that field, appropriates them, places them in new and unexpected contexts, recreates the world from the world. For example, a mockingbird in South Carolina was heard to blend the songs of thirty-two different kinds of birds into a ten-minute performance, a virtuoso display that served no practical purpose, falling, therefore, into the realm of pure art.
In the first of my father's poems, the mockingbird  becomes an occasion to comment on how the art that draws us is that which reminds of ourselves. The poem is ornithologically correct: while during the day it imitates everything around (including even lawn mowers), it is at night that the mockingbird sings its own "innate riff." In the second poem, it is as though the mockingbird is an American who feels culturally deprived–say, like T. S. Eliot or Henry james–and is looking to Europe for high culture.
The Talented Mockingbird
By Scott Bates
Said the little Warbling Vireo
To the talented Mockingbird
Your Vireo Variations are
Among the best I've heard!
You Mockingbirds are amazing!
Said the Carolina Chickadee
Your Version of my legato
Is remarkably like me!
You ought to become a professional!
Remarked the Florida Jay
Allow me to be your promoter
At twenty acorns a day!
The Mockingbird sat in a Cypress
When the moon was over the wood
And sang an original love song
That nobody understood.
Mockingbird
By Scott Bates
Americans are a dull uncultured lot
Except the mockingbird He is not
Artisto of the small and southern town
This clown does parodies on brash compatriots
All day With variations As if to drive them mad
And then spends half the night rehearsing
Most melancholy arias of his own
Alone on highwires stretched across the moon
Funambulist
And interested
They brought a nightingale to Bok Tower Bird Sanctuary once
In Florda Imported him and let him go Il maestro!
In Greek and terrible he told his bloody tale
The first night out The mockingbirds were mute
Next morning silence Nothing but cicadas played
That cultivated jungle all that day
The following night there was a nightingale
In every burning tree and bush in Bok Tower Bird Sanctuary
And then, of course, there's what Harper Lee has to say:
Atticus said to Jem one day, "I'd rather you shoot at tin cans in the back yard, but I know you'll go after birds. Shoot all the blue jays you want, if you can hit 'em, but remember it's a sin to kill a mockingbird."
That was the only time I ever heard Atticus say it was a sin to do something, and I asked Miss Maudie about it.
"Your father's right," she said. "Mockingbirds don't do one thing but make music for us to enjoy. They don't eat up people's gardens, don't nest in corncribs, they don't do one thing but sing their hearts out for us. That's why it's a sin to kill a mockingbird."