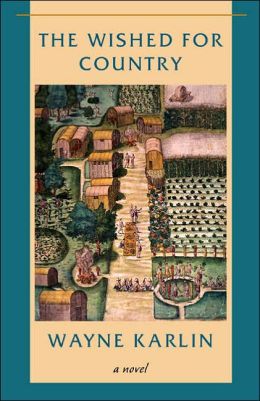 I was recently reading a New Republic review of Bernard Bailyn's new book, The Barbrous Years: The Peopling of British North America: The Conflict of Civilizations, 1600-1675 (Knopf 2012) and found it vaguely familiar. That's because I had come across a similar vision of 17th-century America in Wayne Karlin's novel A Wished For Country (Curbstone 2002). Looking at both books has given me a different view of America than the one I grew up with, a view that helps explain why our history has taken some of the dark turns and twists that it has.
Reviewer Alan Taylor notes that the standard view of America's history goes something like this:
In the colonial beginning, traditional Europeans sailed westward determined to replicate the hierarchical institutions and late medieval values of their origins. But they encountered a strange and wild land of menace, challenge, and opportunity. Pitted on the frontier against Indians, the newcomers struggled to master a fertile and abundant land. By conquering and prospering, their children and grandchildren became tough individualists endowed with a new set of American values. Rejecting deference to authority and tradition, they competed to get ahead of one another by acquiring private property. Entrepreneurial, resourceful, and innovative, they crafted new institutions including the egalitarian democracy that alone could govern their energies and demand their respect.
The Barbrous Years doesn't entirely dispute this view, but, like Karlin's novel, it places special emphasis on the more violent aspects of this development.  Bailyn, the reviewer notes,
casts the colonists as struggling, and failing, to replicate old European ways in the new land. Instead, they had to adapt to "the new configurations of life that were emerging around them. In the process they created new vernacular cultures and social structures similar to but confusingly different from what had been known before." Yet now Bailyn no longer celebrates this transformation, for the colonists' "experiences were not mainly of triumph but of confusion, failure, violence, and the loss of civility as they sought to normalize abnormal situations and to recapture lost worlds, in the process tearing apart the normalities of the people whose world they had invaded." Indeed, Bailyn exceeds any revisionist in depicting seventeenth-century America as a heart of darkness, where natives and newcomers competed in destructive savagery.
While battling the Indians without mercy, the colonizers also divided by nationality, religion, and sheer orneriness into murderous internal factions: "threats from within merged with threats from without to form a heated atmosphere of apocalyptic danger." In a typically baroque sentence, Bailyn asserts that "they lived conflicted lives, beset with conflicts experienced, rumored, or recalled—unrelenting racial conflicts, ferocious and savage; religious conflicts, as bitter within as between confessions; conflicts with authority, private and public; recurrent conflicts over property rights, legal obligations, and status; and conflicts created by the slow emergence of vernacular cultures, blendings of disparate subcultures adjusting to the demands of heightened aspirations and local circumstance." The colonies were "replete with bitter rivalries, scandalous accusations, violent encounters, assassination attempts, executions, and above all bloody massacres of the native Indians and earth-scorching raids." Any glimpse of hope proved fleeting: "it was a false dawn that led to another dark passage of bloodshed and terror—which might have been predicted."
Bailyn's mention of "heart of darkness" provides a good segue to Karlin's novel, which is modeled on Conrad's work. Karlin locates his novel in the place where I live, St. Mary's City, Maryland, which was settled by English Catholics in 1634. In Karlin's vision, everyone who comes to southern Maryland has an American dream. The novel owes its title to a line from the diary of missionary Father Andrew White: "Having now arrived at the wished-for country, we alloted names according to circumstances."
The dreamers include a variety of figures, many of them drawn loosely from history: Lord Calvert, property owner Margaret Brent,  indentured servant George Alsop. Even an African slave and the Piscataway Indians, who are fending off attacks from the Susquehannock tribe, have their dreams. The problem is that the dreams often conflict, leading to murderous acts. No one emerges unscathed.
Karlin's vision was influenced by his stint as a helicopter gunner in Vietnam. Just as Francis Ford Coppola would see America as a heart of darkness in his Vietnam War film Apocalypse Now, so Karlin sees colonial Maryland as a heart of darkness. ("This also," says Conrad's Marlow, gazing at the English shore before launching into his tale of the Congo, "has been one of the dark places of the earth.") Karlin's vision of America's European beginnings and Bailyn's revisionist account highlight dimensions of our history that we risk overlooking or whitewashing over. We may see ourselves as a republic that grew out of the Enlightenment visions of John Locke, Thomas Jefferson, and Benjamin Franklin, but there is also a dark streak to us. We have been involved in pretty much non-stop warfare our entire history, with Iraq, Afghanistan, and the drone attacks only the latest instances. And that doesn't include the always present threat of violence used to maintain slavery and then to enforce the Jim Crow laws.
When Americans finds their dreams at odds with those of other dreamers, history gets nasty. This helps explain why, as formerly disenfranchised groups like African Americans, Latinos, gays and women begin looking at America as a place to realize their own dreams, clashes have occurred, including today's rightwing temper tantrums. Fortunately, we aren't experiencing today the bloodshed that colonial America witnessed. There are still plenty of fireworks, however.