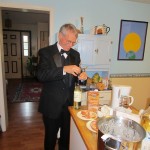 On Sunday my Jane Austen First Year Seminar students came to my house (17 in all) for a meal that we borrowed from the Jane Austen Cookbook. The meal took two days to prepare and four people to serve.  At least some of us felt that it moved us deeply into the time period: my wife, for instance, said that she felt like a servant by the time it was all over.
Julia's comment made me guiltily think of the treatment that Squire Western once dished out to his (now deceased) wife in Tom Jones:
The squire, to whom that poor woman had been a faithful upper-servant all the time of their marriage, had returned that behavior by making what the world calls a good husband. He very seldom swore at her (perhaps not above once a week) and never beat her; she had not the least occasion for jealousy, and was perfect mistress of her time; for she was never interrupted by her husband, who was engaged all the morning in his field exercises, and all the evening with bottle companions. She scarce indeed ever saw him but at meals; where she had the pleasure of carving those dishes which she had before attended at the dressing. From these meals she retired about five minutes after the other servants, having only stayed to drink "the king over the water." Such were, it seems, Mr Western's orders; for it was a maxim with him, that women should come in with the first dish, and go out after the first glass. Obedience to these orders was perhaps no difficult task; for the conversation (if it may be called so) was seldom such as could entertain a lady. It consisted chiefly of hallowing, singing, relations of sporting adventures, b–d–y, and abuse of women, and of the government.
Okay, so it wasn't this bad. But the whole affair took far more support from Julia and our two Slovene exchange students than I anticipated and I owe them a tremendous debt of gratitude.
My students all dressed up for the meal (and I wore a tux), and we tried to refer to each other only by our last names.  (We couldn't maintain this for very long.)  After the first course we took a walk in the yard, and after the second I taught them how to play Speculation, the card game that is played in Mansfield Park. The one male in the class performed for us on the piano, standing in for Marianne Dashwood or Mary Bennet.
It was brought home to us that English upper crust society ate a lot of meat. (You can check out the full menu below, which included prawns, duck, beef, and chicken.) Some food the students encountered for the first time, including fricasseed turnips and a celery ragout. Dessert included apple pie and a cherry trifle. We finished the dinner off with negus (mulled port) and tea.
There was so much food that we wasted a fair amount, which was expected for the time (you were supposed to leave food on your plate) but which violated our sensibilities.  But a good lesson was learned: while others in the society went hungry, the well-off lived very well.
We learned various rules of etiquette. Men were supposed to tuck their napkins into their collars (the origin of the necktie) or were considered effeminate.  Women were supposed to lay theirs in their laps or be considered barbarians. Because we had far more women than men and because quarters were cramped, we couldn't follow the serving rules, which had the men getting up and serving the women from a buffet. Nor did the (two) men go off for brandy and cigars after the meal was over.
From a pedagogical point of view, the evening was successful in that it led to class bonding, which resulted in a wonderful Monday class discussion.
I've been trying to think of meals described in Jane Austen's novels, and while the food is usually not mentioned (with the exception of the meals in Emma), I can think of a dinner at the house of Lady Catherine de Bourgh, another at the Grant parsonage in Mansfield Park, and a third at (I think) the Musgrove house in Persuasion (or maybe Admiral Croft and his wife host it). The family cook gets mentioned in Pride and Prejudice. Let me know if you can think of any other references.
You can see the menu after the picture: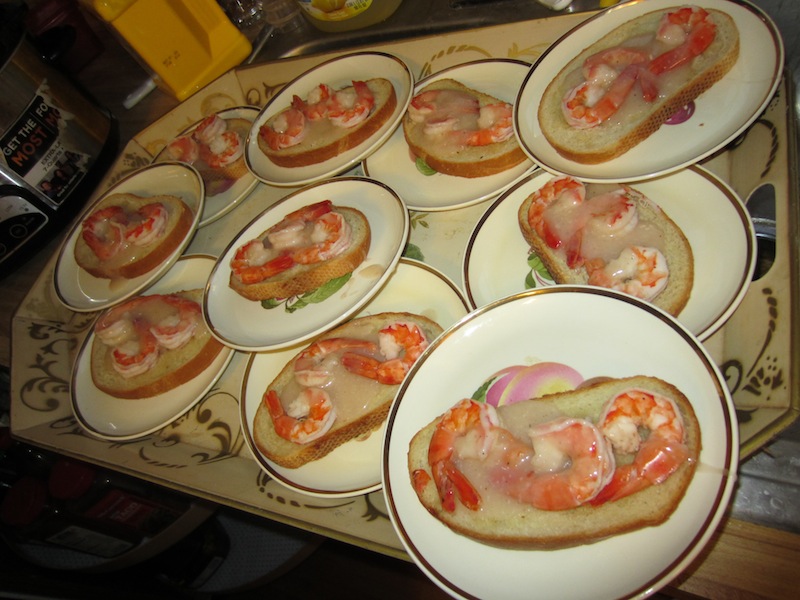 Menu for the Evening
First Course
Centre Dishes
White soup removed for Salmon
Curried chicken
Fricassee of Turnips
Side and Corner Dishes
Buttered Prawns
Asparagus Dressed the Italian Way
Macaroni
Broccoli
Second Course
Centre Dishes
Duck a la Braise
Ragout of Celery with Wine
Forcemeat balls
Wine roasted Gammon (served cold)
Side and Corner Dishes
Apple Pie
Strawberry Trifle
Ice Cream
Dessert
Almonds, raisins
Tea Board
Tea
Negus
Fine Cake