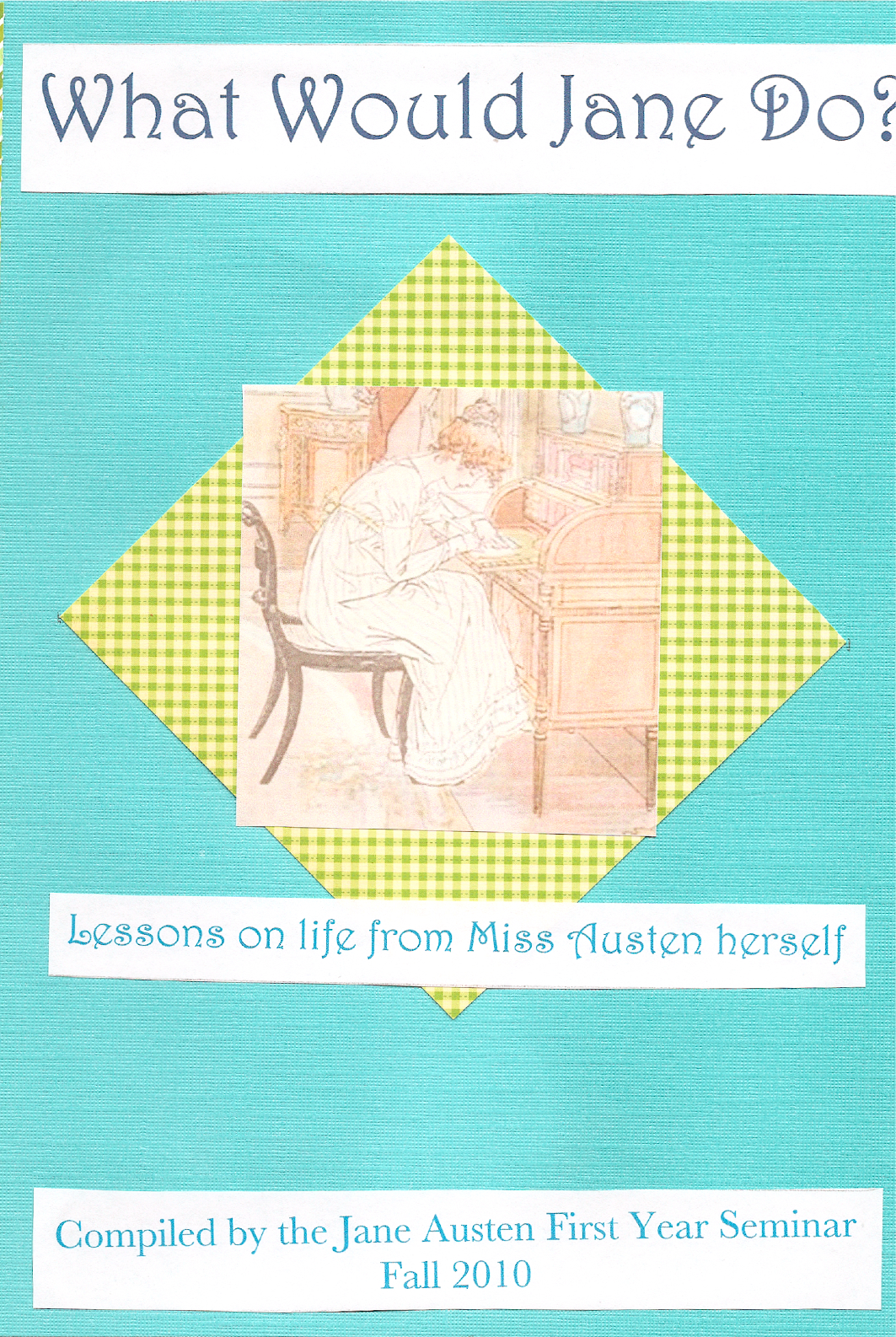 "My idea of good company," says Anne Elliot in Jane Austen's Persuasion, "is the company of clever, well-informed people who have a great deal of conversation." To which her cousin replies, "That is not good company, that is the best."
I feel that I have emerged from the best of company as my Jane Austen first year seminar comes to a close. (Official title: "Jane Austen and the Challenges of Being a Regency Teenager.") In the thirty years I have taught college classes, never have I had a group of students bond as tightly as these ones did. Jane Austen pulled personal stories out of them which, in turned, gave them a deeper understanding of the novels. I believe the course has produced sixteen card-carrying Janeites.
Certain people are glad that the course is over. I'm talking about the roommates of my students, who have been forced to endure incessant conversations about Jane. But it may not be over for them yet. Students from the class are forming a Jane Austen club, which they will kick off next semester with a reading of Persuasion, one of the novels we did not get around to.
The students came to appreciate Jane's artistic brilliance. Even more, they learned to respect her as a life guide. Here is some of what they learned:
–Natalie found herself reliving her high school obsession with Twilight as we read Northanger Abbey. She came to understand why gothic horror had been important to her at one time–something to be taken seriously–and why it was just as important for her to move past it.
—Sense and Sensibility proved to be the most popular of the four novels we read. Emma reported on her experiences of being a Marianne, totally enamored of an undeserving Willoughby. Victoria, a psychology major, looked at the two sisters through an introvert-extrovert framework while Helen called the relationship symbiotic and showed how the bonds between the two operated.  Anita got new insights into her once-distant, now-close relationship with her brother, which has followed a trajectory similar to that of the Elinor-Marianne relationship.  She explained to us what was required to overcome reserve and establish trust between siblings.
Emily, a younger sister, pointed out the limitations of an older sister's protectiveness. Jemarc critiqued Elinor as well, noting that, while her guarded approach to relationships keeps her safe, her determination to be invulnerable deprives her of comfort she desperately needs. Nick also took up this issue, examining the psychological beating Elinor suffers from her measured approach. Laura criticized the mother, noting that she wants to be Marianne's friend when what Marianne and Elinor really need is a mother.
—Mansfield Park, the most challenging of Austen's novels, generated some of the best discussions. Danielle, a lower-income student at an expensive prep school, relived her high school years through the prism of Fanny Price, the poor cousin in Mansfield Park. Danielle noted that a life of privilege can become a liability, today as well as in Austen's time.  In a related discussion, Erica came to appreciate the strict upbringing she had received from her parents, feeling that they had helped her develop an inner moral compass like Fanny's (and unlike the Bertrams').
Meanwhile Beth, a sociology major,  turned her eye on the rich and glamorous, both in Austen's society and in our own. The very lure of instant gratification, she pointed out, deprives Henry and Mary Crawford of an authentic life: they are sensitive enough to realize what they need but not self disciplined enough to pursue it and consequently doom themselves to lives of empty pleasure.  Mansfield Park, Beth argued, is as much about their tragedy as it is about Fanny and Edmund's satisfying marriage.
–Meg used Austen's Emma, with its sophisticated understanding of class relationships, to better understand the intricacies of her own relationship with her working class boyfriend. Sam told about the disasters she has seen and experienced caused by people who, like Emma, tried to engineer relationships.  Karen spoke of needing to stay in one's class to be comfortable.  Arianna helped us understand the social ramifications of the dance scenes in the novel.
To commemorate the class, we put together a book called What Would Jane Do where we imagined her addressing contemporary issues. The book was our contribution to an end-of-semester festival that St. Mary's holds every fall where each of the first year seminars must find some way of demonstrating what they have learned. It's a joyous affair as students take pride of ownership in their learning.
Here is some of the advice the students gleaned from the novels:
Q: What would Jane do to uphold her reputation? [Mansfield Park]
A: Keep it classy.
Q: What would Jane do with a poser? [Emma]
A: Don't let the things she says or does bother you as that is just what she wants. Help your friends see how terrible she is and ignore her altogether.
Q: What would Jane do about cliques? [Emma]
A: If you aren't in a popular clique, don't try to be in a popular clique. You'll be much happier if you just STAY WHERE YOU ARE.
Q: What would Jane do with Facebook? [Sense and Sensibility]
A: Never say mean things because, once they are written down, they can't be taken back.
Q: What would Jane do about P.D.A.? [Sense and Sensibility]
A: Jane would tell us that less is more because it holds a greater meaning.
Q: What would Jane do with a bad boy? [Mansfield Park]
A: Refrain from encouraging him as he pursues, and make it clear you are not to be taken in.
Q: What would Jane do if she encountered a frenemy? [Sense and Sensibility]
A: Do not let it affect you. If you have to use irony, then use it subtly.
Q: What would Jane do with Online Dating? [Emma]
A: No one but you can choose who you love, so DO IT YOURSELF!
Also:
–Don't get into a carriage with John Thorpe.
–If the perfect man is too good to be true, then he probably is. Just ask Marianne.
–And on his prospects of reform, listen to Fanny Price: he is not going to change.