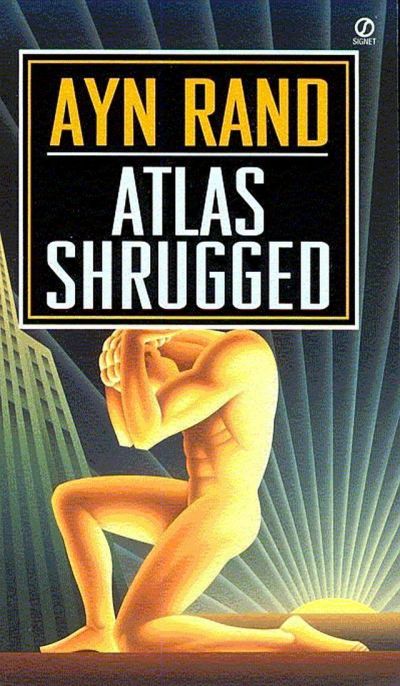 Normally I prefer to write on great literature, not on novels that make our lives worse.  But given the outsized impact that novelist and social philosopher Ayn Rand is currently having on current American political discourse, literature blogs need to pay attention.
Rand's ideas, apparently, are a source of inspiration for Paul Ryan, whose budget balancing plan involves privatizing Medicare and slashing Medicaid, Pell grants, food stamps and low-income housing.  It also involves extending tax cuts for the wealthiest Americans and, in fact, increasing them.  Ryan says we must make sure "that America's safety net does not become a hammock that lulls able-bodied citizens into lives of complacency and dependency."  The implication here is that many of those struggling economically are just not sucking it up.
While there has always been a Randian strain in American politics, it is different this time because Ryan's plan recently passed the House of Representatives, with all but four Republicans voting for it.
Jonathan Chait of Newsweek describes Rand's philosophy as "Marxism flipped upside down."  As Chait describes it, "Rand viewed the capitalists, not the workers, as the producers of all wealth, and the workers, not the capitalists, as useless parasites."
Chait also quotes the following passage from Atlas Shrugged, now a motion picture that will be coming soon to a theater near you:
The man at the top of the intellectual pyramid contributes the most to all those below him, but gets nothing except his material payment, receiving no intellectual bonus from others to add to the value of his time. The man at the bottom who, left to himself, would starve in his hopeless ineptitude, contributes nothing to those above him, but receives the bonus of all of their brains."
Maureen Dowd, writing on the current resurgence of Rand's popularity, notes that Barack Obama is antithetical to Rand's architect hero, Howard Roark from The Fountainhead, who "violently refuses to exist for others."  Obama, on the other hand, says things like, "We also have this idea that we're all in this together, that we look out for one another, that I am my brother's keeper."  Dowd notes that Rand "would have considered this warmed over, mommy party, it-takes-a-village piffle."
What I find puzzling is that even members of the Christian Right are embracing Rand, despite the fact that Rand, borrowing liberally from Nietzsche's Genealogy of Morals, saw Christianity as essentially a resentment-driven slave religion (with its notions that the meek shall inherit the earth).  A social conservative like Cal Thomas might express queasiness, noting that Rand's objectivism "is a philosophy devoid of God and the opposite of what Thomas Jefferson rightly believed to be the source of our rights, that they are "endowed by our Creator."  Nevertheless, Thomas is so frightened of Obama's "socialist state" that he is willing to give Rand's ideas a hearing:
This religious vacuum does not mean Rand was not on to something.  Capitalism and entrepreneurship are under constant assault.
The fact that John Galt, Rand's capitalist hero in Atlas Shrugged, would have utter contempt for many of those who sing his praises is not a contradiction.  A strange psychological phenomenon that I've never understood but that has often surfaced in populist fascism (most notably with Hitler) is people licking the boot that kicks them.  "Every woman loves a fascist," Sylvia Plath has written, indicating that the phenomenon also applies to abuse victims.
Whatever one thinks of Ayn Rand's novels—I have written about their poor literary quality here—the mere fact that they are packing such a punch indicates that fiction is more than "just stories."