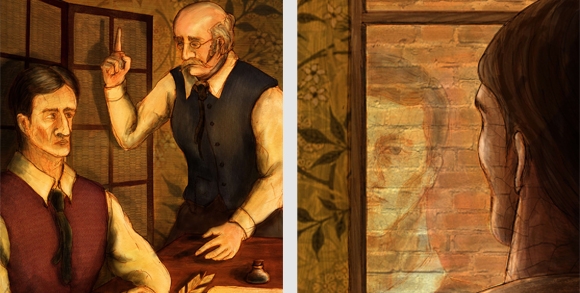 I recently received an e-mail from someone who makes athletic jerseys with literary names (here's his website).  He has one for Herman Melville's character Bartleby, which put me in mind of an English teacher I once knew who mysteriously disappeared.  Here's his story and the Bartleby connection.
In case you need reminding, Bartleby the Scrivener: A Story of Wall Street (1853) is about a man who refuses to follow orders.  Bartleby is a scribe in a law firm, and whenever his boss, the story's narrator, tells him to do something, he always responds, "I would prefer not to." The lawyer is a genial and humane man, and Bartleby's passive resistance ties him into knots.  By the end of the novella, Bartleby prefers not to eat and dies of starvation.
My story involves a man that the Emory English Department hired for a one-year appointment when I was a graduate student there.  I'll call him Sidney.
We all thought Sidney was a little strange, and looking back we should have been aware that something was not right when he lost his voice drinking Ouzo during the hiring process.  He could barely make himself heard the following day, but that may have helped him.  We assumed he had more intelligent things to say than he actually did.
Anyway, at the beginning of the second trimester, he didn't show up on the first day of classes.  No one could contact him, and after two or three days, the police broke into his apartment, where they found a very hungry cat.  Thinking that perhaps he had been murdered, they did a thorough search.  At the back of his desk drawer, they found the following note:
Now I know how Bartleby felt.
It was a tad melodramatic—actually it sounds a bit like the narrator of Melville's story—but at least we now had a clue.  We knew that Sidney was depressed.
For two or three months there was no further news.  We did learn, however, that his PhD had been fabricated.  Then he finally surfaced (not at Emory), and we discovered that he had been hopping all over the south, going from one motel to another.
At the end of Melville's novella, the narrator provides a grand summation that seems overblown and overly dramatic although not altogether inappropriate.  "Ah, Bartleby!" he says.  "Ah, humanity!"
Ah, Sidney.  When the pressures became too great, you turned to Melville.
Returning to those athletic jerseys, incidentally, I'm imagining athletic occasions where one might wear a Bartleby shirt.  How about a precocious kid playing recreational soccer under pressure from his parents?  I can imagine this conversation on the sidelines:
"Son, go in there and substitute for Johnson."
"Coach, I'd prefer not to.