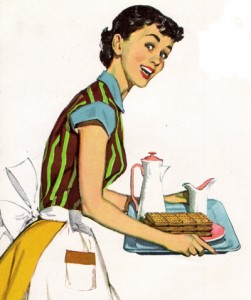 Yesterday I wrote about my colleague Karen Anderson entering into a poetic dialogue with cookbooks, particularly The Betty Crocker Picture Cookbook (or "the Big Red Cookbook," as it is frequently called). She particularly hones in on the star recipes and examines the way that we may look to them as an escape from a life we find unfulfilling.
Here's another poem from Karen's current project. Karen imagines a housewife listening to the Betty Crocker Cooking School of the Air radio show when she is feeling "beaten by the recipe." While the "brown cake falls on the stove" (a metaphor for her life), the stars chat gaily about "wondrous colors: lime chiffon,/ruby red dressing, and stuffed-with-perfection/tomato salad."
And then there is a spasm of anger. Karen moves between food and body in a revenge fantasy that helps explain why some people buy tabloids to learn, say, about Oprah gaining 25 pounds.
But despite her anger, the woman still calls in, even though it means taking time away from her housework. Her dream is, like the stars, to have hours to waste. And maybe he brown cake wouldn't fall, may she'd get to that kidney shaped pool, if she'd just try a little harder.
Radio Cooking School
By Karen Anderson
Beaten by the recipe, I hear stars; disarmed chatting.
They love the same foods, wondrous colors: lime chiffon,
ruby red dressing, and stuffed-with-perfection
tomato salad.  The hours spent down at the kidney shaped pool,
I assume, improve the taste of their pie,
but none will say so, I hope, to me at home.
So slow, all the directions on how to be
beautiful: marshmallow, movie, coco-
nut, baby, whip cream, mayonnaise, marriage: that's the
foundation, my own white ranch in the canyon.
I can just barely sit at the table and wait, flattened
and nasty between takes, as the brown cake falls on the stove.
I hope they are unhappy, pandowdied and dumped. Despite
the great tips, (the crumb coat, what little kids eat) what I like best
is my voice calling in: like them: costing time.
Karen's poems, incidentally, are part of a large project which she is calling "Receipt." Karen says that she takes her cues "from recipes, from cash register receipts, and from other kinds of ephemera that document the processes of cooking and consumption."