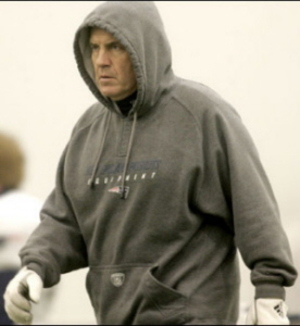 Sports Saturday
The New England Patriots are dominating the National Football League once again, and as an Indianapolis Colts fan I find this development depressing.  Over the past decade the Colts and Patriots have had the game's fiercest rivalry, and fans of each team routinely root against whichever team is playing the other.  I am no different.  In my eyes, the Patriots are almost sinister in their success, which I attribute to the fact that they are coached by an evil genius, a dark master of the underworld, a Napoleon of crime: Bill "Moriarty" Belichick.
Actually, other than videotaping other teams illegally (for which he was fined)  and playing fast and loose with injury reports, Belichick's only crime is being extremely good at what he does.  Why I compare him with Arthur Conan Doyle's arch-villain is because he seems preternatural in his ability to draw up plans and set up systems to frustrate other teams.  Like Moriarty, Belichick appears to have a "phenomenal mathematical faculty."
Sherlock Holmes' description of Moriarty reads like a study in paranoia.  If one substitutes "Belichick" for "Moriarty" and changes crimes to game-winning strategies, Holmes sounds like a hysterical coach explaining the Patriots' long history of success.  Belichick has the ability like few others to panic opposing coaches.  The "spider" that runs the organization has won half the battle when he can get his opponents ascribing inflated powers to him.  Here's Holmes on Moriarty:
For years past I have continually been conscious of some power behind the malefactor [Patriot victories], some deep organizing power which forever stands in the way of the law [us beating them], and throws its shield over the wrong-doer [the team]. Again and again in cases of the most varying sorts—forgery cases, robberies, murders [different Patriot teams]—I have felt the presence of this force, and I have deduced its action in many of those undiscovered crimes in which I have not been personally consulted. For years I have endeavored to break through the veil which shrouded it, and at last the time came when I seized my thread and followed it, until it led me, after a thousand cunning windings, to ex-Professor Moriarty of mathematical celebrity [current Coach Belichick–but you get my point].
He is the Napoleon of crime, Watson. He is the organizer of half that is evil and of nearly all that is undetected in this great city. He is a genius, a philosopher, an abstract thinker. He has a brain of the first order. He sits motionless, like a spider in the center of its web, but that web has a thousand radiations, and he knows well every quiver of each of them. He does little himself. He only plans. But his agents are numerous and splendidly organized. Is there a crime to be done, a paper to be abstracted, we will say, a house to be rifled, a man to be removed—the word is passed to the Professor, the matter is organized and carried out. The agent may be caught [traded or cut]. In that case money is found for his bail or his defence. But the central power which uses the agent is never caught—never so much as suspected. This was the organization which I deduced, Watson, and which I devoted my whole energy to exposing and breaking up.
But the Professor was fenced round with safeguards so cunningly devised that, do what I would, it seemed impossible to get evidence which would convict in a court of law. You know my powers, my dear Watson, and yet at the end of three months I was forced to confess that I had at last met an antagonist who was my intellectual equal. My horror at his crimes was lost in my admiration at his skill.
I know that I'm sounding overblown by suggesting a comparison.  For God's sake, the guy is only trying to win football games!  But his success is indeed impressive. He creates systems that allow average players to succeed, he devises schemes that confuse even the most veteran of opposing quarterbacks, he makes trades that work out years later.  A quarterback he selected in the sixth round of the draft (no one else wanted Tom Brady) will one day be elected to the Hall of Fame.
In recent years, to be sure, critics have thought they saw signs of slippage.  Belichick refused to pay market value for a gifted cornerback, who left for another team, and he traded away a fine linebacker, again so he wouldn't have to pay him what he could get elsewhere.  Although he piled up draft picks in return, suddenly holes appeared in New England's once vaunted defense and the Patriots stumbled in the playoffs. When he got rid of gifted but troubled receiver Randy Moss for vitually no compensation, fans screamed bloody murder.  Were these little slip-ups indications that Belichick was losing his edge?  Opponents hovered, ready to pounce.  Like Holmes, they thought they had their man cornered:
But at last he made a trip—only a little, little trip—but it was more than he could afford when I was so close upon him. I had my chance, and, starting from that point, I have woven my net round him until now it is all ready to close. In three days—that is to say, on Monday next—matters will be ripe, and the Professor, with all the principal members of his gang, will be in the hands of the police. Then will come the greatest criminal trial of the century, the clearing up of over forty mysteries, and the rope for all of them; but if we move at all prematurely, you understand, they may slip out of our hands even at the last moment.
Alas for Patriots haters, the celebration appears to be have been premature.  Against all expectations, Belichick has transformed a young and inexperienced team into a formidable force, seeming to invent new systems almost on the fly.  As the season has progressed, the Patriots have gotten better and better.
There's one other parallel I'd like to draw and that is between the Moriarty/Holmes and Belichick/Peyton Manning, the quarterback for the Colts.  Although I wrote recently about the rivalry between Manning and Patriot quarterback Tom Brady, many people see the real rivalry as being between Manning and Belichick.   That's because Manning, unlike any other quarterback, operates as a coach and is someone who, like Belichick, studies hard and then adjusts his game plan in the heat of the battle in response to the defenses that are thrown against him.  Witnessing a Colts-Patriots showdown is like watching an elaborate chess match between two grand masters.
It's also like a football version of Holmes and Moriarty squaring off:
He saw every step which I took to draw my toils round him. Again and again he strove to break away, but I as often headed him off. I tell you, my friend, that if a detailed account of that silent contest could be written, it would take its place as the most brilliant bit of thrust-and-parry work in the history of detection. Never have I risen to such a height, and never have I been so hard pressed by an opponent. He cut deep, and yet I just undercut him. This morning the last steps were taken, and three days only were wanted to complete the business. I was sitting in my room thinking the matter over, when the door opened and Professor Moriarty stood before me.
My nerves are fairly proof, Watson, but I must confess to a start when I saw the very man who had been so much in my thoughts standing there on my threshhold. His appearance was quite familiar to me. He is extremely tall and thin, his forehead domes out in a white curve, and his two eyes are deeply sunken in his head. He is clean-shaven, pale, and ascetic-looking, retaining something of the professor in his features. His shoulders are rounded from much study, and his face protrudes forward, and is forever slowly oscillating from side to side in a curiously reptilian fashion. He peered at me with great curiosity in his puckered eyes.
"You have less frontal development than I should have expected," said he, at last. "It is a dangerous habit to finger loaded firearms in the pocket of one's dressing-gown."
The fact is that upon his entrance I had instantly recognized the extreme personal danger in which I lay. The only conceivable escape for him lay in silencing my tongue. In an instant I had slipped the revolver from the drawer into my pocket, and was covering him through the cloth. At his remark I drew the weapon out and laid it cocked upon the table. He still smiled and blinked, but there was something about his eyes which made me feel very glad that I had it there.
"You evidently don't know me," said he.
"On the contrary," I answered, "I think it is fairly evident that I do. Pray take a chair. I can spare you five minutes if you have anything to say."
"All that I have to say has already crossed your mind," said he.
"Then possibly my answer has crossed yours," I replied.
"You stand fast?"
"Absolutely."
He clapped his hand into his pocket, and I raised the pistol from the table. But he merely drew out a memorandum-book in which he had scribbled some dates.
"You crossed my path on the 4th of January," said he. "On the twenty-third you incommoded me; by the middle of February I was seriously inconvenienced by you; at the end of March I was absolutely hampered in my plans; and now, at the close of April, I find myself placed in such a position through your continual persecution that I am in positive danger of losing my liberty. The situation is becoming an impossible one."
A few years ago Manning and Belichick dined together while in Hawaii, where the pro bowl game was being played.  Each has immense respect for the other and they talked a lot of football.  Each, however, was also guarded, unwilling to divulge anything that would give away the slightest advantage.  They might not have had a loaded gun in front of them.  But it was close.
I fully acknowledge that there are Patriots fans who might reverse roles and choose to see Manning, not Belichick, as the evil genius. In fact, despite his seemingly inoffensive exterior, Manning can get into Belichick's head like no other player.
But it doesn't really matter who we decide is the villain and who the hero.  In the grand narrative of sports, we project our inner dramas upon the contenders, creating fictional characters that help us negotiate our life's challenges.
In my narrative, Moriarty is back on top.  And I am very, very afraid.