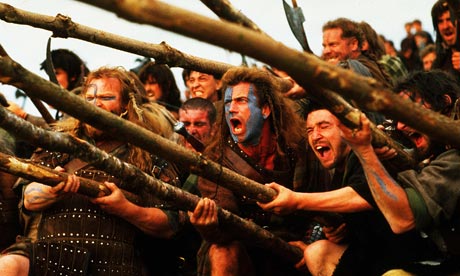 Film Friday
I'll call your Braveheart and raise you an It's a Wonderful Life.
The week before Christmas is not a time that politicians should be talking about Braveheart.  But according to Dana Milbank of The Washington Post, a number of Republican lawmakers in the House of Representatives were invoking the Mel Gibson film to give themselves and their leaders courage to go against the Senate's bill (approved 89-10) to extend the payroll tax reprieve  If they continue to oppose it, all payroll taxes will go up in the new year while unemployment compensation will be slashed. A number of economists are afraid that the economy will suffer as a result. (News update: Just as I was about to post this, I learned that the House has reversed itself and is approving the Senate bill after all.)
Perhaps because they are being so roundly attacked by members of their own party and the conservative Wall Street Journal, the representatives turned to the film to stiffen their spines.  Here's Milbank's account:
One member spoke about the apocryphal scene in which the 13th-century Scottish rebel William Wallace ordered his troops to moon the English. Another member recounted the scene in which Wallace commanded the rebels to hold their positions before raising their spears against the charging English cavalry.
This inspired the assembled lawmakers to chant: "Hold! Hold! Hold! Hold!"
To which New York Times Gail Collins wrote, "The idea that people were demanding that their leaders act like Mel Gibson should give you an idea of how out of control things had gotten."
One need only quote a stanza from Robert Burns's famous poem about William Wallace to know that the story is not exactly in the Christmas spirit:
Scots, wha hae wi' Wallace bled,
Scots, wham Bruce has aften led;
Welcome to your gory bed,
Or to victory!
Anyway, in contrast with this, ABC News on Wednesday night had one of those feel-good stories which reaffirmed It's a Wonderful Life as the movie that we should be watching at this time of year.  (The Frank Capra classic, by the way, just celebrated its 65th anniversary. A previous post on it can be found here.) Apparently Webster, a local bank in Waterbury Connecticut, has discovered that, if it works imaginatively with people whose homes are due to be foreclosed, they keep their homes and the bank saves "tens of millions."
Talk about an American win-win story!
I didn't understand all of the economics but the story squares with another account I heard earlier this past year about successful North Dakota banks.  Apparently during the great 2008 meltdown they did much better than banks in other states.  The reason: applying Midwestern common sense, they became suspicious of all those crazy loan packages that the big boys were offering, even though people were making gobs of money off of them.
George Bailey lives.
Addendum
Speaking of Braveheart and Christmas, when I was in high school I received a gift of the 1810 novel by Jane Porter, The Scottish Chiefs, upon which the movie is based. I was so enthralled with the book (and also with N. C. Wyeth's gorgeous illustrations) that I stayed up all New Year's Eve reading it.  But my comments about it not being Christmas fare still hold.  To this day I am still haunted by the scene where Wallace returns to his home and discovers that his wife has been butchered.  So please, let's end the year with "Auld Lang Syne," not with drawing and quartering.