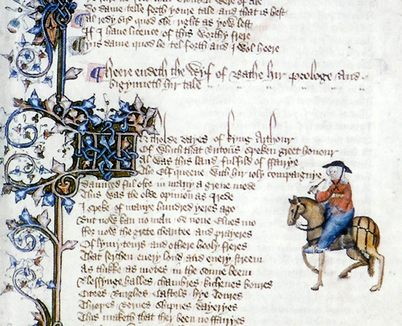 Spiritual Sunday
Today's lectionary reading about Jesus' encounter at a well with a Samaritan woman gives me an excuse to write about the Wife of Bath, one of my favorite characters in all of literature. Chaucer probably got the idea of Alison's five husbands from the New Testament story and even has Alison refer to it. His use of the story adds to the ways we can interpret the Wife of Bath. If Alison shares traits with the Samaritan woman, then perhaps her telling her tale is like the Samaritan woman proclaiming Jesus' Word. Perhaps the Wife is proselytizing about God's love, albeit very indirectly.
If that's the case, she gets a worse reception than the Samaritan woman. In Chaucer's fallen world, those who have ears–which is to say, the other pilgrims–hear not. We ourselves, however, can listen up.
I begin with the wonderfully rich New Testament story:
Jesus came to a Samaritan city called Sychar, near the plot of ground that Jacob had given to his son Joseph. Jacob's well was there, and Jesus, tired out by his journey, was sitting by the well. It was about noon.
A Samaritan woman came to draw water, and Jesus said to her, "Give me a drink." (His disciples had gone to the city to buy food.) The Samaritan woman said to him, "How is it that you, a Jew, ask a drink of me, a woman of Samaria?" (Jews do not share things in common with Samaritans.) Jesus answered her, "If you knew the gift of God, and who it is that is saying to you, `Give me a drink,' you would have asked him, and he would have given you living water." The woman said to him, "Sir, you have no bucket, and the well is deep. Where do you get that living water? Are you greater than our ancestor Jacob, who gave us the well, and with his sons and his flocks drank from it?" Jesus said to her, "Everyone who drinks of this water will be thirsty again, but those who drink of the water that I will give them will never be thirsty. The water that I will give will become in them a spring of water gushing up to eternal life." The woman said to him, "Sir, give me this water, so that I may never be thirsty or have to keep coming here to draw water."
Jesus said to her, "Go, call your husband, and come back." The woman answered him, "I have no husband." Jesus said to her, "You are right in saying, `I have no husband'; for you have had five husbands, and the one you have now is not your husband. What you have said is true!" The woman said to him, "Sir, I see that you are a prophet. Our ancestors worshiped on this mountain, but you say that the place where people must worship is in Jerusalem." Jesus said to her, "Woman, believe me, the hour is coming when you will worship the Father neither on this mountain nor in Jerusalem. You worship what you do not know; we worship what we know, for salvation is from the Jews. But the hour is coming, and is now here, when the true worshipers will worship the Father in spirit and truth, for the Father seeks such as these to worship him. God is spirit, and those who worship him must worship in spirit and truth." The woman said to him, "I know that Messiah is coming" (who is called Christ). "When he comes, he will proclaim all things to us." Jesus said to her, "I am he, the one who is speaking to you."
Just then his disciples came. They were astonished that he was speaking with a woman, but no one said, "What do you want?" or, "Why are you speaking with her?" Then the woman left her water jar and went back to the city. She said to the people, "Come and see a man who told me everything I have ever done! He cannot be the Messiah, can he?" They left the city and were on their way to him…
Many Samaritans from that city believed in him because of the woman's testimony, "He told me everything I have ever done." So when the Samaritans came to him, they asked him to stay with them; and he stayed there two days. And many more believed because of his word. They said to the woman, "It is no longer because of what you said that we believe, for we have heard for ourselves, and we know that this is truly the Savior of the world."
I turned to a friend, retired Episcopal priest John Morrow, for help understanding the passage. John notes that coming to the well at midday was unusual as
"watering" was usually done in the cool of the morning with several family members participating.  Her coming alone suggests that perhaps she was not socially acceptable in her community because of her five husbands and now living with a paramour. 
John suspects that the woman had been divorced five times and provides useful background on divorce in the culture of the time:
 Divorces could be obtained for the simplest reason (even the wife's cooking!!!).  All a man had to do was write a paper with intention to divorce his wife and she would have to leave.  Obviously, the woman in today's story must have gone through this 5 times and certainly her reputation would be in question, even though it might not have been her fault or due to some serious accusation.
John adds that a widow could remarry many times without criticism, another contrast with Chaucer's society.
A couple of other observations from John:
Jews never spoke to Samaritans, never would drink from a Samaritan vessel, and certainly would not go to their home socially. Most Jews even avoided walking through the region of Samaria and would go around the area. Jesus had no trouble walking through the region, speaking to a Samaritan, and even asking for a drink of water.  I think the purpose of telling the story (it is probably the longest story in the New Testament) is to show that Jesus came to all, his love is unconditional, and his compassion causes him to let go of Jewish legalism.  He sees her as an intelligent person but perhaps troubled and in need of love and forgiveness.  One of the great lines in the NT is, "He told me everything I ever did." One could spend pages discussing this for Jesus obviously had the spiritual gifts that enabled him to know her situation.  I agree that she almost "spars" with Jesus in asking why he would want her to give him water, testing to see what his motive was.  One fact that is often overlooked is that, when Jesus talks about "living water" he isn't referring to Himself but to the Holy Spirit.  When the Holy Spirit enters a person's heart, He brings renewal, refreshment and spiritual power, just like a river.  Don't overlook the fact that when the Samaritan woman goes back to her village she tells her story and moves many of the people in the village who then come out to see Jesus for themselves, invite him to their homes, and eventually become believers.  This one woman had a powerful influence on many of the people of her village. The story is a wonderful example of how, when Jesus came to a village or location, the people were not the same after he left. 
Now to Chaucer. Alison is one of only two women amongst his 30 pilgrims, and to say that she makes her presence known would be a gross understatement. She is loud, she has a hat at large as a shield, she ostentatiously wraps herself in yards and yards of cloth, her boots have spurs, and, although she is an elderly widow, she wears red stockings. As such, she stands in dramatic contrast with the other woman in the company, a prioress who, despite her large girth, likes to think of herself as dainty and ladylike.
Alison has had five husbands, all of whom have died, and she may be on the lookout for #6. Although widows were technically allowed to remarry (as she points out), nonetheless her many marriages are regarded with suspicion. Alison senses that the other pilgrims are condemning her, and her long, rambling prologue—it's the longest of all Chaucer's prologues—is in large part a defense of her life.
It's not a successful defense since she (1) has difficulty staying on topic; (2) engages in a debate format reserved for university-educated male theologians; and (3) titillates and/or scandalizes her auditors rather than convincing them. She starts off arguing that nothing in the Bible forbids her from marrying multiple times, but after she sees her audience laughing at her, she switches gears and plays the lecherous black widow role to the hilt. Seeing offense as the best defense, she figures that at least this way she gets some respect.
Her tale, however, reveals her yearning. More to today's point, she shows herself to have paid more attention to Jesus' words to the woman than have many of the more respectable pilgrims.
Alison mentions the Samaritan woman early in her prologue. She knows the story well, in part, I suspect, because ministers have passive-aggressively used sermons on the text to strike out at her. (No one in the church has the courage to stand up to her directly: we are told that she throws a temper tantrum when anyone tries to precede her in the church offering line.)
It sounds like these sermons often yolk the woman-at-the-well story with the wedding at Canaan. Here's the Wife of Bath, first in Middle English and then modern:
But me was toold, certeyn, nat longe agoon is, 
That sith that crist ne wente nevere but onis 
To weddyng, in the cane of galilee, 
That by the same ensample taughte he me 
That I ne sholde wedded be but ones. 
Herkne eek, lo, which a sharp word for the nones, 
Biside a welle, jhesus, God and man, 
Spak in repreeve of the samaritan: 
Thou hast yhad fyve housbondes, — quod he,
And that ilke man that now hath thee
Is noght thyn housbonde, — thus seyde he certeyn.
What that he mente therby, I kan nat seyn;
But that I axe, why that the fifthe man
Was noon housbonde to the samaritan?
How manye myghte she have in mariage?
Yet herde I nevere tellen in myn age
Upon this nombre diffinicioun.
Men may devyne and glosen, up and doun,
But wel I woot, expres, withoute lye,
God bad us for to wexe and multiplye;
That gentil text kan I wel understonde.
Translation:
But someone told me not so long ago 
That since Our Lord, save once, would never go 
To wedding (that at Cana in Galilee), 
Thus, by this same example, showed He me 
I never should have married more than once. 
Lo and behold! What sharp words, for the nonce, 
Beside a well Lord Jesus, God and man, 
Spoke in reproving the Samaritan: 
'For thou hast had five husbands,' thus said He, 
'And he whom thou hast now to be with thee 
Is not thine husband.' Thus He said that day, 
But what He meant thereby I cannot say; 
And I would ask now why that same fifth man 
Was not husband to the Samaritan? 
How many might she have, then, in marriage? 
For I have never heard, in all my age, 
Clear exposition of this number shown, 
Though men may guess and argue up and down. 
But well I know and say, and do not lie, 
God bade us to increase and multiply; 
That worthy text can I well understand. 
John tells me that he doesn't know the significance of the number five any more than Alison does, but one can see how her priest (if I'm right about the source of her information) has been using the two texts. He doesn't, as John does, emphasize that Jesus is offering the Samaritan woman access to the Holy Spirit. Rather, he accuses Alison of unlawful sexual conduct and flouting God's law by marrying multiple times.
Feeling bruised, Alison takes refuge in a more comforting passage from Genesis: "Be fruitful and multiply." Nevertheless, the Samaritan woman appears very much on her mind. Instead of dwelling on Jesus' implied condemnation, she's puzzled that the woman would be living with a man without being married to him. She hadn't realized that this is an option—it isn't for her—and she's intrigued. Further, I think she's touched by the respect that Jesus shows the woman. He listens to her in a deep way and I've written in the past about how, more than anything else, Alison longs to be listened to. She's hungry for respect, which she doesn't get from any of the men in her world. Fear, oftentimes, but not respect.
In her tale, she imagines someone knowing her the way that Jesus knows the Samaritan woman. The old crone of the story—Alison is clearly projecting her own anxieties onto the figure—is married to a young knight who is disgusted by her appearance, her poverty, and her lower class status. To convince him that he should be happy with her, she talks about the qualities in life that we should all focus on: a good character and a beautiful soul.
Thy gentillesse [true gentility] cometh fro God allone. 
Thanne comth oure verray gentillesse of grace…
And:
Poverte ful ofte, whan a man is lowe, 
Maketh his God and eek hymself to knowe.  
Alison knows that men see only her external appearance. That is why she has set up this knight's quest as she has: if he is to avoid execution (for raping a woman), he must spend a year listening, truly listening, to women. Just as Jesus saw past the Samaritan's ethnicity and her sketchy conduct, the crone wants the knight to see past her age and low status.
Unfortunately, he doesn't arrive there, getting hung up on prevailing social standards. But because he gets closer than most men did at the time—he at least respects her to the degree that he allows her some decision-making powers in their marriage—she gives him what he wants: a young, beautiful, and loyal wife. (Being a fairy, she has the power to transform herself.)
When I teach the poem, I make the case to my students that the story works as an allegory for love. If we truly love our partner, we will see past the wrinkles and focus only on the beautiful soul underneath. As Shakespeare puts it (albeit to make a different point), we will "see Helen in the brow of Egypt" (a lower class gypsy woman).
Sometimes I mention an interesting Meg Ryan-Alec Baldwin movie, Prelude to a Kiss, where Ryan somehow (don't ask) ends up in the body of a toothless old man and, in that state, gets a passionate kiss from Baldwin, who has gone looking for her after realizing that his "wife" is someone else. (The bartender is so impressed by the kiss that he doesn't charge them for their drinks.)
My belief that the knight gets a glimpse of this vision is admittedly optimistic and many of my students don't buy it. They argue, very plausibly, that she gives up on guys ever having any sensitivity and, with a sigh of resignation, provides the knight with a conventional happy ending. As in, "I tried to get you, a former rapist, to open your soul's eye and all you could see was skin-deep beauty. So okay, you win. Here's the happily-ever-after ending you wanted."
If that's the case, then Chaucer has shown us a scandalous woman revealing her soul to a group of men and none of them realizing the precious gift she has shared. Not the avaricious Pardoner, who says that she has provided a good argument against marriage. Not the lecherous Friar, who hypocritically pretends to be offended by her life even as he himself uses the power of the confessional to seduce young women. Not the despicable Summoner, who sees only a bawdy lady with (he hopes) a randy tale to tell and who is probably bored by the old crone's pious disquisition.
Alison would love for the pilgrims to acknowledge her as the Samaritan villagers acknowledge the woman in the Biblical story:
Many Samaritans from that city believed in him because of the woman's testimony.
She would love to have it confirmed that she is right:
They said to the woman, "It is no longer because of what you said that we believe, for we have heard for ourselves, and we know that this is truly the Savior of the world."
Unfortunately, Alison's testimony falls on barren ground.
Those, however, who want true love to undergird their lives—who want to drink at the spring that gushes up to eternal life—will listen.