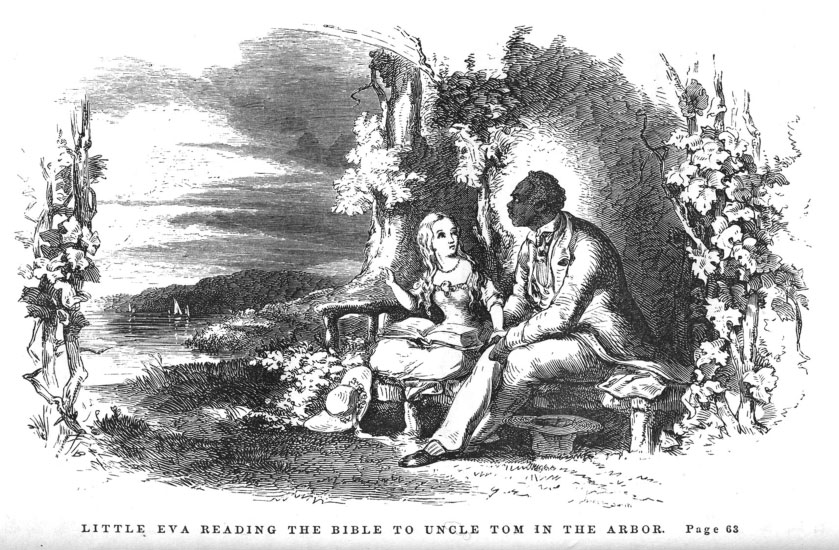 Spiritual Sunday 
I will be teaching Uncle Tom's Cabin in its entirety this coming semester (in my Literature in History II course, which covers British and American literature of the 18th and 19th centuries) and anticipate that it will lead to some substantive discussions about the intersection of religion and politics. We are so accustomed to seeing the Christian right cite the Bible in support of conservative causes that we forget that, throughout history, progressives have turned to it as well. It's worth looking at how Stowe handles this issue as we celebrate Martin Luther King's birthday.
One sees a continuing battle in Uncle Tom's Cabin over who controls interpretation of the Bible. Take for instance  this debate between an Ohio senator and his wife over the Fugitive Slave law, which made it a crime to support slaves who had escaped to the north. The senator has voted for the law, which he finds to be "Christian and kind" because it calms the fears of "our brethren in Kentucky." His wife has a very different take, regarding the law to be "cruel and unchristian." Here's their interchange:
 "But, Mary, just listen to me. Your feelings are all quite right, dear, and interesting, and I love you for them; but, then, dear, we mustn't suffer our feelings to run away with our judgment; you must consider it's a matter of private feeling, — there are great public interests involved, — there is such a state of public agitation rising, that we must put aside our private feelings."
   "Now, John, I don't know anything about politics, but I can read my Bible; and there I see that I must feed the hungry, clothe the naked, and comfort the desolate; and that Bible I mean to follow."
   "But in cases where your doing so would involve a great public evil — "
   "Obeying God never brings on public evils. I know it can't. It's always safest, all round, to do as He bids us.
We see numerous instances in Uncle Tom's Cabin of people using the Bible to justify slavery. Next time you see a politician arguing that it is a Christian duty to cut the social safety net (Paul Ryan) or quoting St. Paul's letter to the Thessalonians to justify cutting $40 billion out of food stamps (Rep. Stephen Fincher of Tennessee), think of the following conversation between an escaped slave and a white man who, while sympathetic with the slave, has absorbed the theology of the slave owners:
Mr. Wilson, a good-natured but extremely fidgety and cautious old gentleman, ambled up and down the room, appearing, as John Bunyan hath it, "much tumbled up and down in his mind," and divided between his wish to help George, and a certain confused notion of maintaining law and order: so, as he shambled about, he delivered himself as follows:
   "Well, George, I s'pose you're running away-leaving your lawful master, George — (I don't wonder at it) — at the same time, I'm sorry, George, — yes, decidedly — I think I must say that, George — it's my duty to tell you so."
   "Why are you sorry, sir?" said George, calmly.
   "Why, to see you, as it were, setting yourself in opposition to the laws of your country."
   "My country!" said George, with a strong and bitter emphasis; "what country have I, but the grave, — and I wish to God that I was laid there!"
   "Why, George, no — no — it won't do; this way of talking is wicked — unscriptural. George, you've got a hard master — in fact, he is — well he conducts himself reprehensibly — I can't pretend to defend him. But you know how the angel commanded Hagar to return to her mistress, and submit herself under the hand; 1 and the apostle sent back Onesimus to his master."2
   "Don't quote Bible at me that way, Mr. Wilson," said George, with a flashing eye, "don't! for my wife is a Christian, and I mean to be, if ever I get to where I can; but to quote Bible to a fellow in my circumstances, is enough to make him give it up altogether. I appeal to God Almighty; — I'm willing to go with the case to 
 Him, and ask Him if I do wrong to seek my freedom."
   "These feelings are quite natural, George," said the good-natured man, blowing his nose. "Yes, they're natural, but it is my duty not to encourage 'em in you. Yes, my boy, I'm sorry for you, now; it's a bad case — very bad; but the apostle says, 'Let everyone abide in the condition in which he is called.' We must all submit to the indications of Providence, George, — don't you see?"
Later in the book, the cynical but sensitive slave-owner St. Clare spells out the self-interest involved in reading the Bible this way:
Planters, who have money to make by it, — clergymen, who have planters to please, — politicians, who want to rule by it, — may warp and bend language and ethics to a degree that shall astonish the world at their ingenuity; they can press nature and the Bible, and nobody knows what else, into the service; but, after all, neither they nor the world believe in it one particle the more. It comes from the devil, that's the short of it; — and, to my mind, it's a pretty respectable specimen of what he can do in his own line.
St. Clare is a fascinating case. Aware of the contradiction between Christianity and slavery but relying upon slavery for his income, he engages in a foppish cynicism and a casual atheism to avoid the conflict. Before he dies, however, he has begun to change. Under the influence of his dying daughter's Christian idealism and Uncle Tom's deep belief in God's mercy, he arrives at a powerful social gospel. Here he is talking to his New England sister after the death of little Eva:
"My view of Christianity is such," he added, "that I think no man can consistently profess it without throwing the whole weight of his being against this monstrous system of injustice that lies at the foundation of all our society; and, if need be, sacrificing himself in the battle. That is, I mean that I could not be a Christian otherwise, though I have certainly had intercourse with a great many enlightened and Christian people who did no such thing; and I confess that the apathy of religious people on this subject, their want of perception of wrongs that filled me with horror, have engendered in me more scepticism than any other thing."
   "If you knew all this," said Miss Ophelia, "why didn't you do it?"
   "O, because I have had only that kind of benevolence which consists in lying on a sofa, and cursing the church and clergy for not being martyrs and confessors. One can see, you know, very easily, how others ought to be martyrs."
   "Well, are you going to do differently now?" said Miss Ophelia.
   "God only knows the future," said St. Clare. "I am braver than I was, because I have lost all [his daughter has died]; and he who has nothing to lose can afford all risks."
And then St. Clare tells Ophelia what will be needed if freed slaves are to become productive Christian citizens. It's interesting to look at his prescriptions as we celebrate the 50th anniversary of Lyndon Johnson's war on poverty. He is calling for a massive society-wide effort, an end to racial prejudice, and a lot of money. People in the 1960s recognized these were necessary, but they have chosen to ignore it since.
But, suppose we [the southern slave owners] should rise up to-morrow and emancipate, who would educate these millions, and teach them how to use their freedom? They never would rise to do much among us. The fact is, we are too lazy and unpractical, ourselves, ever to give them much of an idea of that industry and energy which is necessary to form them into men. They will have to go north, where labor is the fashion, — the universal custom; and tell me, now, is there enough Christian philanthropy, among your northern states, to bear with the process of their education and elevation? You send thousands of dollars to foreign missions; but could you endure to have the heathen sent into your towns and villages, and give your time, and thoughts, and money, to raise them to the Christian standard? That's what I want to know. If we emancipate, are you willing to educate? How many families, in your town, would take a negro man and woman, teach them, bear with them, and seek to make them Christians? How many merchants would take Adolph, if I wanted to make him a clerk; or mechanics, if I wanted him taught a trade? If I wanted to put Jane and Rosa to a school, how many schools are there in the northern states that would take them in? how many families that would board them? …You see, Cousin, I want justice done us. We are in a bad position. We are the more obvious oppressors of the negro; but the unchristian prejudice of the north is an oppressor almost equally severe.
Of course, progressives today would say "productive citizens" rather than Christians but otherwise would make a similar argument. If Martin Luther King were alive today, he would undoubtedly say, drawing on the gospel as he did so, that we've made progress but are not there yet.