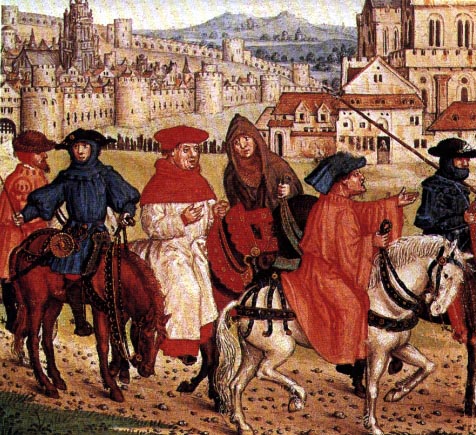 Spiritual Sunday
Today in the Episcopalian church service the lector will read John's account (6:1-21) of the miracle where Christ multiplied a few loaves and fishes so that they fed a large multitude. Chaucer's Wife of Bath has one of the whackiest interpretations of the story.
It occurs in the prologue to her tale when she is defending her multiple marriages. She has had five husbands—they've all died—and although technically she hasn't done anything wrong by marrying again and again, she knows that her society disapproves of her.
They disapprove because she is sexually forward—husbands #4 and #5 she marries because they are good in bed—and because she acts independently and dresses extravagantly (bright red stockings and spurs). Because people are always using the Bible to condemn her, she takes what she knows of the work (from what she's heard as she's probably illiterate) and provides her own spin.
As one of only two women in a group of 30 pilgrims and living in a society where women are supposed to be docile and submissive like the Virgin Mary, the Wife has reason to feel defensive. For her, the best defense is always to go on the attack, and in the process she twists the Bible in wild and unpredictable ways. That's part of what makes her one of the most interesting characters in all of literature.
Here's the passage I have in mind. She is noting that not everyone can be as pure as Jesus, whom she hilariously refers to as a "maide" (virgin).  She says she doesn't envy him or the various saints that have lived in perfect chastity. They may be pure white seed, but she is hot barley bread:
Crist was a maide and shapen as a man
And many a saint sith that the world bigan
Yit lived they evere in parfit chastitee.
I nil envye no virginitee:
Lat hem be breed of pured whete seed,
And lat us wives hote barly breed–
And yet with barly breed, Mark telle can,
Oure Lord Jesus refreshed many a man.
Note her wonderfully tangled logic: Jesus is white bread, she is barley bread, and just as Jesus refreshed the masses with the miraculous loaves, so she is refreshing men with her body. So she is like Jesus.
Of course, the other pilgrims would see this as blasphemous. But I'm pretty sure that Jesus himself would be far more forgiving of the Wife than he would be of some of the sanctimonious pilgrims who criticize her, like the Pardoner and the Friar. Underneath all her talk, she is a woman with a good heart who simply wants to be loved. She does not sin against the Holy Spirit.