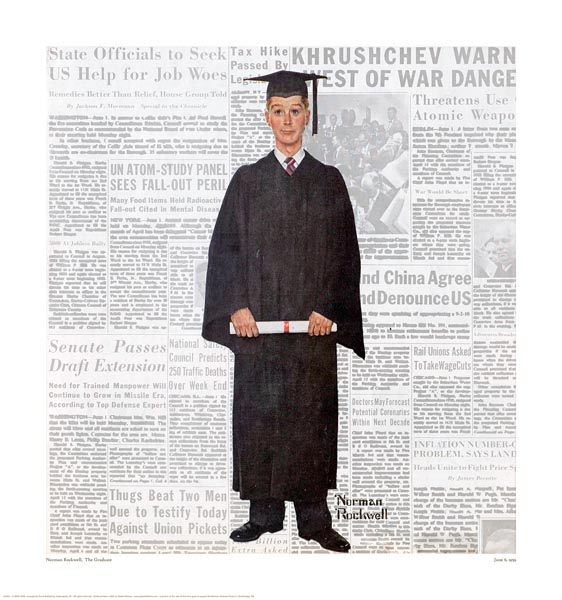 Our commencement ceremonies, held this past Saturday, had a Peace Corps theme to them.  That's because (so we learned from Peace Corps Deputy Director Carrie Hessler-Radelet) St. Mary's sends the highest percentage of its graduates to the Peace Corps of any college (currently we have 18 serving).  We awarded a posthumous degree to Peace Corps founder Sargent Shriver (a grandnephew was there to receive it in his place) and another to current director Aaron Williams (who also was not there, having been unexpectedly sent at the last moment to Latin America).
Also on the program was an anthropology major's valedictory address (a humorous description of the practices and rituals of the inhabitants of St. Mary's City) and our new president's first commencement remarks. I realize this is the fifth or so of Joe's speeches that I've published, but as long as he continues to be interesting and to turn to literature, he's fair game for this blog.  This time he cited Emily Dickinson.
I also like the way he plays with the metaphor of the river because the St. Mary's River in many ways defines our college.  A tributary off of the Potomac, it brought the original English colonists to Maryland in 1634; for almost a century it brought students to the St. Mary's Women's Seminary (founded in 1850) that grew into the present college; and it is invariably mentioned, along with its sunsets, by alumni reminiscing about the college.
By Joseph Urgo, President, St. Mary's College of Maryland
Graduating seniors, now it is my turn to leave you with a charge to carry into the world as St. Mary's College of Maryland's newest alumni. I am thinking of the vision you will take with you, the betterment you will bring to this world for having passed through it with your own peculiar passion and resolve.
At your College, we are expecting fine things from you because we know your spirit, your desire, and your will. Remember, if you were not necessary to the destiny before you, you would not be here today. You are necessary.
You've spent time in and around this River, our small waterway that leads to expansive vistas. And now you are about to enter those vaster seas (to continue the metaphor):  oceanic experiences await you. To date, oysters have been your world; and now … well, to quote Shakespeare, the world is your oyster. [Pistol in The Merry Wives of Windsor – ed.]
I ask that you keep the big thought, the large image—do not let smaller minds convince you that grand ideas and world-changing purposes are impossible. Carry the vision of the River's expansive beckoning with you as you navigate the waters of your individual and collective destinies, and help your communities, your co-workers, and complete strangers to create a world that is most just, more inclusive, and saner.
My charge, then, to the class of 2011: take the River with you as your memory, your vision, and your inspiration – take its beauty, its sensuality, its creative passion, its constant motion, and its tireless riverness as our gift to you as you contemplate the ways in which this College and this place have marked your spirit.
And do come back, visit us often, re-charge your spirit by homecoming, home to the source of so much of the person you are now and the person you will become in years downriver. I regret that we had but one academic year together – but now we have a lifetime of alumni years, and that pleases me so!
I depart with words from Emily Dickinson, concerning vision and eternity:
The Brain—is wider than the Sky—
For—put them side by side—
The one the other will contain
With ease—and You—beside—
The Brain is deeper than the sea—
For—hold them—Blue to Blue—
The one the other will absorb—
As Sponges—Buckets—do—
The Brain is just the weight of God—
For—Heft them—Pound for Pound—
And they will differ—if they do—
As Syllable from Sound—
On behalf of your Brain, the River, and St. Mary's College of Maryland, I charge you henceforth to shape the world with your creative spirit, your passionate sense of justice, and your vision of a path to a better way.
Go here to subscribe to the weekly newsletter summarizing the week's posts. Your e-mail address will be kept confidential.