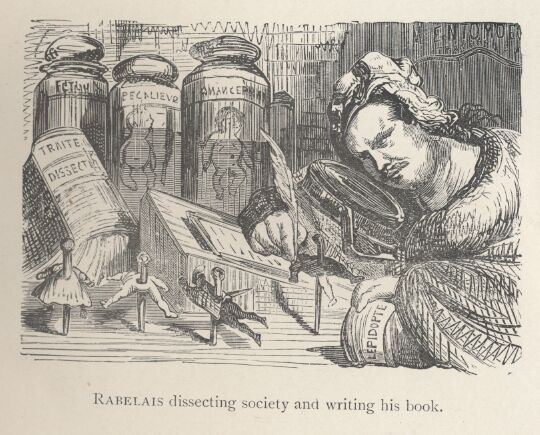 Yesterday was the two-year anniversary of this blog's website, which gives me an opportunity to reflect upon what I have been doing these past 24 months.  I've also come up with a label for myself: I am a bloglodyte.
In calling myself that, I play off of a term coined by Francois Rabelais in his comic masterpiece Gargantua and Pantagruel. There he writes of a know-it-all who holds up a map of the world and, with little aphorisms, imparts to his audience a range of information so that
those men of happy memories grew learned in a trice, and would most fluently talk with you of a world of prodigious things, the hundredth part of which would take up a man's whole life to be fully known.
Among the rest they descanted with great prolixity on the pyramids and hieroglyphics of Egypt, of the Nile, of Babylon, of the Troglodytes, the Hymantopodes, or crump-footed nation, the Blemiae, people that wear their heads in the middle of their breasts, the Pigmies, the Cannibals, the Hyperborei and their mountains, the Egypanes with their goat's feet, and the devil and all of others; every individual word of it by hearsay.
"Troglodyte," which etymologically means cave dweller, has come to include those who live their lives in seclusion.  This is not a bad way of describing bloggers, who spend much of their lives in the caves of their laptops. By playing off the word, furthermore, I join the company of Rabelais' expansive gentleman who claims to be able to discourse on all kinds of learned things.
So how is it that I can claim to have special knowledge about issues that are outside my area of expertise? Am I in danger of just engaging in hearsay and disgorging my own versions of Hymantopodes and Blemiae and Troglodytes?
Of course I am in danger of that.  But what I try to do is find a work of literature connected with whatever issue catches my attention and then let the poem or story or play do the work.  After all, literature is my area of expertise, and I believe that if we listen closely, we will gain meaningful insight into the nature of the world.
I think of Freud's observation that his major psychological insights came to him from reading literature.  Marx, meanwhile, said that he learned more about class dynamics from the novels of Balzac than he did from economists.  There is deep wisdom to be found in fiction and poetry and drama.
Put another way, literature is smarter than we are and when we give ourselves over to it, we become smarter as well—by which I mean not only conceptually smarter but emotionally and spiritually smarter.
Better Living through Beowulf's underlying premise is that, by tapping into the intelligence of literature, we can live better lives.  Books point out the pathway to becoming emotionally mature adults, informed and responsible citizens, and sensitive beings in touch with spiritual currents. By introducing you to new works and by inviting you to revisit and applying the works you already know, I like to think that I am handing you tools that will help you handle the challenges that you face.  Certainly I know that exploring literature from this vantage point is helping me.
Of no small aid are the thoughts that many of you share with me, sometimes through published comments, sometimes through e-mails.  I hear from colleagues, from current and former students, from high school teachers, from people around the world (for instance, from Slovenia and Uganda), from fellow bloglodytes.  Although reading is often a solitary enterprise, interpreting and applying it can be a communal one.  Often I learn as much from you, dear readers, as I learned from my college and graduate teachers.
So from deep within his cybercave, this bloglodyte sends out his thanks to all of you.  I look to many more fruitful interchanges in the months and years ahead.
Go here to subscribe to the weekly newsletter summarizing the week's posts. Your e-mail address will be kept confidential.