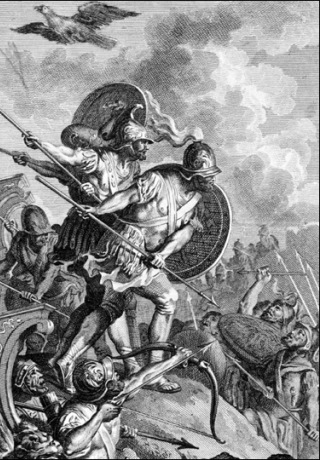 Reader Carl Rosin, English Department Chair at Radnor Township High School outside of Philadelphia, wrote in to report on a fascinating podcast about Homer, the gods, and crowds. Carl is exemplary in the way that he works to instill a moral center and sense of responsibility in his students (see his guest post on teaching integrity), so I can understand why he would be interested in crowd intoxication.  Young minds, after all, are particularly susceptible. Here's Carl:
Dear Robin,
I hope you and your family enjoyed a wonderful Thanksgiving!
I listened to the linked-to podcast yesterday and thought of you and Better Living. Harvard philosophy professor Prof. Sean Dorrance Kelly suggests that Homer's Odyssey (and perhaps The Iliad, but I don't recall him mentioning that) promotes a philosophy that is worth considering along with the other philosophies we attend to when we think about the contributions of the ancient Greeks.
I have transcribed a segment of the 17-minute podcast that I found relevant. Kelly's analysis springs from one of the scenes in which Odysseus has to make a decision and Athena puts the answer in his head. We might call it "divine inspiration" but Kelly doesn't. I was thinking of both the sports situations Kelly appraises as well as politicians claiming that some deity has told them to run for office, and even the recent student riot at Penn State. Intriguing idea!
Kelly says that being part of a crowd can create the sense of a certain kind of greatness, even if we as individuals are not capable of producing that greatness ourselves. He prefaces this with a discussion of how Odysseus has the right decision put into his mind by Athena when he makes a crucial decision.  Both Kelly and interviewer Nigel Warburton compare this to the sort of intuitive making-the-only-possible-decision decision that we associate with great athletes. We can't do this ourselves, Kelly says, but we love it as part of a crowd, say at a sporting event or at the conclusion to a concert, when we are compelled to stand and cheer. The quoted section here begins at about 8 minutes into the clip, I think:
Kelly: [If] the proposal is that we should find ourselves in crowds that are enthusiastically responding to something that they take to be great, well, we know that that can go very, very wrong.
Warburton: Contagious emotion in the context of something like a Nuremberg rally is something that we wouldn't want to advocate.
Kelly: That's exactly right. That's a great threat to the idea that we should aim at these situations where we experience activities to be drawn out of us. There are certainly situations where we don't want that to happen, and the Nuremberg Rally is a canonical example of it. How do you deal with an example of this?  How do you hold on to the thought that there's something right in Homer's idea that at our best we can experience activities as not having us as our source, while resisting the idea that we should aim at that in every case, including the case of the Nuremberg Rally? We need a distinction between the cases in which it's appropriate to allow yourself to be drawn into a situation like that and the cases in which it is inappropriate to allow yourself to be drawn in. Developing that skill — the skill of recognizing the distinction between those — I think that's an important skill to recognize. I think that many of us have a version of it already. Many of us hope that, had we been in the context of a Nuremberg Rally, we could have turned around and walked away, recognized it as a situation that required that we not allow ourselves to be drawn into.
Kelly goes on to say that, although (because of the Nazi rallies) it may seem safer never to allow ourselves to enter a situation where we might respond enthusiastically, important cultural changes — he uses the example of MLK and the civil rights movement and especially the speech at the Lincoln Memorial in '63 — may not have happened. He adds that he is especially interested in the certainty one feels during such a moment.