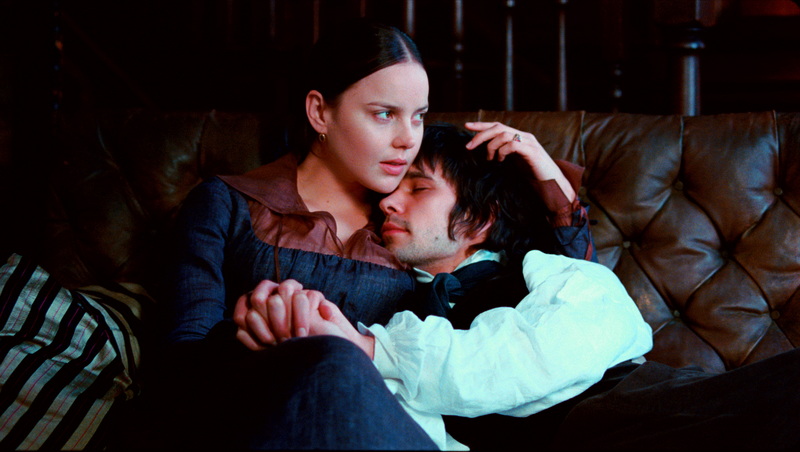 Film Friday
As this is Friday, I begin with a discussion of a film.  But as it is also the tenth anniversary of the drowning death of my 21-year-old son Justin, I plan to digress.  I trust you will allow me to embark on a bit of a ramble.
The film I have chosen is Bright Star, Jane Campion's new film about John Keats and Fanny Brawne, the woman he loved and was betrothed to.  In my mind this is the New Zeland director's best film since The Piano (1994).
In Bright Star we see the relationship from Fanny's viewpoint.  She is a strong woman and a fashion designer who falls in love with Keats' sensibility.  She doesn't care for his Endymion but wants him to teach her about poetry.
Keats doesn't have enough money to marry Fanny, but the film shows their sublimated passion, including one scene where, residing in adjoining bedrooms, they push their beds against the same wall so that they can imagine themselves together.  In another, they exchange stanzas of Keats' magical poem "La Belle Dame sans Merci."
Keats' story is remarkable.  A middling poet, he encountered signs of tuberculosis when he was 23 (his brother died of it that year) and thereupon unleashed a poetic explosion that is unparalleled in English literature.  For a year and a half, he produced some of the England's great poems. One of these is the sonnet "Bright Star," which is probably about Fanny.
In the sonnet the poet wants a contradiction.  On the one hand, he wants to be steadfast and pure, hovering above the earth like a star.  On the other, he wants to be immersed in life, lying upon his true love's breast.  As a star, he would stand above the ravages of time, as a lover he would be subject to them.  In the last line, he imagines a kind of reconciliation: swooning to death in his true love's arms:
Bright star, would I were steadfast as thou art —
Not in lone splendour hung aloft the night
And watching, with eternal lids apart,
Like Nature's patient, sleepless Eremite,
The moving waters at their priestlike task
Of pure ablution round earth's human shores,
Or gazing on the new soft-fallen mask
Of snow upon the mountains and the moors —
No — yet still stedfast, still unchangeable,
Pillow'd upon my fair love's ripening breast,
To feel for ever its soft fall and swell,
Awake for ever in a sweet unrest,
Still, still to hear her tender-taken breath,
And so live ever — or else swoon to death.
Like Keats, Justin was engaged in an intense search for transcendence and, like Keats, he died in his early twenties.  But I don't want to stay with Keats here.  I want to shift, rather, to an admirer of his who does not appear in the film, Percy Bysshe Shelley.  Shelley wrote Adonais, one of the great elegies, after Keats died, and a passage from the poem is on Justin's gravestone:
He is made one with Nature: there is heard
His voice in all her music, from the moan
Of thunder, to the song of night's sweet bird;
He is a presence to be felt and known
In darkness and in light, from herb and stone
We set up a bench by the stone where people can read the passage and overlook the St. Mary's River, both the spot where Justin drowned and the lagoon where we poured most of his ashes (the rest are buried underneath the stone).  I wrestled long and hard about which lines to put on the stone and have sometimes regretted not using, instead, a passage from Kahbil Gibran's poem "On Death":
 … when the earth shall claim your limbs,
then shall you truly dance.
The Gibran passage draws me because Justin was an enthusiastic dancer, one who threw himself entirely, and sometimes a little recklessly, into the rhythms of the music. I still see his gangly 6'3″ frame going in all directions in an African dance class concert he participated in.  If there is dancing after death, Justin is dancing.
In the end, however, I chose the Shelley poem because I like to think of people reflecting upon their oneness with the earth.  Justin is a part of the water and the earth around them.  By taking in the beauty themselves, they experience the joy that Justin also felt in the presence of nature.
It has worked out as I hoped.  For a few years people brought small offerings of "herb and stone."  Occasionally the herbs were heather sprays, which I particularly appreciated as they reminded me of another poem, "L'Adieu," by the French poet Guillaume Apollinaire (my father's scholarly speciality).  I know the poem by heart because, while I was attending a Parisian middle school as a child, our teacher had us memorize it:
J'ai cueilli ce brin de bruyère
L'automne est morte souviens t'en
Nous ne nous verrons plus sur terre
Odeur du temps brin de bruyère
Et souviens-toi que je t'attends
 [I have plucked this sprig of heather
Autumn is dead—just remember
We'll see each other on earth no more
Smell of the weather, sprig of heather
And remember that I will wait for you.]
This, of course, is a purely private association.  Nor will one find sprigs of heather now.  Somewhere along the line, the stones and herbs on the gravestone started being replaced by shells that people had found on the beach.  Now a dozen or so oyster and clam shells outline the poem.
These shells, in turn, attract children, some of whom return to this site regularly.  Justin, who loved children, would have liked that.
Thinking of Shelley sends this ramble off in another direction.  Shelley also drowned, perhaps because, like Justin, he was a bit reckless.  Shelley sailed a boat out into a storm while Justin threw himself into the St. Mary's River.  Now, I don't think that Justin was suicidal, the way that Shelley may have been.  The St. Mary's River is generally safe, and Justin had gone swimming there before.  (He was grabbed by a freak current caused by an abnormally wet spring.)  But Justin did have an inner drive akin to that described in  Shelley's "Ode to the West Wind."
In the poem, Shelley is celebrating the fierce wildness of the west wind, which is both destroyer and preserver.  On the one hand, it brings in winter and death.  On the other, it propels seeds which will "quicken a new birth."  The wind's fierceness is what captures Shelley's imagination.  As a tameless and proud spirit who feels weighted down, he wants the wind to lift him up, even if in doing so it casts him upon "the thorns of life."  To hell with the consequences:
O lift me as a wave, a leaf, a cloud!
I fall upon the thorns of life! I bleed!
A heavy weight of hours has chain'd and bow'd
One too like thee—tameless, and swift, and proud.
In the final section of the poem, Shelley imagines himself a lyre through which the wind blows, just as the wind blows through a forest.  He wants to vibrate and it doesn't matter if "my leaves are falling like its own":
Make me thy lyre, even as the forest is:
What if my leaves are falling like its own!
The tumult of thy mighty harmonies
Will take from both a deep, autumnal tone,
Sweet though in sadness. Be thou, Spirit fierce,
My spirit!
As I say, Justin wasn't fierce or self-destructive in the way that Shelley was.  I don't think he would have put out to sea in a small boat during a storm.  But he was looking to be lifted up and taken out of himself so he leapt into the St. Mary's River.  To hell with the consequences.
I also imagine him, once he realized that he was going to die, throwing himself into this new adventure. I have read about what drowning feels like and what passes through one's mind.   Could he, after first undergoing unimaginable panic and pain, embraced the new possibilities?
Of course, I have no way of knowing what he did.  Lucille Clifton once cautioned me about making up such a story, and she may have been right.  I know how projection works.  But I feel so certain that he is dancing out there—dancing, indeed, with Lucille and with Maurine Holbert-Hogaboom, my old actress friend whom we buried Wednesday.  The three of them knew and admired each other, and I find it a comfort to think of them mingling their essences in some cosmic harmony.
Poetry gets closer than any other use of language to penetrating the mysteries of death.  I will keep listening to poetry for clues.