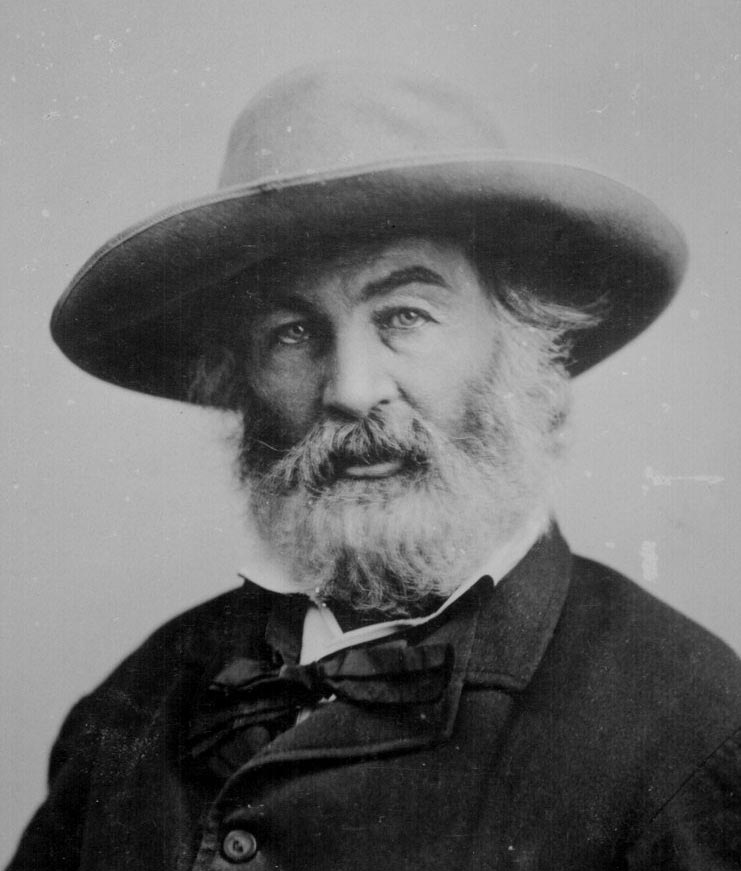 I've been reading When I Was a Child I Read Books by the always wise Marilynne Robinson, which she opens by applying Walt Whitman's essay Democratic Virtues to the current state of American politics.  Whitman, Robinson says, could have been referring to today's warring political parties:
Writing in 1870, Walt Whitman said, "America, if eligible at all to downfall and ruin, is eligible within herself, not without; for I see clearly that the combined foreign world could not beat her down. But these savage, wolfish parties alarm me. Owning no law but their own will, more and more combative, less and less tolerant of the idea of ensemble and of equal brotherhood, the perfect equality of the States, the ever-overarching American ideas, it behooves you to convey yourself implicitly to no party; nor submit blindly to their dictators, but steadily hold yourself judge and master over all of them."
Robinson then points out that, despite Democracy's failings, in Whitman's eyes Democracy and America are interchangeable. Only "dilettantes and fops," Whitman believes, give up on the ideal and turn their backs on politics:
It is the fashion of dilletants [sic] and fops (perhaps I myself am not guiltless,) to decry the whole formulation of the active politics of America, as beyond redemption, and to be carefully kept away from. See that you do not fall into this error. America, it may be, is doing very well upon the whole, notwithstanding these antics of the parties and their leaders, these half-brained nominees, the many ignorant ballots, and many elected failures and blatherers.
Whitman believes, and Robinson agrees, that no matter how much we as a country screw up, the American ideal keeps us on course, allowing us (in Robinson's words) "to find our way back to a better and healthier national life, then and in all the other periods in our history when our politics have seemed to be beyond redemption." The ideal is maintained, she says, in the way that American Democracy, at its core, "honors and liberates the sacred human person." Here's Whitman again:
There is, in sanest hours, a consciousness, a thought that rises, independent, lifted out from all else, calm, like the stars, shining eternal. This is the thought of identity—yours for you, whoever you are, as mine for me. Miracle of miracles, beyond statement, most spiritual and vaguest of earth's dreams, yet hardest basic fact, and only entrance to all facts. In such devout hours, in the midst of the significant wonders of heaven and earth, (significant only because of the Me in the centre,) creeds, conventions fall away and become of no account before this simple idea. Under the luminousness of real vision, it alone takes possession, takes value.
Robinson points out how Whitman uses spiritual language to honor the individual, and she believes we lose a great deal when we identify ourselves economically or as members of tribes (including exclusivist religious tribes). Doing so, we fail to do full honor to the inviolable soul.
To repeat, Robinson and Whitman believe that the genius of American Democracy lies in the way that it honors the individual soul. Robinson quotes a passage from Leaves of Grass:
All parts away for the progress of souls,
All religion, all solid things, arts, governments, all that was or is
apparent upon this globe or any globe,
falls into niches and corners
before the procession of souls along
the grand roads of the universe.
Nor is Whitman the only writer who has this vision of Democracy's liberating potential:
This vision of the soul, all souls, realizing itself in the course of transforming everything that has constrained it and them, finds expression in many writers of the period, prominent among them Emerson, Melville, and Dickinson, and in later writers such as William James and Wallace Stevens. For all of them creeds fall away and consciousness has the character of revelation. To identify sacred mystery with every individual experience, every life, giving the word its largest sense, is to arrive at democracy as an ideal, and to accept the difficult obligation to honor others and oneself with something approaching due reverence. It is a vision that is wholly religious though by no means sectarian, wholly realist in acknowledging the great truth of the centrality of human consciousness, wholly open in that it anticipates and welcomes the disruption of present values in the course of finding truer ones.
While our country has a built-in magnanimity, however, Robinson worries that we have been ignoring this greatness and have instead become small and grasping:
I have spent most of my life studying American history and literature. I have studied other histories and literatures largely to gain perspective on this civilization. The magnanimity of its greatest laws and institutions as well as its finest poetry and philosophy move me very deeply. I know that there are numberless acts of generosity, moral as well as material, carried out among its people every hour of the day. But the language of public life has lost the character of generosity, and the largeness of spirit that has created and supported the best of our institutions and brought reform to the worst of them has been erased out of historical memory.
Partly at fault, Robinson believes, is that our current political parties, by defining us as predominantly capitalist rather than as predominantly democratic, sell the country short:
On both sides the sole motive force in our past is now said to have been capitalism. On both sides capitalism is understood as grasping materialism that has somehow or other yielded the comforts and liberties of modern life. Capitalism thus understood is seen on one side as providential, so good in its effects that it reduces Scripture with its do-unto-others to shibboleth. The other side sees it as more or less corrupting and contemptible but beyond human powers to resist.
And no one offers a definition of it. But in these days when its imperium is granted by virtually anyone who attends to such things, our great public education system is being starved and abandoned, and our prisons have declined to levels that disgrace us. The economics of the moment, and of the last several decades, is a corrosive influence, undermining everything it touches, from our industrial strength to our research capacity to the well-being of our children. I am not the first to suggest that it is undermining our politics as well.
I'll report more on the book as I continue to read it, but the title suggests that Robinson believes extensive reading to be an integral part of the democratic experience (which Thomas Jefferson certainly believed). When we steep ourselves in literature, we develop resistance to the reductionist categories into which people want to place us. We honor the depth and complexity of our individuality.