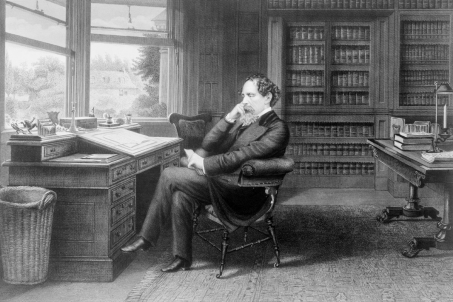 Tuesday was the 200th anniversary of Charles Dickens's birth, and it has been wonderful to see the flood of articles about him. Dickens is one of those authors like Mark Twain and Jane Austen who has a large popular following as well as a high critical reputation. An anniversary like this allows us to express our appreciation for his immense imagination. How many of his characters live amongst us like familiar acquaintances?
Even great writers have blind spots, however.  A recent article in the New York Times looks at the way that Dickens periodically unloads on lawyers:
We can rejoice that so many of the evils he assailed with his beautiful, ferocious quill — dismal debtors' prisons, barefoot urchin labor, an indifferent nobility — have happily been reformed into oblivion. But one form of wickedness he decried haunts us still, proud and unrepentant: the lawyer.
Lawyers appear in 11 of his 15 novels. Some of them even resemble humans. Uriah Heep (David Copperfield) is a red-eyed cadaver whose "lank forefinger," while he reads, makes "clammy tracks along the page … like a snail." Mr. Vholes (Bleak House), "so eager, so bloodless and gaunt," is "always looking at the client, as if he were making a lingering meal of him with his eyes." Most lawyers infest dimly lighted, moldy offices "like maggots in nuts." (No, counselor, writers dead since 1870 cannot be sued for libel.)
Joseph Tartakovsky, a "recently-minted lawyer," must acknowledge that Dickens wasn't altogether wrong in his criticisms:
At 32 he filed his first suit against a pirate publisher. Dickens told a friend afterward that "it is better to suffer a great wrong than to have recourse to the much greater wrong of the law."
Who can disagree, at least in his portrayal? Jarndyce v. Jarndyce, from Bleak House, grinds on for generations as wigged pedants spend entire careers "groping knee-deep in technicalities." In the Pickwick Papers trial — one of the great comic scenes in literature — innocence is irrelevant, the lawyers are thugs, and the judge is asleep.
Ultimately, however, Tartakovsky says that Dickens needed lawyers if his own eloquent pleas for social justice were to go anywhere:
Dickens, for all his genius and wrath, was himself unable to undertake reforms, or protect clients, or draft fairer rules. He needed lawyers to achieve his vision of a just society. Even the inimitable novelist would agree that the two old trades must go hand in hand, together improving the noble system that, for all its Dickensian farce, makes us civilized.
In other words, we sometimes need to read even the best authors skeptically.