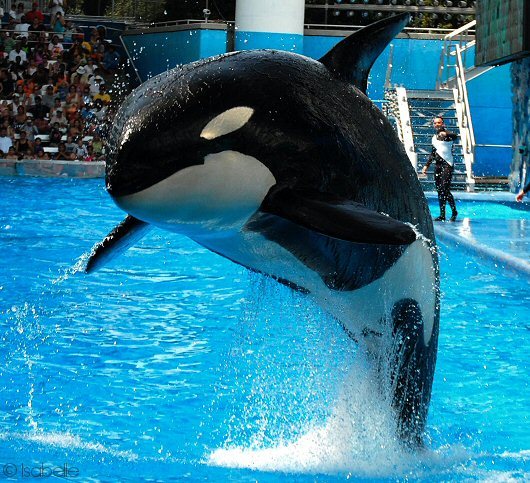 There is a new documentary on captive orcas, Blackfish, that accuses various SeaWorld marine parks of cruelty to animals. I learned about the documentary from a Nicholas Kristof New York Times column. The one thing that is preventing me from flying into a complete rage is the discussion of zoos in Yann Martel's novel Life of Pi. Instead, I'm not sure what to think.
First of all, here's Kristof:
Orcas, also known as killer whales, are sophisticated mammals whose brains may be more complex than our own. They belong in the open sea and seem to suffer severe physical and mental distress when forced to live in tanks. Maybe that is why they sometimes go berserk and attack trainers. You or I might also go nuts if we were forced to live our lives locked up in a closet to entertain orcas.
SeaWorld denies the claims, which isn't surprising since it earns millions from orcas. Two centuries ago, slave owners argued that slaves enjoyed slavery.
Kristof goes on to make a connection with pigs raised in gestation crates where they cannot turn around, and I certainly find factory farming to be horrific. But the following passage from Martel's novel at least gets me to think twice about Kristof's claim that whales would prefer to be swimming freely in the ocean. The narrator is accusing zoo opponents of naïve romanticism:
I have heard nearly as much nonsense about zoos as I have about God and religion. Well-meaning but misinformed people think that animals in the wild are "happy" because they are "free." These people usually have a large, handsome predator in mind, a lion or a cheetah (the life of gnu or of an aardvark is rarely exalted). They imagine this wild animal roaming about the savannah on digestive walks after eating a prey that accepted its lot piously, or going for callisthenic runs to stay slim after overindulging. They imagine this animal overseeing its offspring proudly and tenderly, the whole family watching the setting of the sun from the limbs of trees with sighs of pleasure. The life of the wild animal is simple, noble and meaningful, they imagine. Then it is captured by wicked men and thrown into tiny jails. Its "happiness" is dashed. It yearns mightily for "freedom" and does all it can to escape. Being denied its "freedom" for too long, the animal becomes a shadow of itself, its spirit broken. So some people imagine.
This is not the way it is.
Animals in the wild lead lives of compulsion and necessity within an unforgiving social hierarchy in an environment where the supply of fear is high and the supply of food low and where territory must constantly be defended and parasites forever endured. What is the meaning of freedom in such a context? Animals in the wild are, in practice, free neither in space nor in time, nor in their personal relations. In theory—that is, as a simply physical possibility—an animal could pick up and go, flaunting all the social conventions and boundaries proper to its species. But such an event is less likely to happen than for a member of our own species, say a shopkeeper with all the usual ties—to family, to friends, to society—to drop everything and walk away from his life with only the spare change in his pockets and the clothes on his frame. If a man, boldest and most intelligent of creatures, won't wander from place to place, a stranger to all, beholden to none, why would an animal, which is by temperament far more conservative? For that is what animals are, conservative, one might even say reactionary. The smallest changes can upset them. They want things to be just so, day after day, month after month. Surprises are highly disagreeable to them. You see this in their spatial relations. An animal inhabits its space, whether in a zoo or in the wild, in the same way chess pieces move about a chessboard—significantly. There is no more happenstance, no more "freedom," involved in the whereabouts of a lizard or a bear or a deer than in the location of a knight on a chessboard. Both speak of pattern and purpose. In the wild, animals stick to the same paths for the same pressing reasons, season after season.
And further on:
Don't we say, "There's no place like home"? That's certainly what animals feel. Animals are territorial. That is the key to their minds. Only a familiar territory will allow them to fulfill the two relentless imperatives of the wild: the avoidance of enemies and the getting of food and water. A biologically sound zoo enclosure—whether cave, pit, moated island, corral, terrarium, aviary or aquarium—is just another territory, peculiar only in its size and in its proximity to human territory. That it is so much smaller than what it would be in nature stands to reason. Territories in the wild are large not as a matter of taste but of necessity. In a zoo, we do for animals what we have done for ourselves with our houses: we bring together in a small space what in the wild is spread out. Whereas before for us the cave was here, the river over there, the hunting grounds a mile that way, the lookout next to it, the berries somewhere else—all of them infested with lions, snakes, ants, leeches and poison ivy—now the river flows through taps at hand's reach and we can wash next to where we sleep, we can eat where we have cooked, and we can surround the whole with a protective wall and keep it clean and warm. A house is a compressed territory where our basic needs can be fulfilled close by and safely. A sound zoo enclosure is the equivalent for an animal (with the noteworthy absence of a fireplace or the like, present in every human habitation). Finding within it all the places it needs—a lookout, a place for resting, for eating and drinking, for bathing, for grooming, etc.—and finding that there is no need to go hunting, food appearing six days a week, an animal will take possession of its zoo space in the same way it would lay claim to a new space in the wild, exploring it and marking it out in the normal ways of its species, with sprays of urine perhaps. Once this moving-in-ritual is done and the animal has settled, it will not feel like a nervous tenant, and even less like a prisoner, but rather like a landholder, and it will behave in the same way within its enclosure as it would in its territory in the wild, including defending it tooth and nail should it be invaded. Such an enclosure is subjectively neither better nor worse for an animal than its condition in the wild; so long as it fulfills the animal's needs, a territory, natural or constructed, simply is, without judgment, a given, like the spots on a leopard. One might even argue that if an animal could choose with intelligence, it would opt for living in a zoo, since the major difference between a zoo and the wild is the absence of parasites and enemies and the abundance of food in the first, and their respective abundance and scarcity in the second.
Now, it may well be that, as Blackfish contends, orcas are being driven neurotic by being enclosed in tanks that are too small for them. There definitely needs to be an outcry if this is the case, and Kristof makes the point that public complaints have, over the centuries, been successful as rolling back any number of barbarous practices, from bear baiting to experimenting on chimpanzees to force feeding geese to produce pate. But if we're going base our outcry on science, we need to make sure that we're not anthropomorphizing or engaging in wilderness fantasies. Purely emotional appeals function as double edged swords.