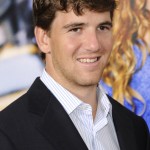 Eli Manning, who won his second last-minute come-from-behind Super Bowl on Sunday, is the youngest of three brothers, which brings multiple fairy tales to mind. How many stories have you read where the youngest brother is the one who goes on to outshine his elders?
I'm going to be a bit imaginative in this post and suggest that Eli's two older brothers are not Peyton and Cooper (as they are in real life) but Peyton and Tom Brady.  After all, for years these two future Hall of Fame quarterbacks dominated the football scene and were so linked in rivalry that at times they seemed like two contending brothers.  Then, when they thought the world revolved around them, little brother showed up and stole the show.
Eli has defeated Tom in their two Super Bowl encounters, and he has surpassed "Mr. Perfect" Peyton with two trophies to Peyton's one..
John Ruskin's King of the Golden River (1851), which I encountered as a child, is one of my favorite stories featuring three brothers.  Two older brothers monopolize the wealth of Treasure Valley, just as Peyton and Tom hoard all the glory. They don't even allow a scrap of meat to go to their younger brother.  Then, however, the South Wind comes knocking at their door (see picture above) and, when they don't pay him proper respect, he devastates the landscape and impoverishes them.
Peyton's landscape was demolished by his neck injury (it's not known yet whether he will be able to come back), so maybe we can see his South Wind as the cost of playing a brutal game year after year.  Tom appears to be doing better health-wise although there are little worrisome signs.  Meanwhile, younger brother Eli is stepping into his powers.
He's like the younger brother in Ruskin's book in that he seems altogether modest. Not that either Peyton or Tom are arrogant, but both carry themselves as though they should be in charge whereas Eli always seems not to belong with the big boys.   There was a tiny dust-up at the beginning of the season when he was asked whether he considered himself "an elite quarterback," and when he said "yes" (albeit in a modest way), there were scathing attacks from multiple quarters.
That made his Super Bowl victory all the more gratifying. The unpromising youngster proved to have substance and experts reacted with astonishment.
In Ruskin's story, the two older brothers, now destitute, learn that they can turn a river into gold if they pour three drops of holy water into its source. (If they try and fail, however, they turn into black stones.) As I say, Peyton and Tom appear arrogant only in contrast with Eli—they all seem pretty good guys—but it is the overlooked brother who recently has been effecting the river's transformation.  Eli, in the end, may still be adding to his golden resume when the others are living a sedentary life (maybe as television commentators) that resembles two black stones.