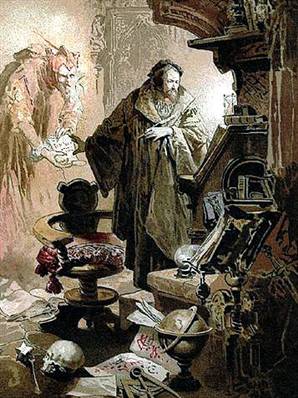 This past year I have learned, in a new and powerful way, that the Faustus legend is a powerful exploration of the meaning of life and death. This is thanks to Caitie Harrigan, a senior at St. Mary's who has been writing her senior project on the legend. As Caitie told me recently, she never anticipated that her thesis would be a way to work through grieving for her mother, who died unexpectedly of cancer a year and a half ago.
Caitie didn't choose the project with that in mind. She only knew she was fascinated by the story, especially the figure of the devil. Knowing how literature works, I figured that her choice was probably connected with her mother's death but I had no idea how.
I knew that sooner or later we would explore the link, however. In my experience, until a student identifies what is at stake for her or him in a senior thesis, it can't finally jell. There will be a lack of direction, an unclear focus. Whereas once the student figures it out, all the tumblers fall into place.
Caitie did a staggering amount of work for the project. She read every version of the story that she could get her hands on, including the daunting Thomas Mann version. (The others were The History of Johann Faust, Marlowe's Doctor Faustus, Goethe Faust, Wilde's Picture of Dorian Gray, Bulgakov's Master and Margarita, Benet's Devil and Daniel Webster, and Klaus Mann's Mephisto.) She also watched a number of the films. She ended up focusing on the Marlowe and Klaus Mann versions.
It wasn't until a month ago, however, that she figured out why she chose the story. The reason reveals a profound spiritual search.
Caitie's mother developed leukemia when Caitie was ten, and although it went into remission, a more virulent strain returned with full force when Caitie was 20 and she died in four months. Twice faced with the prospect of her mother's death, Caitie found herself wrestling with existential questions about life's meaning from an early age. When she got to college, she took a number of religious studies courses in addition to English courses but failed to find satisfactory answers. In fact, she was struck by the strangeness of ritual and the desperation of fundamentalists.
She found the figure of Satan compelling, however, and last month she figured out that the devil, as he appears in the Faustus stories, voices her own fear that life is absurd. When the devil tells Goethe's Faust that life is a wasteland and humans are no more than grasshoppers, it struck home. Soul is put to the test in the story of Faustus, just as Caitie was testing her own belief in soul.
In other words, Caitie's project was a roundabout way of exploring whether her mother had just disappeared into nothingness—in which case, life seemed to be meaningless—of whether there was a spiritual plane and her mother was, in some inexpressible way, still existent. If the devil could be proved wrong, then there was hope.
This wasn't the only way that Caitie explored these questions. At times she sensed her mother's presence. She just feared that what she sensed wasn't real, that she was indulging in wish fulfillment. Wrestling with the story seemed to be a solid way of engaging with the question.
There were other dimensions to the story as well. Caitie has been writing that, faced with the trauma of death, we seek materialist diversions including (in the case of Marlowe's Faustus) the seven deadly sins. We are so desperate for control in the face of non-control that we seek to impose our will upon the world. But Caitie sees this illusion that we have power as an anesthetic to dull our desperation. In point of fact, we have no power. Death will come when it comes.
Caitie notes that the desire to exert control over the world helps explain her own relentless determination to be an A student. This she likens to Faustus's restless striving, his search to discover the secrets of the universe. If she is good, maybe she can control the irrational forces that take mothers away from their children. If she is good, maybe her mother won't leave. Only she did.
What Marlowe's Faustus shows us, Caitie says, is that a life lived without soul is not a life at all. Or put another way, she has no doubt that there is more to life than the course that Faustus commits himself to. Soul, then, gets proved in a negative way—"my life is not like Faustus's so therefore materialism is not all there is. Therefore my mother is not entirely gone."
There are people who believe that their loved ones are in heaven or still somehow present. Without deprecating such beliefs, Caitie isn't content with what could be no more than sentimental longing. (The good angel in Doctor Faustus isn't half as compelling as the devil.) Taking poet George Herbert's route—which is to say, putting her doubts front and center and subjecting them to rigorous testing—Caitie has concluded that a transcendent soul exists. And if that is so, then so does a piece of her mother.
I am honored that students allow me to accompany them on such journeys.