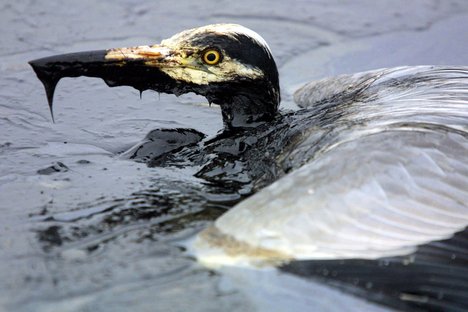 As oil continues to gush unabated into the Gulf of Mexico and as blame (never self blame) gushes from the mouths of company executives in Congressional hearings, we start to see more clearly the results of Dick Cheney's attacks on oil company regulation. We are at a strange juncture with nature. On the one hand, I can turn on my television almost any night and see breathtaking images of wildlife and learn extraordinary new information about the environment. At the same time, we find ourselves facing apocalyptic scenarios brought about by our assaults on the earth.
I offer up the following poem by Denise Levertov as a prayer and a call to action. It addresses both the desecration of the earth and our growing awareness of our connection with it. Levertov dedicates it to two people, and while I don't know who Eliot Gralla was, Karen Silkwood was the woman who blew the whistle on lax nuclear plant practices and then mysteriously died. (If we'd had a whistle blower in the Department of Offshore Energy and Minerals Management, we might have learned about risks taken, consultants ignored, and politicians placated with oil company donations—although perhaps no one would have listened.) The opening stanza is taken from Algernon Charles Swinburne's world-weary poem "Garden of Prosperpine."  
I think Levertov begins her poem with Swinburne because he represents a dangerous tendency that she wants to counteract. Sometimes we get so discouraged that we just want to give up. When she writes that we are dragging "all that is innocent" in the silt, I get the sense that Levertov feels dragged down as well.
The purpose of the poem, however, is to rouse herself, and us, from lethargy. And not in a way that is facile or shallowly optimistic. "I know you feel defeated," I hear Levertov saying, "but focus on this exciting new love rather than feeling that you are 'hastening into the sea of non-being.' You are a beginner, not someone at the end of the river. The possibilities that are opening up  should galvanize you. Hope and desire aren't dead; they are in bud. It's time to tap into our anger at the brokenness and desecration and take action."
The anger must be constructive, not destructive. Unlike, say, Tea Party anger, it should be fueled not by fear and recrimination but by a vision of connectedness with "beast and flower." It will be life affirming if it is guided by justice and mercy, which we have "only begun to imagine." 
Such a vision will allow us to "join our solitudes in the communion of struggle." Whatever form that struggle takes–each of us must exercise our own particular gifts–it will have power if it is guided by a sense of things "unfolding."
Here's the poem.
Beginners
Dedicated to the memory of Karen Silkwood and Eliot Gralla
"From too much love of living,
Hope and desire set free,
Even the weariest river
Winds somewhere to the sea–"
But we have only begun
To love the earth.
We have only begun
To imagine the fullness of life.
 How could we tire of hope?
— so much is in bud.
How can desire fail?
— we have only begun
to imagine justice and mercy,
only begun to envision
how it might be
to live as siblings with beast and flower,
not as oppressors.
Surely our river
cannot already be hastening
into the sea of nonbeing?
Surely it cannot
drag, in the silt,
all that is innocent?
Not yet, not yet–
there is too much broken
that must be mended,
too much hurt we have done to each other
that cannot yet be forgiven.
We have only begun to know
the power that is in us if we would join
our solitudes in the communion of struggle.
So much is unfolding that must
complete its gesture,
so much is in bud.