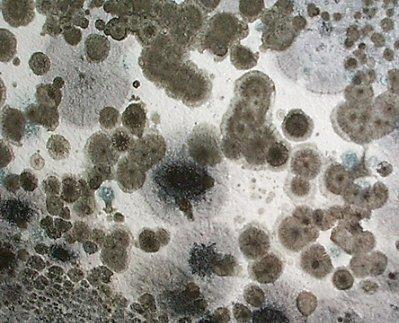 In what has been an abnormally wet fall (it all began with Hurricane Irene postponing the first day of classes), our campus has been hit with a terrible mold problem—so bad, in fact, that we've had to close down two dormitories and ship 350 students, most of them freshmen, to motels all over the county.  Campus life has been upended, and we're being told that it will take from two to five weeks to rewrap pipes, replace ceiling tiles, clean mattresses, and all the rest. The College's contingency fund will take a big hit.
Elaborate systems have been rolled into place, including medical counseling, transportation, special meal plans, special security at the motels, postponed exams, and library rooms freed up for on-campus study. The students have also been given a poem.
Our president Joe Urgo, an English professor, included the following Emily Dickinson lyric in the e-mail announcement he sent out:
Water, is taught by thirst.
Land — by the Oceans passed.
Transport — by throe —
Peace — by its battles told —
Love, by Memorial Mould —
Birds, by the Snow.
The logic of the poem is clear: we don't know something until, experiencing the opposite, we desire it. Water we know by having been thirsty, peace by having been at war, birds by having longed for the spring that brings them.
So how is "Memorial Mould" the opposite of love? I'm getting to know more about mold that I ever thought I would and am struck by how it can become "systemic," spreading behind the walls wherever it is damp and infesting an entire building. It festers out of sight when it is not attended to. It is not unlike people who pull into themselves (trapped in memories?) and become toxic.
All of the images in the poem point to the struggles of lonely people—they are parched, they are lost at sea, we are in the throes of life's difficulties, they are at war, they are festering, they are cold and numb.
So maybe love is the sunshine that pulls us out of ourselves and into communion with others. It is the cool glass of water, the sight of land, the transport of delight, the deep feeling of peace, the birdsongs of spring.
The poem conveys what I communicated in a more roundabout way to my classes on Friday.  I was hearing dire predictions of lawsuits and departures for other schools. I pointed out to them that they have the opportunity to bond in new and powerful ways. Adversity, I noted, can be a spur to better things.
If I had known of the Dickinson poem at the time, I would have said that community is taught by dispersal.