Spiritual Sunday
When I was young, I could never understand why someone would want to sit for 90 minutes in church.  But when I became a man (to quote Paul) I got it.  There is something in the experience that grounds one, a peace that descends.  This can occur even if one's mind is wandering during the service.
A couple of colleagues of mine came to their own realization of this.  Both of them are interested in Trinity, the Episcopal Church that I attend that sits at the edge of our campus, and they embarked on a collaborative artistic project.  Jennifer Cognard-Black, a short story writer, imagined an elderly caregiver sitting at the funeral of a rich man whom she has nursed for the previous two years.  For her part, Carrie Patterson found a way to transmute her experience of sitting in Trinity into an abstract art work involving blocks on canvas (see the work above).  They call their collaboration "Gifts."
Jennifer, who publishes under the pseudonym J. Annie MacLeod, often writes fiction that focuses on the lives of women leading hard lives. (Jennifer also writes academic articles about food in literature.  You can read here a post of hers that appeared on this website.)  In the story below, the woman's real church appears to be the river that flows past the church (as the St. Mary's River flows past Trinity).  The church doesn't appear to nurture her in the same way, filled as it is with hard and tight images.  Yet the woman herself is a combination of hard and soft, hard hands and soft eyes.  The church, as churches will, invites her to reflect upon her life and on the nature of gifts, both good and bad.  Jennifer's spare but striking images capture the way that I too find my senses heightened when I am in church.
I have embedded two of Carrie's preliminary sketches of Trinity in the story.  Other examples of Carrie's work can be found on her website. You can also go here to see her latest exhibit.  Here is Jennifer's piece:
Gifts
by J. Annie MacLeod
She sits in the back pew, a bird-boned woman with hard hands and soft eyes. Wind parts the church's steeple, and the oak ceiling creaks like a ship, king-built by Baltimore freedmen two centuries before.
Patterning his words to the wind, a bald man stands at the pulpit, talks of grace and heaven, of the departed's many gifts.Three years in the dead man's service, the woman knows of his donations and charity dinners, his "Honey, there's ten dollars in my top drawer.You take it.Spend it on yourself."Yet the woman knows of other gifts, too—a tycoon's fortune left to one son but not the other, guilt to a daughter, grief to a wife.Of course the minister doesn't tell how the dead man once said to the woman, "Get your goddamned self out of my goddamned house" when she dropped a cup of tea.Whenever the dead man spoke, no matter what he said, his vowels spread wide like smiles.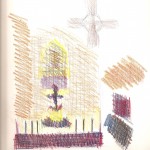 Above the altar there's an anchor instead of a cross, iron-tight and wound in a purple cord from Africa.The minister visited Africa, wears the gift of a rainbow stole down the front of his robe.The whole church was made through gifts.Donated organ, donated chapel.Trees cut and stretched into pews.Glass ground into windows that read "In Memoriam" and "In Loving Memory Of."
For the woman, water is church. When she needs God, she takes out a borrowed skiff, follows the curves of wind and wave. If the dead man swatted her wrist or if she emptied his bedpan without thanks, the woman would ask for patience. "Tomorrow I'm going to tell him I'm leaving," she'd say, and the water would make a constant sound against her boat.
The woman had found the dead man. An hour before, she'd put her dark hand over his own blue wrist, had said, "Here," changing a pillow. He'd said, "Honey, here," touching his chest, now creaking like a door on old hinges. "I'll get some tea," she'd said, but when she came back, he was twisted in the sheets, sickness everywhere, a smell like the scooped-out bottom of a river. And so the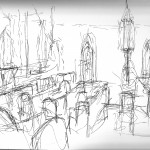 womanhad cleaned him—turned his body to strip the sheets, changed his pajamas, soaped his hair with a washcloth, rubbed his eyeglasses clear. Only then did she get his wife, out gardening, dirt to the knees. "He's gone," she'd said to the old woman. "Come on up, now. Come on."
Pale walls, cold floor, windows that block light more than pass it, the woman thinks hard on the dead man, listens. A blower beneath her pew starts up like water rushing, a steady sound. The woman's eyes grow wet—another gift.
Follow-up notes:
Jennifer sent me the following description of her collaboration with Carrie:
To me, I've always thought of Carrie's work like this:  if our eyes could register color and shape but didn't recognize what we were seeing, we'd "see" Carrie's paintings.  In other words, she's trying (I think!) to render the shape and color of a space without providing a viewer with the concrete marks that allow a brain to lock in and immediately define that space through conventional means.  As such, Carrie's paintings (block of color on canvas or wood) ask a viewer to re-see:  to deconstruct the way in which we've become accustomed to seeing and–as such–to see interior spaces anew.
We worked together on the pieces–and both my short story and Carrie's painting were defined by each other's art.  We spent two hours in Trinity together:  Carrie sketched, I took notes on the senses the church evoked, and we talked about what we were seeing / feeling.  So the two pieces are bound up in each other and are meant to be experienced together.
And here's an explanation from Carrie, who says that she is
creating a new object that translates the poetics of a particular place. Just as Jennifer's fiction tells a new story that embodies the physical essence of a place, my object is not a literal illusion but rather a new version of ideas experienced at Trinity and through reading Jennifer's ideas on Trinity. 
In this case, Jennifer's writing, her response to Trinity, and our conversation brought up the idea of opposites – black/white/ warm/cold/ blue/orange.  The construction that I made focuses the viewer's attention, through the senses, on opposites.