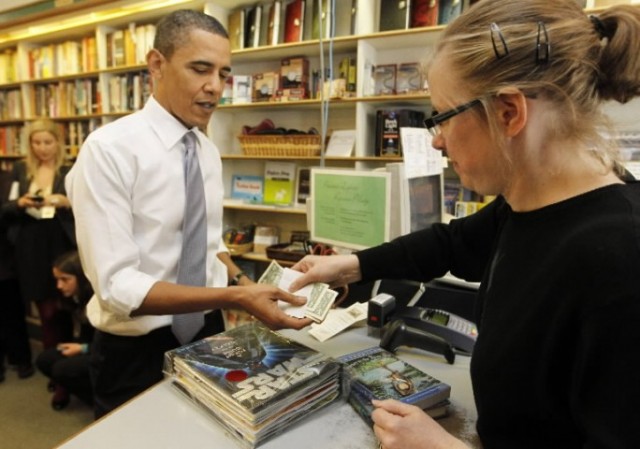 Thursday
Last week, drawing on a Dave Odgard Buzzfeed article about the favorite books of America's presidents (those that had a favorite work of literature), I got through the first 150 years. (I looked only at those presidents who cited literature.) I had hoped to conclude with Hillary Clinton, whose favorite novel is The Brothers Karamazov, but it was not to be. I will therefore have to end with Barack Obama since our next president doesn't read and doesn't have any favorite books other than those that have been ghostwritten for him. Oh, and the Bible, at least when he's addressing Christian audiences.
Here they are:
Dwight D. Eisenhower, Connecticut Yankee in King Arthur's Court by Mark Twain
I love this choice, which indicates that Eisenhower had a sense of humor. Did his criticism of "the military industrial complex" reflect how Hank's progressive vision is destroyed by the very weapons he sets up to defend it? Eisenhower was president during the era of "the great prosperity," and the novel both reflects Yankee optimism and questions it.
JFK, From Russia with Love by Ian Fleming
I remember hearing about Kennedy's love of Fleming when I was 12 (in 1963) and all my friends were reading the famous spy stories. The Cold War and the Bay of Pigs may have been part of what drew Kennedy to Fleming, and of course he imagined himself as Bond with beautiful women. More positively, if accessing his inner Bond helped Kennedy remain cool during the Cuban missile crisis, then we owe Fleming a large debt of gratitude.
Richard Nixon, anything by Tolstoy
I'm not surprised that Nixon associated himself with Tolstoy's epic sweep: he had grandiose visions of himself and even lived up to one of them in the breakthrough with China. I wonder if Nixon got anything from War and Peace, however. After all, he played Napoleon to Ho Chi Minh's Russian army and made similar mistakes. In Nixon's case, the jungle played the role of the snow, and Vasily Denisov, who conducts daring guerilla raids against the French, could stand in for the Viet Cong .
Gerald Ford, novels of Horatio Alger
Alger didn't produce great literature. Odegard writes,
When Nixon lost Spiro Agnew as his vice president, the congressional leadership gave him no other option than to tap Gerald Ford. Seen as a fair and loyal leader, Ford was probably intended to help to lighten the administration's increasingly sinister public image. So it shouldn't be any surprise that Ford's favorite books to read while growing up were Horatio Alger novels. You'll notice that we haven't mentioned a specific title; that's because they're all essentially the same story of a poor boy who works hard to escape poverty and is rewarded for some brave or honest action with a rags-to-riches reward (usually adoption by a wealthy gentleman). "They were all stories about heroes, poor boys who struggled and eventually succeed," Ford recalled in an interview years later. "They were my favorite for reading."
Ronald Reagan, The Hunt for Red October by Tom Clancy
This one bothers me, given that Clancy has a cartoonish view of conflict with the Soviets. It doesn't surprise me that the president who thought that Star Wars technology could work—it never did—would be drawn to Clancy. Reagan would have arrived at a deeper understanding of the world had he chosen Tolstoy.
George H. W. Bush, War and Peace by Leo Tolstoy
This makes sense for a president highly regarded for his foreign diplomacy. Bush found War and Peace to be "an inspiring, lengthy treatise. I read it twice. It taught me a lot about life." Maybe the novel came to his aid when he was negotiating with the Soviet Union and when he was launching the First Gulf War.
Bill Clinton, Invisible Man by Ralph Ellison and One Hundred Years of Solitude by Gabriel Garcia Marquez
William Jefferson Clinton probably hasn't read as much as Jefferson but he's read a lot. Invisible Man shows up on a couple of his reading lists and may help explain his popularity with African American voters. Strange as it may seem now when he gets criticized by Black Lives Matter, Clinton was described by Toni Morrison as "the first African American president" for his sensitivity to black issues.
I've heard elsewhere that Hundred Years of Solitude is high on Clinton's list. The mythic history of a South American country, enhanced by magical realism, probably helped him see the United States in a comparable light. Clinton was also sensitive colonialism's legacy and may have appreciated the episodes involving United Fruit.
George W. Bush, "The Hungry Caterpillar" by Eric Carle
The only book Bush mentions specifically is the Bible, which is too general for our purposes. I heard somewhere that he was a fan of Eric Carle's "Hungry Caterpillar," a children's book about a caterpillar who eats everything in sight. Did this presage multiple foreign entanglements?
 Barack Obama, Song of Solomon by Toni Morrison
I've written in depth about the importance of this book for Barack Obama—for instance, the protagonist's final and literal leap of faith:
What Milkman learns, and perhaps passed on to Obama, is that one must step openly into the conflict. Time and again, Obama has embraced big decisions, whether they have involved passing the largest economic stimulus in U. S. history, instituting a monumental healthcare plan, engaging in a daring rescue of the auto industry, going after Osama Bin Laden, embracing gay marriage, putting together a coalition to overthrow Libya, signing an order to cease deporting the children of immigrants, and a host of other things, any one of which could have (if it had gone badly) spelled an end to his presidency. Time and again in the past four years, Obama has leaped off the cliff into unknown territory. Tuesday night the country rewarded him for his daring.
Our greatest presidents have often been the best readers. And vice versa.