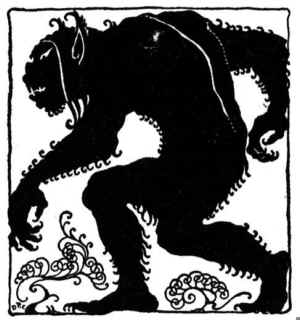 I interrupt my Jane Austen series in honor of the soldiers killed by the army psychologist at Ford Hood.  Facts are sketchy as I write this, but Beowulf, particularly the monster Grendel, may give us some insights into the tragedy.
Think of Grendel as a warrior that goes bad. In the epic, Grendel lives on the margins of society, but that could be a metaphor for how a potential Grendel lives within the margins, the subconscious, of every soldier.  In medieval society, fights could break out in mead halls amongst jealous warriors who were drunk on mead or suffering from post traumatic stress disorder.  Even before Grendel shows up, Beowulf encounters a violent warrior who is the kind of man that would trigger and engage in such quarrels.  In fact, Unferth is even guilty of having killed a relative.
Beowulf's response to Unferth is to stay within himself.  He doesn't rise to the bait but assesses the man, scopes out his problem (Unferth has been drinking), and delivers a firm and grounded put-down.  Unferth is silenced.
Grendel is society's nightmare of Unferth's fratricidal impulse unleashed.  He represents an archetypal rage that warriors knew could possess their comrades or even they themselves.  To quote the sci-fi classic Forbidden Planet, he is a "monster from the id" who can show up in protected havens.  Heorot Hall and Ford Hood, places where warriors congregate and are trained, are not safe from him.
As with Unferth, Beowulf does not allow himself to be pulled into Grendel's dark energy field.  To most warriors, Grendel seems impossible to kill.  He appears ten feet tall and swords bounce off of him.  But Beowoulf stays grounded, relying on his mighty grip, and the force of rage disintegrates within his mighty grip.
Unlike other soldiers who have recently turned their guns on their comrades, Nidal Malik Hasan can't plead battle stress. I'm thinking of Beyshee Velez, who shot an American contractor in Iraq (in September) and John Russell, who killed five colleagues in Camp Liberty in Baghdad (in May).  Hasan is not one of those soldiers who, because of PTSD or the loss of perspective that inhumane conditions can lead to, turns his gun on innocent Iraqi civilians or on acquaintances or loved ones back in the States. 
Yet he still moved within a military culture that is necessarily focused on violence.  Resorting to guns did not seem as foreign to him as it would seem to most of us.
I remember hearing an American general, following the Abu Gahrib prison abuses, arguing in favor of the Geneva Conventions against the Bush administration.   Whether or not they protect our own imprisoned soldiers, he said, they are necessary to protect us from our own dark side.  They give us a sense that there are some limits to barbarism.  In his savage society, Beowulf stands for limits.
Soldiers aren't the only people who need limits.  Because Hasan is Muslim, there will be Americans who seek to fan the flames of ethnic hatred against those of his faith.  We must stay Beowulf strong and resist succumbing to that dark energy.
Addendum:  I have written a series of five posts earlier in the year on how Grendel rage is present in our society and how we need leaders to step up and dampen the flames.  I don't see many Republican leaders showing leadership on this score, and the haters don't appear to be listening to any Democrats (or even moderate conservatives).  I sometimes worry that  Beowulf's effectiveness is his society's wish fulfillment rather than real possibility.   Here is the first post in that series.