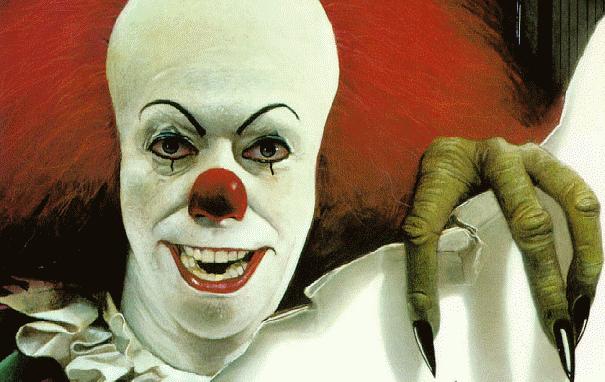 Continuing the theme of lost innocence leads me to a discussion of Stephen King, America's master of horror. Whether you like him or not, King is the bestselling author in the world because he taps effectively into our collective nightmares. One of these nightmares is over losing touch with our childhood innocence, and there is evidence that King uses Wordsworth's "Intimations of Immortality," the subject of my last post, to sort through the issue.
I owe this insight to a former student of mine, Marjorie Kates, who in 2007 wrote her senior project on King's child protagonists, especially those found in It, her favorite King novel. What she discovered was that there is a battle over innocence, and anger over its loss, at the heart of these stories.
King's children often often have special powers (Carrie, The Shining, Firestarter). As with Wordsworth's children, however, their power threatens to fade as they grow older. They risk becoming normal adults.
For Wordsworth and King, becoming a normal adult involves turning into a dull, unimaginative, pragmatic, money grubbing creature. Parents are generally unsympathetic in King's novels, and Wordsworth's description of the journey to adulthood is chilling. Here it is:
Heaven lies about us in our infancy!
Shades of the prison-house begin to close
Upon the growing Boy.
But He
Beholds the light, and whence it flowsk,
He sees it in his joy;
The Youth, who daily father from the east
Must travel, still is Nature's Priest,
And by the vision splendid
Is on his way attended;
At length the Man perceives it die away,
And fade into the light of common day.
King goes one step beyond Wordsworth, however, in exploring the anger of adults at losing their touch with childhood. As Margorie puts it in her thesis, ""These adults become monsters because they are searching for the vitality they lost growing up. Evil holds an excitement that can fill the hole that conforming to society creates. Essentially adults become bored with their mundane robot-like existence and look for an alternative."
So the drama of King's child-centered novels, according to Marjorie, is whether the children can use their powers to hold off evil. It she finds to be particularly interesting because it does not end with the children still as children. Rather, the gang, after growing up and dispersing, must reassemble and return to defeat the evil clown they defeated years before. The only way to defeat him is to become as children again.
The evil clown is the archetype of bloodletting in our society. He is lynch mobs, he is child molestation, he is weapons of mass destruction. If King were writing post-Iraq War, he would find the evil clown present in Abu Ghraib and torture rooms of the CIA. (In other words, no society, however civilized, is exempt.) The adult world is constantly in danger of being pulled into his vortex.
The protagonists of It have long ago forgotten their battles with the clown. But one of them has been assigned to be a watcher, and he calls them together when he detects the clown's return. Together they reconstruct their childhood memories.
In the final showdown (spoiler alert), Bill the writer jumps on his childhood bike and rides it just as recklessly. The significance of the act is that he is touching base with his carefree childhood days. By doing so, he is able to save his marriage and save himself. King sees this as a battle that we all must wage.
The final paragraphs contain a direct allusion to "Intimations of Immortality." They not only sum up King's book but also function as a gloss on the poem. (They also give insight into the origins of King's book itself.) Here they are:
He awakens from this dream unable to remember exactly what it was, or much at all beyond the simple fact that he has dreamed about being a child again. He touches his wife's smooth back as she sleeps her warm sleep and dreams her own dreams; he thinks that it is good to be a child, but it is also good to be grownup and able to consider the mystery of childhood . . . its beliefs and desires. I will write about all of this one day, he thinks, and knows it's just a dawn thought, an after-dreaming thought. But it's nice to think so for awhile in the morning's clean silence, to think that childhood has its own sweet secrets and confirms mortality, and that mortality defines all courage and love. To think that what has looked forward must also look back, and that each life makes its own imitation of immortality: a wheel
Or so Bill Denbrough sometimes thinks on those early mornings after dreaming, when he almost remembers his childhood, and the friends with whom he shared it.
King plays a little with Wordsworth's title, substituting "imitation" for intimations" of immortality. But it is clear that he is talking about himself and his own intimations of the magical childhood imagination that he draws strength from.
King reconnects with this childhood power through his novels. There are other ways as well, including returning to the books we loved as children. The goal, however, is not to possess it, to be children again. That way lies anger and bitterness. Even as we fondly remember our childhood play, we must also remember that it is "good to be grownup."