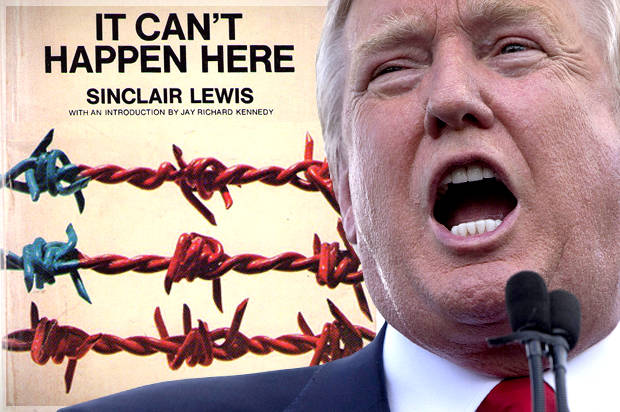 Friday
I fear that this blog is becoming All Trump All the Time. In my defense, I think it is vital that we figure this man out and how to stop him. I believe Donald Trump to be the greatest threat to American democracy and to world stability that I have seen in my 64+ years on this earth. If literature can at all assist in the fight, then it is this literature teacher's responsibility to cite literature. See it as my modest contribution to #StopTrump.
The indispensable Adam Gopnik at The New Yorker recently turned to Tom Stoppard to show how quickly someone with Trump's views can become normalized:
"How the hell do I know what I find incredible?" a bemused philosopher asks in Tom Stoppard's play Jumpers. "Credibility is an expanding field … and sheer disbelief hardly registers on the face before the head is nodding with all the wisdom of instant hindsight." This is a now familiar emotion, a recognizable expansion. The unimaginable happens—Donald Trump, fool, oaf, and sociopathic liar, becomes the nominee of a major American political party—and within minutes what ought to be a shock beyond understanding becomes an event to savor, accept, and analyze. The desperate efforts to normalize the aberrant begin: he's actually a Rockefeller Republican with orange hair; he wasn't humiliated by President Obama's mockery at that dinner in 2011 but responded as a lovable, gregarious good guy; even his birtherism wasn't the vile racist sewage anyone could see it to be—he was genuinely unsure about where exactly it was the President was born. Trump tells one wild ranting lie after another on Sunday-morning television—we are the most heavily taxed nation in the world; he always opposed the Iraq war—and Chuck Todd can't do much more than nod and say "Gotcha!"
Gopnik includes a reference to Pap Finn as he describes what could happen next:
This is the kind of desperate response to the rise of fascism one might expect to find in a decadent media culture. Neocons have made a fetish of 1938; in retrospect they would have done better looking hard at 1933. There is a simple formula for descriptions of Donald Trump: add together a qualification, a hyphen, and the word "fascist." The sum may be crypto-fascist, neo-fascist, latent fascist, proto-fascist, or American-variety fascist—one of that kind, all the same. Future political scientists will analyze (let us hope in amused retrospect, rather than in exile in New Zealand or Alberta) the precise elements of Poujadisme, Peronism and Huck Finn's Pap that compound in Trump's "ideology." But his personality and his program belong exclusively to the same dark strain of modern politics: an incoherent program of national revenge led by a strongman; a contempt for parliamentary government and procedures; an insistence that the existing, democratically elected government, whether Léon Blum's or Barack Obama's, is in league with evil outsiders and has been secretly trying to undermine the nation; a hysterical militarism designed to no particular end than the sheer spectacle of strength; an equally hysterical sense of beleaguerment and victimization; and a supposed suspicion of big capitalism entirely reconciled to the worship of wealth and "success." It is always alike, and always leads inexorably to the same place: failure, met not by self-correction but by an inflation of the original program of grievances, and so then on to catastrophe. The idea that it can be bounded in by honest conservatives in a Cabinet or restrained by normal constitutional limits is, to put it mildly, unsupported by history.
Gopnik also describes Trump as a cross "between Sauron and Bozo the Clown."
No less concerned, Burkean conservative Andrew Sullivan at the Atlantic Monthly turns for guidance to a novel written while Hitler was consolidating power.
In his 1935 novel, It Can't Happen Here, Sinclair Lewis wrote a counterfactual about what would happen if fascism as it was then spreading across Europe were to triumph in America. It's not a good novel, but it remains a resonant one. The imagined American fascist leader — a senator called Buzz Windrip — is a "Professional Common Man … But he was the Common Man ­twenty-times-magnified by his oratory, so that while the other Commoners could understand his every purpose, which was exactly the same as their own, they saw him towering among them, and they raised hands to him in worship."
He "was vulgar, almost illiterate, a public liar easily detected, and in his 'ideas' almost idiotic." " 'I know the Press only too well,' " Windrip opines at one point. " 'Almost all editors hide away in spider-dens, men without thought of Family or Public Interest … plotting how they can put over their lies, and advance their own positions and fill their greedy pocketbooks.' "
He is obsessed with the balance of trade and promises instant economic success: " 'I shall not be content till this country can produce every single thing we need … We shall have such a balance of trade as will go far to carry out my often-criticized yet completely sound idea of from $3000 to $5000 per year for every single family.' " However fantastical and empty his promises, he nonetheless mesmerizes the party faithful at the nominating convention (held in Cleveland!): "Something in the intensity with which Windrip looked at his audience, looked at all of them, his glance slowly taking them in from the highest-perched seat to the nearest, convinced them that he was talking to each individual, directly and solely; that he wanted to take each of them into his heart; that he was telling them the truths, the imperious and dangerous facts, that had been hidden from them."
And all the elites who stood in his way? Crippled by their own failures, demoralized by their crumbling stature, they first mock and then cave. As one lone journalist laments before the election (he finds himself in a concentration camp afterward): "I've got to keep remembering … that Windrip is only the lightest cork on the whirlpool. He didn't plot all this thing. With all the justified discontent there is against the smart politicians and the Plush Horses of Plutocracy — oh, if it hadn't been one Windrip, it'd been another … We had it coming, we Respectables."
Sullivan, as a traditional conservative, agrees with the journalist that the elites/Respectables have to step up their game. Because they have failed in their responsibilities (I'd include Nixon's Southern Strategy and the RNC's toleration of Obama birtherism in this), a populist demagogue has filled the vacuum. Sullivan turns to Plato to describe what we're up against:
[L]ike all tyrants, [Trump] is utterly lacking in self-control. Sleeping a handful of hours a night, impulsively tweeting in the early hours, improvising madly on subjects he knows nothing about, Trump rants and raves as he surfs an entirely reactive media landscape. Once again, Plato had his temperament down: A tyrant is a man "not having control of himself [who] attempts to rule others"; a man flooded with fear and love and passion, while having little or no ability to restrain or moderate them; a "real slave to the greatest fawning," a man who "throughout his entire life … is full of fear, overflowing with convulsions and pains." Sound familiar? Trump is as mercurial and as unpredictable and as emotional as the daily Twitter stream. And we are contemplating giving him access to the nuclear codes.
Sullivan, like Gopnik, believes that Trump has a chance because he is transforming the terms of the debate:
Those who believe that Trump's ugly, thuggish populism has no chance of ever making it to the White House seem to me to be missing this dynamic. Neo-fascist movements do not advance gradually by persuasion; they first transform the terms of the debate, create a new movement based on untrammeled emotion, take over existing institutions, and then ruthlessly exploit events. And so current poll numbers are only reassuring if you ignore the potential impact of sudden, external events — an economic downturn or a terror attack in a major city in the months before November. I have no doubt, for example, that Trump is sincere in his desire to "cut the head off" ISIS, whatever that can possibly mean. But it remains a fact that the interests of ISIS and the Trump campaign are now perfectly aligned. Fear is always the would-be tyrant's greatest ally.
Though a longtime critic of the Clintons—Sullivan excoriated the president in the 1990s–he currently sees Hillary as our only hope. That's how scared he is.