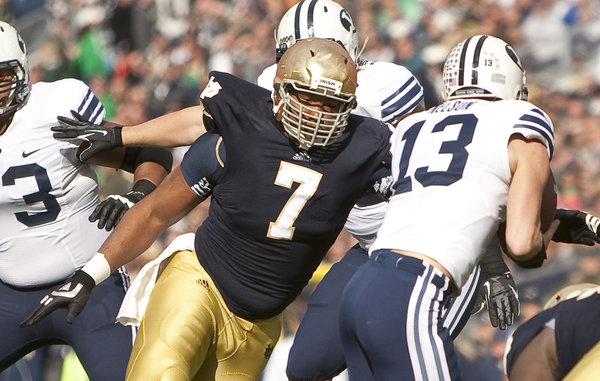 Sports Saturday
The Fighting Irish of Notre Dame may be ranked #1 in the country, but in Monday's national championship game I fear they will be buried by the Alabama Crimson Tide. Las Vegas has them as 10-point underdogs.
In this match-up of Bible Belt Calvinists against Irish Catholics, I'm anticipating a reprise of Oliver Cromwell's 1649 massacre at Drogheda.
A thousand years of British subjugation made the Irish specialists at being underdogs. To see if I could find something to inspire Notre Dame, I went rummaging through the work of Ireland's greatest poet.
What I uncovered did not offer a lot of hope, however. Yeats' "An Irish Airman Foresees His Death" may accurately predict the outcome of the game but is not something one wants to post on the team bulletin board:
I know that I shall meet my fate
Somewhere among the clouds above.
The same is true of the Irish martyrs who were executed after the "Easter 1916" uprising:
We know their dream; enough
To know they dreamed and are dead . . .   
The best I could find is Yeats' youthful and very nationalistic play Cathleen Ni Houlihan.
In it an old woman (but really she's a young girl who walks like a queen) enters a household where there is about to be a marriage. Instead of succumbing to a comfortable domestic life, however, the young man is inspired by her to run off and join the French army, presumably to battle the English. In other words, the woman represents the spirit of Irish nationalism.
The life she paints is filled with glory but the ending she foresees doesn't sound very promising:
It is a hard service they take that help me. Many that are red-cheeked now will be pale-cheeked; many that have been free to walk the hills and the bogs and the rushes will be sent to walk hard streets in far countries; many a good plan will be broken; many that have gathered money will not stay to spend it; many a child will be born, and there will be no father at its christening to give it a name. They that had red cheeks will have pale cheeks for my sake; and for all that, they will think they are well paid.

[She goes out; her voice is heard outside singing.]
They shall be remembered for ever,
They shall be alive for ever,
They shall be speaking for ever,
The people shall hear them for ever.
I don't see Notre Dame winning on Monday, but at least Yeats'play provides one consoling thought: the Irish are as good as anyone at transmuting defeat into poetry. Out of a series of executions Yeats discovered a "terrible beauty." Joyce somehow turned straitened and empty Dublin lives into heartbreaking short stories and then the 20th century's greatest English-language novel. Swift, confronted by horrendous poverty, wrote the world's most famous essay.
In other words, we can rest assured that, even if their team loses, Notre Dame fans will find some way to poetize their defeat.