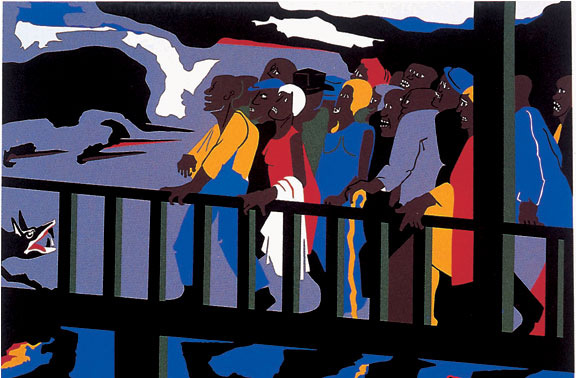 Jacob Lawrence, "Confrontation at the Bridge"
Martin Luther King Day
In honor of Martin Luther King Day, here's a fine poem by Nikki Giovanni. I particularly like the passage in the sixth stanza that talks about how King and the black struggle, under immense pressure, became a diamond.  The best testimony to King is not to single him out but, as Giovanni does, to group him with all of these other names from the civil rights movement.
The second stanza is filled with references to the all white television shows of the 1950's and early 1960's television shows .  While the time is idealized by some on the Right, Giovanni notes that for those caught up in the movement, it was a time of "Constant Threats…Constant Harassment…Constant Fear…"
Blood has been shed to produce her content, Giovanni tells us, making it a sacred poem. Feel the spirit of greatness.
In the Spirit of Martin
By Nikki Giovanni
This is a sacred poem…blood has been shed to consecrate it…
wash your hands…remove your shoes…bow your head
…I…I…I Have a Dream
That was a magical time…Hi Ho Silver Away…
Oh Cisco/Oh Pancho…Here I Come To Save The Day…
I want the World to see what they did to my boy…
No No No I'm not going to move…If we are Wrong…
then the Constitution of the United States is Wrong
…Montgomery…Birmingham…Selma…Four little Girls…
Constant Threats…Constant Harassment…Constant Fear…
SCLC…Ralph and Martin…Father Knows Best…
Leave It To Beaver…ED SULLIVAN…How Long…Not Long
But what…Mr. Thoreau said to Mr. Emerson…are you doing out?
This is a Letter from Birmingham City Jail…
This is a eulogy for Albany…This is a water hose for Anniston…
This is a Thank You to Diane Nash…
This is a flag for James Farmer…
This is a HowCanIMakeItWithoutYou to Ella Baker…
This is for the red clay of Georgia that yielded black men of courage…
black men of vision…black men of hope…
bent over cotton…or sweet potatoes…or pool tables and
baseball diamonds…playing for a chance to live free and
breathe easy and have enough money to take care of
the folks they love…This is Why We Can't Wait
That swirling Mississippi wind…the Alabama pine…
that Tennessee dust defiling the clothes the women washed…
thosehotwinds…the lemonade couldn't cool…
that let the women know…we too must overcome…
this is for Fannie Lou Hamer…Jo Ann Robinson…
Septima Clark…Daisy Bates…All the women who said
Baby Baby Baby I know you didn't mean to lose your job…
I know you didn't mean to hit me…
I know the Lord is going to make a way…
I know I'm Leaning On The Everlasting Arms
How much pressure…does the Earth exert on carbon…
to make a diamond…How long does the soil push against the flesh…
molding… molding…molding the moan that becomes a cry that
bursts forth crystalline…unbreakable…priceless…incomparable Martin…
I Made My Vow To The Lord That I Never Would Turn Back…
How much pressure do the sins of the world press
against the heart of a man who becomes the voice of his people…
He should have had a tattoo, you know…Freedom Now…
or something like that…should have braided his hair…
carried his pool cue in a mahogany case…
wafted that wonderful laugh over a plate of skillet fried chicken…
drop biscuits…dandelion greens on the side
This is a sacred poem…open your arms…turn your palms up…
feel the Spirit of Greatness…and be redeemed
Addendum – Giovanni's wise decision not to overemphasize King in her poem brings to mind the fascinating, although unfortunate, controversy over the King statue in Washington, D.C. The quotation that is used, " I WAS A DRUM MAJOR FOR JUSTICE,
PEACE AND RIGHTEOUSNESS," makes King sound like (in the words of poet Maya Angelous) an "arrogant twit."  Indeed, as Hendrik Hertzberg points out in an excellent New Yorker article, the original speech is a warning for people not to be drum majors leading the band but participants. The quotation, in other words, is not only misleading. It makes the exact opposite point of what King had in mind.
Note on the art work: Jacob Lawrence, one of my favorite African American artists, commemorates the bloody confrontation between demonstrators and state police on the Edmund Pettus Bridge outside of Selma, Alabama in March, 1965.  The marchers were demanding the right to register to vote.