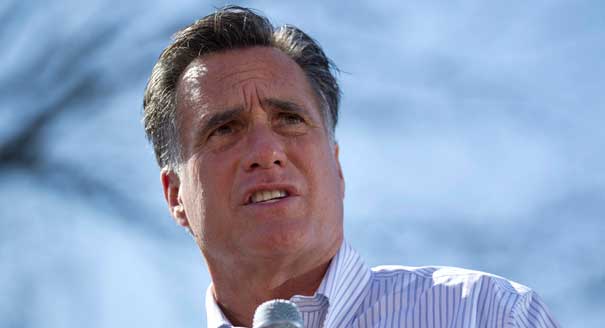 Although it's always premature to declare an election over until it's over, a number of Republicans are starting to panic as every day seems to usher in another Mitt Romney disaster. Columnist Maureen Dowd  yesterday mentioned both Ernest Hemingway and Oscar Wilde to capture her sense of a campaign imploding. She also took a passing glance at Eudora Welty.
Others expressing alarm are GOP stalwart Peggy Noonan, who has called Mitt Romney's campaign "incompetent" and "a rolling calamity," and conservative columnist David Brooks, who has all but thrown up his hands.  The fact that a number of Republican surrogates have either left the campaign (Tim Pawlenty is becoming a banking lobbyist) or are visiting Iowa in apparent preparation for possible 2016 presidential runs of their own (in other words, Bobby Jindal, Rick Perry, and Chris Christie look like they're assuming there won't be a Republican president running for reelection then) must be discouraging for the Romney people.
While most are blaming Romney, I'm with Mike Tomasky of The Daily Beast that it's not all Romney's fault. Yes, he is one of T. S. Eliot's hollow men, "head piece filled with straw" and "behaving as the wind behaves."  (Romney opponent John Huntsman called him a "weathervane.") Yes, he has a Tom Buchanan-like sense of entitlement. Yes, he fits Holden Caulfield's definition of a phony. Yes, like Gertrude Stein's Oakland there's no there there. But if he had the winds of history blowing with him, he probably wouldn't seem quite so inept.
Unfortunately, the GOP at the moment is in thrall to (in Tomasky's words) "a movement and political party that has gone off the deep end." Most sensible Republicans decided that they couldn't be nominated in such a climate and so chose not to enter the race. Romney thought he could win by engaging in looking glass politics—playing loose with language a la Humpty Dumpty and accusing opponents of everything that he himself was guilty of—and he was right up to a point. After all, he did beat out his primary opposition. Then again, as Kevin Drum of Mother Jones points out, the fact that he was the best candidate of those who ran should give the GOP pause.
Before I go further, let me take note of Dowd's literary allusions, even though I think she overemphasizes personality and underplays the deeper historical currents. Her column begins,
Sometimes in the course of human events we must ask, as Hemingway did in "The Snows of Kilimanjaro," what is that leopard doing at this altitude?
The allusion is to the epigraph of the Hemingway story:
Kilimanjaro is a snow covered mountain 19,270 feet high, and is said to be the highest mountain in Africa. Its western summit is called the Masai "Ngqje Ngai," the House of God. Close to the western summit there is the dried and frozen carcass of a leopard. No one has explained what the leopard was seeking at that altitude.
Dowd's point, I take it, is that Romney's ascension to GOP presidential nominee is as inexplicable as that leopard. She probably is also pointing out that Romney can't handle the heights any more than the leopard could and that he is all but dead meat.
Dowd then trains her sights on Romney's campaign manager:
We must also ask the Hemingway question about Stuart Stevens, the Hemingway manqué running Mitt's campaign. "The Square and the Flair," The New Republic dubbed the synthetic candidate and his sentient adviser, who started as Eudora Welty's paperboy and lived by the Oscar Wilde maxim: "Nothing succeeds like excess."
After detailing all that Stevens has done wrong (just as, in other columns, Dowd has detailed everything Obama has done wrong), the irascible columnist concludes,
Romney said he liked to fire people. But his downfall may be that he does not.
As I say, I'm not entirely buying this. John Cassidy of The New Yorker gives seven reasons why he thinks that "Romney is such a loser," and like me he leans towards reason #3: "It's all the G.O.P.'s fault." Here's Cassidy:
A month ago, on the eve of the Republican convention, I wrote a post saying that Romney's main handicap wasn't his campaign manager or his tendency to trip himself up but the fact that he was running as the representative of such an extremist and unpopular party. "It's a protest movement rather than a party of government," I wrote. "Even in the most favorable circumstances, it's barely electable at the national level." That still seems right. Even after his problems, Romney's approval ratings (low forties) are running about ten points ahead of the G.O.P.'s ratings (low thirties).
To be sure, in some of his other reasons (#1 and #2) Cassidy acknowledges that Romney's campaign and Romney himself bear some responsibility. He turns to Marx to show how:
To misquote Karl Marx's famous passage in The Eighteenth Brumaire of Louis Bonaparte, men do not make history entirely as they please, they do not make it under circumstances chosen by themselves—but they do make their own history."
From that perspective, then, Romney and his campaign manager deserve some of Dowd's roasting.
But Marx's actual quote, as Cassidy well knows, asserts that historical circumstances are more determinative than individual personalities:
Men make their own history, but they do not make it as they please; they do not make it under self-selected circumstances, but under circumstances existing already, given and transmitted from the past.
The circumstance transmitted to Mitt Romney was a party that currently is punishing anyone who shows the least hint of moderation. For a man who in the past engineered universal health care for Massachusetts and who once claimed that he was to the left of Teddy Kennedy on gay rights, Romney's performance has been rather impressive.
The leopard, after all, deserves some credit for having made its way all the way up Kilimanjaro.