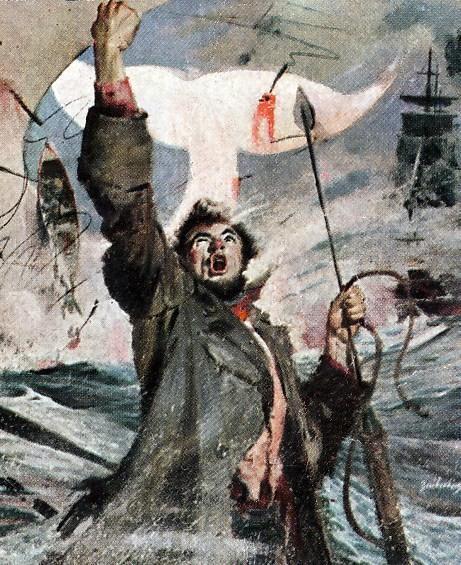 My friend Sue Schmidt alerted me to an interesting essay that compares America's current situation to that of the Pequod. According to Chris Hedges in Truthdig,
Melville makes our murderous obsessions, our hubris, violent impulses, moral weakness and inevitable self-destruction visible in his chronicle of a whaling voyage. He is our foremost oracle. He is to us what William Shakespeare was to Elizabethan England or Fyodor Dostoyevsky to czarist Russia.
Hedges makes several important points in the course of his application. Here's one I particularly like since it gets at some of America's self-denial that I have written about from time to time:
"If I had been downright honest with myself," Ishmael admits, "I would have seen very plainly in my heart that I did but half fancy being committed this way to so long a voyage, without once laying my eyes on the man who was to be the absolute dictator of it, so soon as the ship sailed out upon the open sea. But when a man suspects any wrong, it sometimes happens that if he be already involved in the matter, he insensibly strives to cover up his suspicions even from himself. And much this way it was with me. I said nothing, and tried to think nothing."
We, like Ahab and his crew, rationalize madness. All calls for prudence, for halting the march toward environmental catastrophe, for sane limits on carbon emissions, are ignored or ridiculed. Even with the flashing red lights before us, the increased droughts, rapid melting of glaciers and Arctic ice, monster tornadoes, vast hurricanes, crop failures, floods, raging wildfires and soaring temperatures, we bow slavishly before hedonism and greed and the enticing illusion of limitless power, intelligence and prowess. We believe in the eternal wellspring of material progress. We are our own idols. Nothing will halt our voyage; it seems to us to have been decreed by natural law. "The path to my fixed purpose is laid with iron rails, whereon my soul is grooved to run," Ahab declares. We have surrendered our lives to corporate forces that ultimately serve systems of death. Microbes will inherit the earth.
Hedges is particularly interested in the figure of Starbuck, the first mate who knows that Ahab is mad and yet lacks the courage or force to stand up to him. I suspect that Hedges sees many of us as Starbucks:
Melville knew that physical courage and moral courage are distinct. One can be brave on a whaling ship or a battlefield, yet a coward when called on to stand up to human evil. Starbuck elucidates this peculiar division. The first mate is tormented by his complicity in what he foresees as Ahab's "impious end." Starbuck, "while generally abiding firm in the conflict with seas, or winds, or whales, or any of the ordinary irrational horrors of the world, yet cannot withstand those more terrific, because spiritual terrors, which sometimes menace you from the concentrating brow of an enraged and mighty man."
One comment I have is that Hedges himself sounds overwrought at times, as though he too is channeling Ahab's energy.  There is some of Ahab's self righteousness, some of his apocalyptic fury, in Hedges' prose. If you haven't remarked upon it yet, note how he ends his article:
And so we plunge forward in our doomed quest to master the forces that will finally smite us. Those who see where we are going lack the fortitude to rebel. Mutiny was the only salvation for the Pequod's crew. It is our only salvation. But moral cowardice turns us into hostages.
Moby Dick rams and sinks the Pequod. The waves swallow up Ahab and all who followed him, except one. A vortex formed by the ship's descent collapses, "and the great shroud of the sea rolled on as it rolled five thousand years ago." 
Hedges has convinced me: Ahab represents a very American form of madness. But the madness isn't confined to the American Right.
Previous posts applying Moby Dick to current events:
Lamentation and Weeping in Newtown
Defeating the White Whale of Race Hatred
Captain Ahab, A Tyrant for All Seasons
When Nature Wreaks Its Revenge (the Gulf Oil Spill)