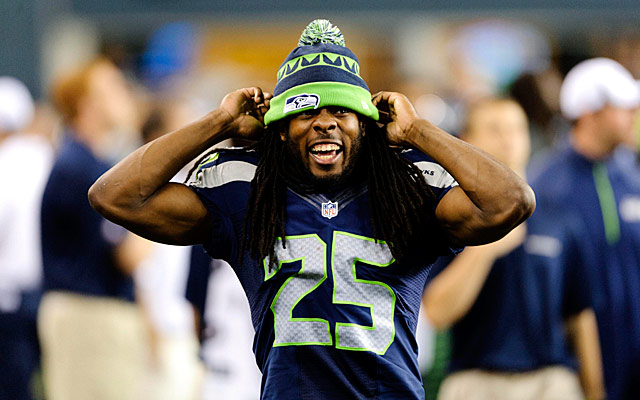 Sports Saturday
I've been trying to think of a narrative that does justice to the clash between the best passing team in the history of the NFL and one of history's greatest defenses. I have arrived at two different dramas, one in which the forces of order are pitted against the forces of chaos, the other in which a trickster figure upsets carefully charted plans. You tell me which one rings true.
Creation stories often feature a struggle between order and anarchy: the Olympian gods war against the Titans, God brings light to a formless void, Brahma creates the universe and then sees Shiva destroy it. In tomorrow's game, on the creation side we have Peyton Manning floating passes to receivers running precision routes. On the destructive we have the Seahawks' Legion of Boom.
Bringing this story down to a more human level, think of the knight against the beast. Or in the case of Sunday's game, Denver's Terrance Knighton vs. "Beast Mode" Marshawn Lynch.
Perhaps we can think of this clash as Sir Gawain against the Green Knight. Peyton would be Sir Gawain, Camelot's premier knight (in this particular Arthurian story) who is humble and soft-spoken as he goes up against the trash talking Green Knight. (GK: "There are about on these benches but beardless children…[M]easured against mine, their might is puny.") Gawain is always calculated and watches his words carefully ("he feared he had been at fault in the forms of his speech"). Like Manning, he tries to eliminate the vagaries of nature from the equation. The Green Knight, by contrast, is freewheeling and not hesitant to go on the attack. Will Manning flinch when Seattle's defense wields its axe? Or will he, in spite of Green Knight's ferocious demeanor, maintain his poise?
I think also of the forces of light and reason in Mozart's Magic Flute battling the chaotic passions, with Peyton Manning as King of the Sun Sarastro battling the Queen of the Night. Will the Phi Beta Kappa student with his preternatural understanding of the game stave off the forces that threaten civilization?
But maybe I'm taking the Seattle defense too much at their own word and should see them rather as tricksters than monsters. While certain people have tried to frame Sherman as a thug (a charge he eloquently refutes), it may be more accurate to see him as a jester who is jerking our chain. Sure, he's a good cornerback, but maybe not quite the force of nature that he portrays himself to be.
For that matter, Russell Wilson is also a bit of a trickster figure, miraculously eluding the grasp of rushing linebackers and shuffling unorthodox passes to receivers when all seems lost.
Think of Sherman as Puck from Midsummer Night's Dream, whose words could be those of a shutdown corner at times:
I'll follow you, I'll lead you about a round,
Through bog, through bush, through brake, through brier:
Sometime a horse I'll be, sometime a hound,
A hog, a headless bear, sometime a fire;
And neigh, and bark, and grunt, and roar, and burn,
Like horse, hound, hog, bear, fire, at every turn.
If Sherman is Puck, then Peyton would be Oberon or Theseus, colorless but responsible kings whose job it is to maintain social order. In the realm of carnival—and what is the Super Bowl but carnival?—Puck reigns supreme.  Oberon's henchman, not Oberon, is what we remember from the play.
If I were a neutral observer, I'd root for Puck tomorrow. But being pre-committed to Peyton Manning, I take consolation that, in the end, order is reestablished after a wild night in the forest. Puck may bring excitement to the drama, but by Act V Theseus and Oberon are back in control. So mouth off all you want, Richard. In the end, you're going down.
I should note that the Green Knight is also a trickster figure, baiting Gawain in a number of ways to see how he will respond. And Gawain, no longer quite so much in his head as he is at the start of the poem (and as Manning was early in his career), learns to incorporate the wild and the irrational into his worldview.
We'll see how much Manning has grown past his early self in tomorrow's game. Will he be able to go with the flow or will he become trapped into overthinking the game? All America will be watching.