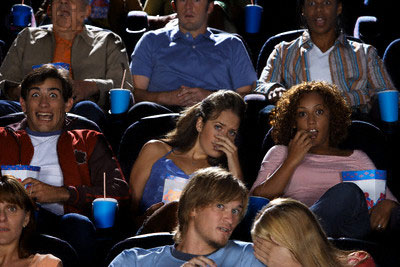 Film Friday
In the latest New Yorker, Anthony Lane has a very smart attack on home streamed movies, which he then extends to all movies watched at home. As he sees it, our desire for convenience is undermining the art form. Here's what he has to say:
There's only one problem with home cinema: it doesn't exist. The very phrase is an oxymoron. As you pause your film to answer the door or fetch a Coke, the experience ceases to be cinema. Even the act of choosing when to watch means you are no longer at the movies. Choice—preferably an exhaustive menu of it—pretty much defines our status as consumers, and has long been an unquestioned tenet of the capitalist feast, but in fact carte blanche is no way to run a cultural life (or any kind of life, for that matter), and one thing that has nourished the theatrical experience, from the Athens of Aeschylus to the multiplex, is the element of compulsion. Someone else decides when the show will start; we may decide whether to attend, but once we take our seats, we join the ride and surrender our will. The same goes for the folks around us, whom we do not know, and whom we resemble only in our private desire to know more of what will unfold in public, on the stage or screen We are strangers in communion, and, once that pact of the intimate and the populous is snapped, the charm is gone. Our revels now are ended.
One could add that watching a film in company adds to the intensity of the experience. When spectators are laughing together at a comedy or shrieking together at a horror film or sobbing together at a melodrama or talking sarcastically back to the screen at a Twilight showing (which our students like to do), this community of strangers becomes a collective. The experience is very different than that which happens at home.
I've quoted in a previous post the maxim that movies are bigger than life while television is smaller than life. Unfortunately, the movies have gotten smaller as they've become more like television (smaller screens, advertisements) and as people have brought television-watching habits into the theaters (going for refreshments mid-movie, reading text messages).  Shown on your television tube, Norma Desmond becomes small.*
Lane's observation about choice is something I hadn't thought of. I will note that, to get some of the movie feel when I put a DVD into my home player, I treat the screen as a theater and eliminate some of the choice: I turn off the lights and allow nothing to interrupt the experience. But because I watch alone or with only Julia—and because I haven't ventured out but am watching it at my convenenience—something is lacking.
Incidentally, there was something like the shift from public cinema to home television with the rise of the novel. It's not an exact analogy, of course, but there are parallels. (Henry Fielding, who had to make a shift from one to the other when the government denied him the stage, thought of Tom Jones in terms of a play.)  Suddenly people could bury themselves in a story at home, reading intermittently and at their convenience, rather than venture out to the public theater.
Actually, closer to our situation is the home theatrical that the Bertrams and Crawfords stage in Mansfield Park. A play staged in the home may be a lot of fun–the 19th century's version of Netflix–but something essential gets lost.
If you don't want the medium to die, support your local movie theater. And, for that matter, your local stage.
*Norma Desmond, of course, is the over-the-hill star played by Gloria Swanson in Sunset Boulevard:
Joe Gillis: You're Norma Desmond. You used to be in silent pictures. You used to be big.
Norma Desmond: I am big. It's the pictures that got small.