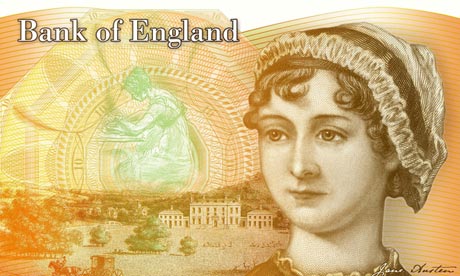 Apparently Jane Austen will be soon be appearing on the British £10 note, only the third woman (other than the queen) to be so honored by British currency. (The other two were Florence Nightingale and prison reformer Elizabeth Frye.) According to a Guardian article, we have British feminists to thank for this.
Given Austen's deep understanding of money and the critical role it plays in social relations, the honor is appropriate. Apparently there is a snafu, however, that is comparable to the mistake, currently being corrected, on Washington's Martin Luther King monument.
In the case of the King statue, a quotation from taken from one of his speeches, "I was a drum major for justice, peace, and righteousness" gives almost the exact opposite impression of what he actually said in his speech. As poet Maya Angelou has complained, the quote makes King sound like "an arrogant twit."
The quotation that will accompany Austen's picture is ""I declare after all there is no enjoyment like reading!" To give you a chance to show off your Jane Austen knowledge and identify it, I continue this post after the break.
Yes, of all Austen's characters, the £10 note has chosen to quote the execrable Caroline Bingley from Pride and Prejudice. Worse yet, Caroline is absolutely insincere when she delivers the line. The scene occurs when Miss Bingley is not actually reading but only pretending to read in order to impress Darcy. Here's the passage:
Miss Bingley's attention was quite as much engaged in watching Mr. Darcy's progress through his book, as in reading her own; and she was perpetually either making some inquiry, or looking at his page. She could not win him, however, to any conversation; he merely answered her question, and read on. At length, quite exhausted by the attempt to be amused with her own book, which she had only chosen because it was the second volume of his, she gave a great yawn and said, "How pleasant it is to spend an evening in this way! I declare after all there is no enjoyment like reading! How much sooner one tires of any thing than of a book! — When I have a house of my own, I shall be miserable if I have not an excellent library."
I can only imagine Jane Austen's reaction to having this passage, of all that could have been chosen, show up on the bill.
What to put in its place? Since we're dealing with money here, I'd like to see a quote from the miserly John and Fanny Dashwood in Sense and Sensibility. How about the following:
Perhaps, then, it would be better for all parties, if the sum were diminished one half.
This, of course, is from the fabulous scene where Fanny talks John into ignoring his father's dying request and instead giving his half sisters no money at all.
If you have any other good Austen quotes for the £10 note, send them in.