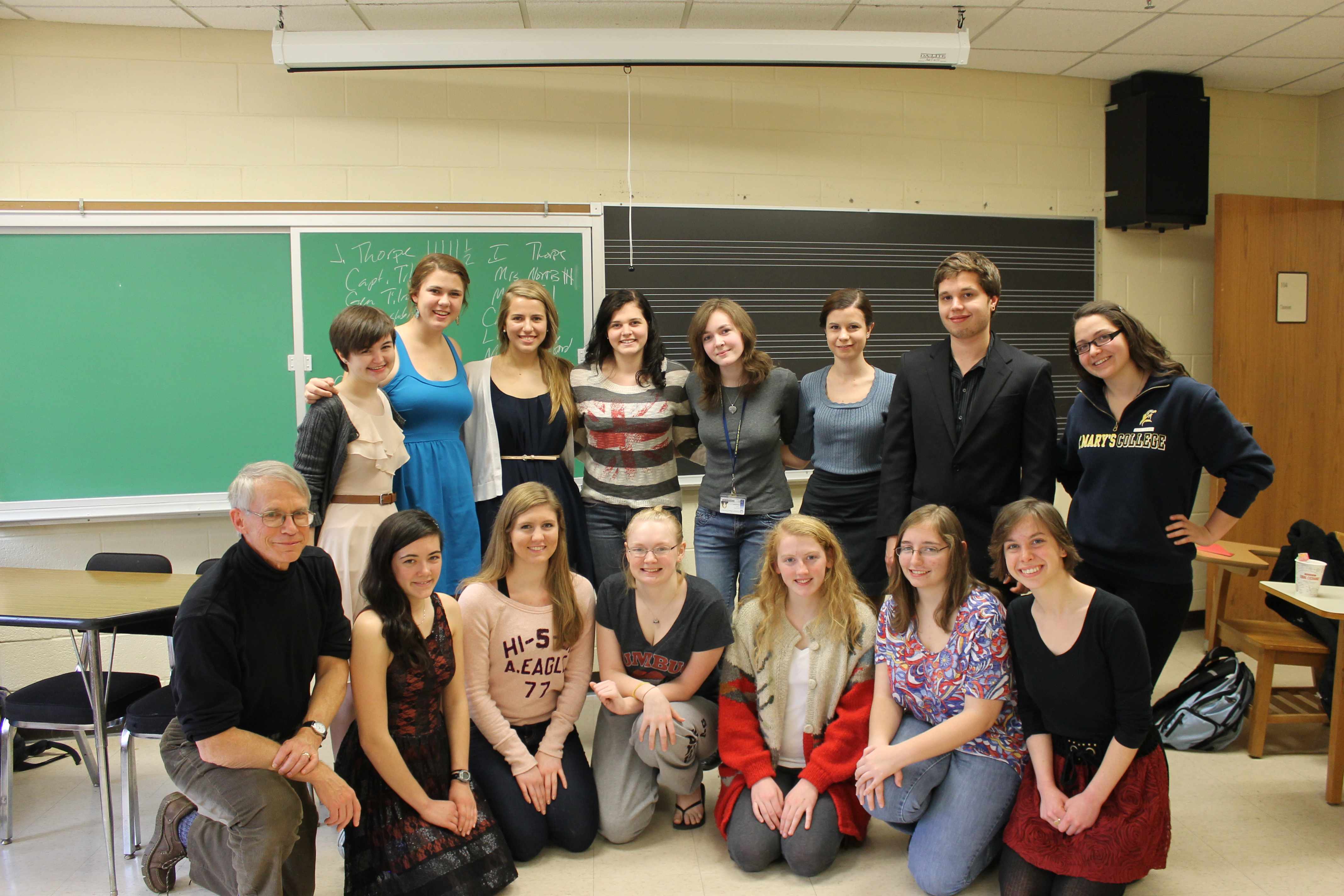 Classes begin today, which means that once again I will be entering into the rich web of student responses to works. When one starts a class, the students appear more or less the same. Literature reveals their wonderful diversity.
To make this point dramatically, I share the essay ideas of the students in last semester's Jane Austen First Year Seminar. I've already talked about the five students who wrote about Persuasion, and my post last week on George Knightley as a Republican moderate was prompted by watching two other students, Bert and Abby, wrestle with Jane Austen's ideas about class.  Here's what the other seven had to say.
Ellen, drawing on an unpleasant high school experience with a BFF (Best Friend Forever, which certain of you above 50 may not know), examined the relationship between Catherine Morland and Isabella Thorpe in Northanger Abbey. Ellen said that she had been shy herself and argued that Catherine, lacking friends or reliable guides when she first comes to Bath, develops a predictable friendship with the older and more experienced Isabella. Even though Catherine must break with Isabella when she discovers her treachery, Ellen made the point that, for a while, she provides Catherine with something that she really needs. Indeed, she helps Catherine establish a certain degree of independence that then allows her to develop as she does.
Bethany explored the dynamics of the Marianne-Elinor relationship in Sense and Sensibility. Being an older sister herself, she had special insight (which writing about the novel allowed her to articulate further) into what it takes for siblings to push beyond rivalry to become best friends. Bethany thought it was necessary for Elinor to give up some of her control and become vulnerable to give Marianne emotional space to mature.
Miranda had a different take on the novel. Disturbed by the 15 year age difference between Marianne and Colonel Brandon, she argued that Sense and Sensibility is a tragedy masquerading as a comedy. Something precious is lost, she said, when the Willoughby-Marianne relationship fails. We know that Austen means us to feel disappointed by Marianne-Brandon by the "pang" that Elinor feels for Willoughby after she hears his story.
Hannah, who like Ellen was initially shy in high school, talked about how she developed confidence through drama productions. She therefore found herself interested in the theatrical that the Bertrams and Crawfords undertake in Mansfield Park. Writing her essay helped her realize the extent to which, through theater, people explore sides of themselves that they have pushed under or failed to acknowledge. She also understood better why adults in the 19th century looked upon theater with suspicion. There's no telling what will happen when young people throw off the constraints drummed into them by their elders.
Kate, a possible psychology major, was interested in why the Bertrams turn out so badly. Asking whether they were shaped by nature or by nurture, she found the major culprit to be nurture, noting that Sir Thomas, while principled, is an aloof father, Lady Bertram is an uninvolved mother, and Mrs. Norris is an overly-indulgent aunt. Edmund and Julia come out slightly better than their older siblings, not so much because of nature but because Edmund models himself on his father's principles and Julia, as the second daughter, escapes some of her aunt's spoiling behavior.
Michelle, who sees some of herself in the heroine of Mansfield Park, was bothered that many readers underestimate Fanny Price and came to her defense. Noting that Fanny is raised by people who deliberately undermine her self esteem so that she won't marry either of the Bertram sons, Michelle talked about the heroism Fanny displays, first in refusing to participate in the self-indulgent theatrical and then in turning down Crawford's proposal of marriage. Michelle located the sources of Fanny's unexpected and impressive strength in her love for Edmund, who works to instill high principles in her when she is young. In its emphasis on love, Michelle found Mansfield Park to be one of Austen's most romantic novels, even though the characters aren't as flashy as they are in, say, Pride and Prejudice or Persuasion.

Finally Alex, an ambitious pre-med major, was interested in what it takes for Emma to step beyond her narcissistic view of the world and into her potential. She focused on the point where the consequences of her self-absorption hit the heroine square in the face: when Harriet declares her love for Mr. Knightley, prompting Emma to acknowledge for the first time that she herself loves him. That Emma is able to admit her flaws and heroically get out of Harriet's way (only she then learns it's not her choice to make) means that she can now have a fruitful relationship with the man who will best nurture her growth. In falling for Knightley, she falls for the best part of herself.
A rich array of responses. And today it starts all over again.