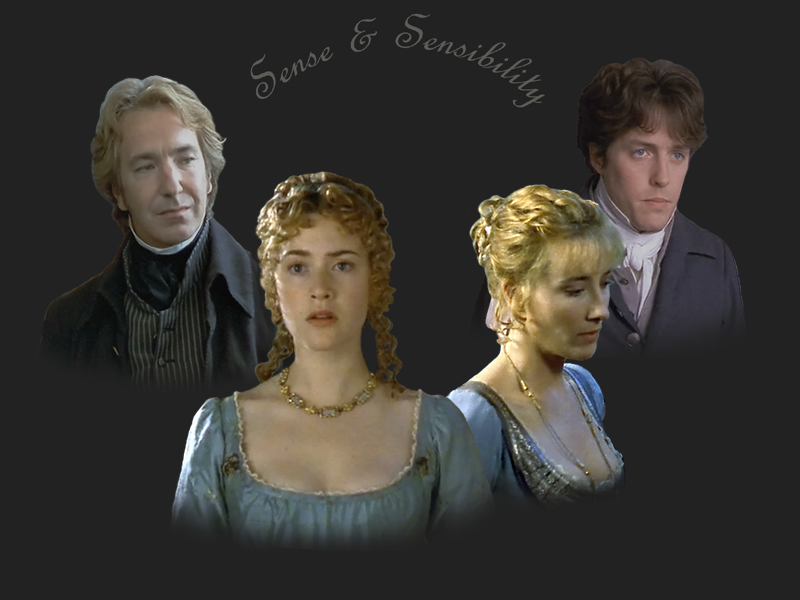 I'm teaching Jane Austen's Sense and Sensibility at the moment and, once again, recalling what a masterpiece it is.  The interactions between the sisters never fail to elicit sibling stories from my students.  Some of us see ourselves as the elder sister Elinor, others as the younger sister Marianne.  As the oldest in my family, I'm an Elinor.
I may talk more on this tomorrow, but I want to share here what may be my favorite line in all of Jane Austen.  It occurs in the very last chapter so, if you haven't read the book, you may not want to read further.
Let me set the scene.  The principled Edward Ferrars has fallen in love with Elinor but, because he has secretly promised marriage to the lower class golddigger Lucy Steele years before, he feels he must honor that vow, even if it means being disinherited by his snobbish mother Mrs Ferrars—and she in fact disinherits him when she learns about Lucy, transferring the estate to Edward's unworthy younger brother Robert.  Lucy, who has an eye for money and shares none of Edward's principles, drops Edward and snares Robert.  The good news is that this leaves Edward free to marry Elinor.
The crafty Lucy manages to grovel her way into the mother's good graces and so she and Robert, along with Robert's insufferable sister Fanny Dashwood and her equally insufferable husband John, all live together with Mrs. Ferrars.  Fanny and John (who is Elinor and Marianne's half brother) have treated the sisters poorly throughout the book, including refusing to follow through on a death bed promise to help them out financially.
In short, the good guys may end up with love, but the bad guys end up with all the money.  How does Jane Austen treat this state of affairs?  Listen carefully:
Lucy became as necessary to Mrs. Ferrars as either Robert or Fanny; and while Edward was never cordially forgiven for having once intended to marry her, and Elinor, though superior to her in fortune and birth, was spoken of as an intruder, she was in everything considered, and always openly acknowledged, to be a favourite child. They settled in town, received very liberal assistance from Mrs. Ferrars, were on the best terms imaginable with the Dashwoods; and, setting aside the jealousies and ill-will continually subsisting between Fanny and Lucy, in which their husbands of course took a part, as well as the frequent domestic disagreements between Robert and Lucy themselves, nothing could exceed the harmony in which they all lived together.
Best terms imaginable?  Nothing could exceed the harmony?  I'm in love with Austen's "setting aside." Everything is perfect except for the fact that there is constant domestic strife and they all live in a hell hole.  Austen wields her sarcasm like a stiletto, quietly inserting it between the ribs and expertly twisting it. 
This may my favorite example of Austen's deadly wit, but it's not the first time she seems to start off positive, only to take it back.  Here, for instance, is how she first describes John Dashwood:
"He was not an ill-disposed young man, unless to be rather cold hearted, and rather selfish, is to be ill-disposed . . .
And then there is the subtle way that she lets us know how Willoughby is punished for his decision to drop Marianne and marry someone wealthy instead:
He lived to exert, and frequently to enjoy himself.  His wife was not always out of humour, nor his home always uncomfortable; and in his breed of horses and dogs, and in sporting of every kind, he found no inconsiderable degree of domestic felicity."
In other words, he used riding and hunting as an escape from a less than satisfactory domestic life.
After Austen's death, her family tried to portray her as their kind and beloved Aunt Jane,  but there's nothing kindly about such passages.  She's out to expose hypocrites and scoundrels and will do so in a way that only appears ladylike.  Don't be fooled by the tea parties.
She's doing more than dishing out justice, however.  She's also challenging us to get our values right.  How do we feel about the fact that Elinor does not become (like Elizabeth Bennett in Pride and Prejudice) the mistress of an estate but instead the wife of a country vicar and a good man? If we think there must be a lot of money attached, then we start becoming uncomfortably like Willoughby, Robert and Lucy Ferrars, and John and Fanny Dashwood.   True happiness, Elinor's marriage signals, lies not in worldly wealth.  
Do we prefer Pride and Prejudice (far more popular, both in its time and today) because Elizabeth becomes mistress of Pemberley, allowing us to revel in the disappointment of Caroline Bingley and all her other critics?  It's a question worth pondering.