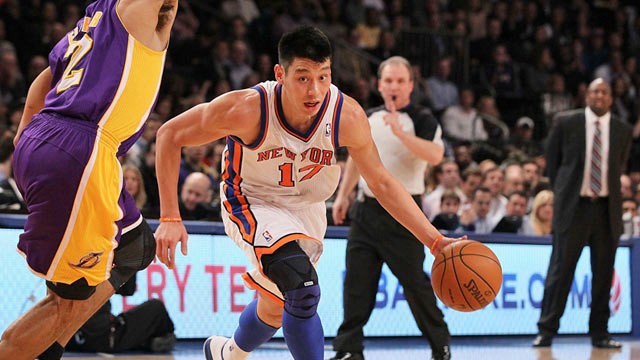 I'm almost embarrassed to admit that I'm one of the millions of basketball fans who have found themselves caught up in "Linsanity"—which (in the off chance you haven't heard) is the excitement surrounding Jeremy Lin, the undrafted Taiwanese-American Harvard-alum point guard on the New York Knicks who has suddenly turned the basketball world on its head.  After sitting on the end of the bench and even being demoted to the D-League at one point, Lin has had, since being thrust into a starting role, the most spectacular first seven games of any starter in the history of the National Basketball Association.
He has hit last-minute winning shots, slashed his way through multiple defenders for spectacular lay-ups, carved up one of the best defenses in the league (the defending champions Dallas Mavericks), outplayed Kobe Bryant, turned around a moribund team, and handled almost everything that teams have thrown at him. He had one letdown against the New Orleans Hornets but then revealed his resilience in the next game (against the Mavericks) with 28 points, 14 assists, five rebounds and five steals.  At one point the 6'3" guard drained a cool three-point shot over 7-foot Dirk Nowitzki, the MVP in last year's finals.
Lin is in his second year but barely played in his first and was cut by the team that signed him as a free agent.  While he is very talented, no one knew it because he couldn't find a system in which his free and aggressive style could flourish.  But as Jason Kidd, the great point guard for the Mavericks, said of Lin's current coach, Mike D'Antoni provides a dream system for point guards.  In Lin, D'Antoni has found a point guard who can take full advantage. As a result, we are treated to what we love most about sports: the way that, upon occasion, we see unpredictable things that astonish us.
Here's the best poem I know about surprise and astonishment. (It is the source of my son Darien's name.) In my rational moments, I must acknowledge that Lin's play might not be quite as spectacular as discovering a new planet or seeing the Pacific Ocean for the first time or even first reading Homer. But Lin's story doesn't allow one to be rational.
On First Looking into Chapman's Homer
By John Keats
Much have I travell'd in the realms of gold,
And many goodly states and kingdoms seen;
Round many western islands have I been
Which bards in fealty to Apollo hold.
Oft of one wide expanse had I been told
That deep-brow'd Homer ruled as his demesne;
Yet did I never breathe its pure serene
Till I heard Chapman speak out loud and bold:
Then felt I like some watcher of the skies
When a new planet swims into his ken;
Or like stout Cortez when with eagle eyes
He star'd at the Pacific—and all his men
Look'd at each other with a wild surmise—
Silent, upon a peak in Darien.