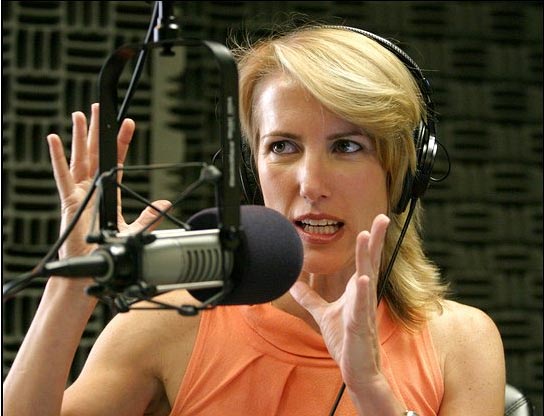 Since I wrote about Swiftian satire yesterday, I was interested when a current political satirist was contrasted with Swift in yesterday's Washington Post. Laura Ingraham has a new book out which purports to be the secret diaries of Bo, the White House dog.  In his review Steven Levingston concludes that, while the book is sometimes brilliant, the author does not belong at the same table as Swift. That is because The Obama Dairies is ultimately confused about its purpose. Here's Levingston:
All of this is great fun. And the book might have been a little masterpiece, if it weren't for a fatal flaw. Ingraham can't decide whether she wants to be a satirist or a polemicist. The satirist would have given us the diaries, kept herself out of the story and let us make what we wanted of them. That's the power of satire: to awaken its audience by shock and exaggeration, without commentary. But the diaries, unfortunately, make up only part of the book. Half, if not more, of "The Obama Diaries" is Ingraham's critique of the Obama family and administration . . .
You either maintain the literary conceit or you abandon it — flip-flopping, as any political pundit knows, only leaves a ruinous imbalance. In Ingraham's case, it causes her to squander her literary deadeye on vapid hyperbole — the kind of political belching commonly found in the pages of inferior conservative stylists such as Glenn Beck, Newt Gingrich and Sean Hannity.
"So we have a lot of work ahead of us," she stoops to conclude. "This is 'freedom's last stand.' " And she was so close to a seat at Swift's table!
I've argued in a past post that the American right needs a good Shakespearean fool to keep us all honest. (The left has John Stewart.) It needs people who will call out cant, regardless of whether it comes from liberals or conservatives. When I started reading Levingston's review, I wondered if Inghram could be the one. Then I started reading some of her "vapid hyperbole" and decided to go no further.
Is Obama at times smug or arrogant? Yes. This is a man, after all, who chose to write his memoirs when he was a young man who had not accomplished a great deal. This is a man who, while running for president, chose to deliver a foreign policy speech in front of the Brandenberg Gate. When Swift encountered these traits in someone, he went ballistic. If Obama knows what's good for him, he'll look for what is constructive in Inghram's satire and self-correct. A good satirist is a boon to a leader, bursting the bubble that can destroy a presidency.
But saying that "we have a lot of work ahead of us" and then invoking a phrase like "freedom's last stand" should not only bar Inghram from Swift's table. It should keep her out of his house altogether. As my students would say, "Puh-leez!" This call to action reads like self-parody, with Ingraham resembling the patriotic Gulliver of Book II. This is the Gulliver who is so infused with the rightness of his cause that he can't see how small he really is, even though he is surrounded by the Brobdingnag giants.
I suspect Swift would be as hard on Inghram as he would be on Obama. After all, his final target in Gulliver's Travels is the holier-than-thou satirist. Gulliver in the final book of The Travels has essentially become someone who puts himself on a special pedestal. Obsessed with attacking the pride of other human beings, he becomes blinded to his own. He can't find any reasonable place to stand and goes mad. His family has to learn to work around him.
(Incidentally, I'd love to hear back how about how John Stewart does in the humility department. Does he ever come across as high and mighty? Does he engage in self-satire when he does so? Or is he just a left version of Laura Ingraham? I haven't watched enough of him to know.)
Being obsessed with someone else's depravity is not a good place to be if you want to construct a better world. At the moment, there are people on the right who are so obsessed with Obama that they can't see straight. And by the way, there were people on the left who were similarly obsessed with George W. Bush. In fact, both presidents were pretty shrewd about the hysteria, figuring that an incoherent opposition that appears most interested in throwing temper tantrums makes it easier to accomplish things. Not everything they want, perhaps. But a lot.
So the post of a Shakespearean fool for the Republicans appears still open. If there's anyone I've overlooked, please let me know.