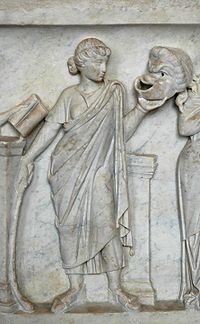 I've been thinking about how shallow and dishonest political speech has become in recent years. Then again, maybe it's always been like this and I'm just noticing it more. When politics enter the picture, it appears that people start becoming stupid. Outlandish claims and ridiculous reasoning are either (1) accepted as factual or (2) seen as necessary evils in the "war" ( a commonly used hyperbolic metaphor) against one's political enemy. In case #2, the argument that the ends justify the means seems to be accompanied by the assumption that one has dumb allies who need to be bamboozled in order to vote how you want them to vote.
It's as though the observation of cynic H. L. Mencken has become enshrined in American political practice, to wit: "No one in this world has ever lost money by underestimating the intelligence of the great masses of the plain people. Nor has anyone ever lost public office thereby."
To be sure, there are politicians who take logic seriously and who take the American voter seriously. I think the President is one of these. But there are many at all points on the political spectrum who (to borrow a phrase from Jack Nicholson in As Good as It Gets), look at the American people, "take away reason and accountability," and proceed from there.
I've been targeting Tea Party rhetoric quite a bit in this blog so today let me call out someone on the left. Markos Moulitsas, founder of the leftist blog Kos, has a new book entitled American Taliban: How War, Sex, Sin, and Power Bind Jihadists and the Radical Right. I haven't read the book and I'm not going to. But looking at the title and reading a description of the contents, it sounds like Moulitsas is engaging in a tactic used by many commentators on the right: arguing by analogy. Glenn Beck, for instance, routinely compares President Obama to Hitler. (So routinely that comedian Lewis Black wonders whether Beck suffers from "Nazi Tourettes.") Comparing the American right to the Taliban is similarly lame.  Beck or Rush Limbaugh or Anne Coulter are no more going to stone people to death than Obama is going to send SS troops into the headquarters of the National Rifle Association.
I like what Atlantic Monthly blogger Ta-Nehisi Coates has to say to Moulitsas'  line of argument:
As is often the case, with arguments that lead with analogy, the point isn't to clarify anything, it's to turn heads. . . I don't believe you claim that the American right's tactics are "almost indistinguishable" from the Taliban because you think it's adroit and original. You do it to elbow your way up the best-seller list.
And then Coates goes on to invoke Faulkner:
That's fine–it's an accepted strategy. But speaking only for me, if your commitment is to making me look, as opposed to making me think, expect that I will only look once. Everything you say afterward is compromised in my eyes. Faulkner is still waiting.
I disagree with Coates only when he says that it's fine. "Accepted strategy," I assume, is his resigned acknowledgement that this is how the political (and publicity) game is conducted, but we're all played for suckers when this strategy is deployed. Worse, the nation suffers.
I suspect that Coates' mention of Faulkner is a gesture towards language being used with integrity. Reading great literature, in other words, trains us to recognize bullshit.
But other than producing quality prose and poetry, what can authors do to expose debased political language? Comic satire is one response. In the past, few have been as penetrating, or as relentless, as Jonathan Swift.  Jane Austen too was no slouch when it came to calling out fools, scoundrels, and hypocrites, and in America we had Mark Twain.  Who do we have today?
Novelist Philip Roth (say, in The Human Stain) is one, as is comedian John Stewart of the Daily Show. Gary Trudeau in Doonesbury sometimes hits the nail on the head. I welcome any candidates that you have and will return to this issue in the future.