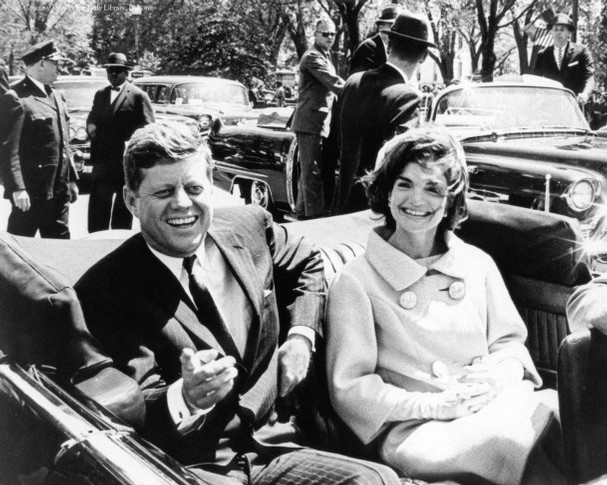 E. J. Dionne of The Washington Post had a fine column the other day on why John F. Kennedy, assassinated fifty years ago today, continues to inspire us. His thoughts remind me of a poem that Lucille Clifton wrote 25 years ago on the 25th anniversary of his death.
Dionne writes,
Whenever we reflect on the horror of Nov. 22, 1963, we mourn not only the murder of a graceful and inspiring leader but also a steady ebbing in the years thereafter of our faith in what we could achieve through public life and common endeavor.
And further on:
For all his emphasis on change and departures, Kennedy was speaking for a deep consensus in the country (Ike was part of it) about the meaning of our triumph in World War II and our success in overcoming the damage done by the Great Depression.
As Robert Reich has written, these were large social undertakings in which all Americans felt they had a stake. As a result, "society was not seen as composed of us and them; it was the realm of we ." A nation inspired by this capacious understanding of "we" could not escape its rendezvous with civil rights and social justice. After Kennedy's death, Lyndon Johnson harnessed his formidable political skills to a tide that was with him.
Back then, we were, as always, critical of politicians, but we were at least open to the idea that politics could be ennobling.
Clifton makes a related point. Alternating between white and black voices ("those days," "them days"), she talks of a time "when the spirit of hope/reached toward us waving a wide hand/and smiling toward us," a time "before the bubble closed/over the top of the world":
november 21, 1988
25 years
those days
before the brain blew back
mottled and rusting against the pink coat
them days
when the word had meaning
as well as definition
those days
when honor was honorable and
good and right were good and right
them days
when the spirit of hope
reached toward us waving a wide hand
and smiling toward us    yes
those days
them days
the day
before the bubble closed
over the top of the world    no
this is not better than that
Them days also included King's August 28 "I have a dream speech" It was possible in 1963 to imagine black and white collaboration rather than the rifts that would arise between white liberals and black militants as the decade wore on, a rift that would have catastrophic consequences.
I'm normally a little suspicious of those who imagine alternate histories as they long for the good old days. We might well have found ways to screw things up royally even had Kennedy served two full terms. But to indulge in such dreamy speculation for a moment, if Kennedy had kept us out of the Vietnam War, then the anger of draft-age men, both black and white, would not have been so severe, meaning that the generational clashes probably would have been less charged. We might not have seen the bitterness that contaminated the country's politics for decades afterwards.
Okay, enough regret. Time again to look forward and make the best of the hand we have been dealt. Kennedy would have wanted it that way.