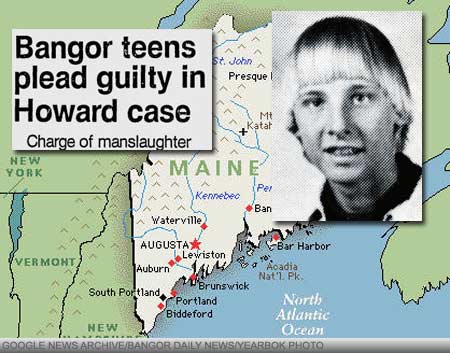 Almost thirty years ago—on July 7, 1984—a gay man drowned after three Bangor, Maine teenagers threw him over a bridge. The incident was memorialized in a powerful Mark Doty poem that came to my mind yesterday as I heard about Uganda passing "fascist" legislation condemning gays to life prison sentences. ("Fascist" is the term once applied to the bill by the Ugandan president, who then executed a turnabout and is now embracing it.) Even as liberals celebrate judges increasingly ruling in favor of same sex marriage, it is no time to relax as blatantly discriminatory anti-LGBT measures have been forwarded in the Kansas legislature and passed by the Arizona legislature, although the latter may be vetoed by Governor Jan Brewer. Apparently the virulent propaganda of American Christian conservatives, which led to the Kansas and Arizona legislation, is also being used as justification in Uganda and in Russia as well. 
In his poem Doty writes that for all of Charlie Howard's life, he was falling down a gulf between "what he knew and how/he was known." Doty imagines how Howard incorporated the anti-gay slurs into his sense of self—"faggot was the bed he slept in"—and so found ways to transform his victimization into a kind of grace. A  Ploughshares article about Doty notes how important it was for him to take on such subjects in the 1980's:
Doty took bold steps toward becoming the first post-Stonewall gay poet to emerge as a major voice in American letters. His predecessors, such as James Merrill, William Meredith, and Richard Howard, had all favored a more privileged tone and vocabulary, elaborate ventriloquism through personae, or occluded references to homosexuality. On the opposite spectrum, Ginsberg used an expansive self-mythologizing strung along an elastic line to address topics that placed him on America's sexual margins. With Turtle, Swan, Doty effectively merged the political with the aesthetic, uniting a taut line with a lyric voice and an imagination that included notions of activism. Simply by being open about his sexuality, by using it as a subject for his poems without having it be the subject, Doty created a new model for gay and lesbian poets and poetry. 
Charlie Howard's Descent
By Mark Doty
Between the bridge and the river
he falls through
a huge portion of night;
it is not as if falling
is something new. Over and over
he slipped into the gulf
between what he knew and how
he was known. What others wanted
opened like an abyss: the laughing
stock-clerks at the grocery, women
at the luncheonette amused by his gestures.
What could he do, live
with one hand tied
behind his back? So he began to fall
into the star-faced section
of night between the trestle
and the water because he could not meet
a little town's demands,
and his earrings shone and his wrists
were as limp as they were.
I imagine he took the insults in
and made of them a place to live;
we learn to use the names
because they are there,
familiar furniture: faggot
was the bed he slept in, hard
and white, but simple somehow,
queer something sharp
but finally useful, a tool,
all the jokes a chair,
stiff-backed to keep the spine straight,
a table, a lamp. And because
he's fallen for twenty-three years,
despite whatever awkwardness
his flailing arms and legs assume
he is beautiful
and like any good diver
has only an edge of fear
he transforms into grace.
Or else he is not afraid,
and in this way climbs back
up the ladder of his fall,
out of the river into the arms
of the three teenage boys
who hurled him from the edge—
really boys now, afraid,
their fathers' cars shivering behind them,
headlights on—and tells them
it's all right, that he knows
they didn't believe him
when he said he couldn't swim,
and blesses his killers
in the way that only the dead
can afford to forgive.