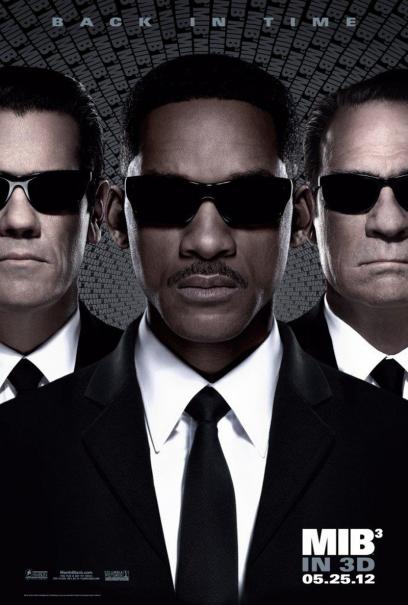 Film Friday
Julia and I are in Davis, California awaiting the birth of our second grandchild so, to amuse ourselves, we went to see Men in Black III, the most highly rated film available (which is depressing since Davis is a university town). Am I going too far to suggest that the Men in Black series (I've seen I & III) is a healthy response to immigration and globalization?
MiB's premise is that many of those strange people that you see on television or on the street are actually aliens. But not, for the most part, bad aliens. Multicultural diversity is good, and law enforcement officials are expected to be racially sensitive. The men in black may be dressed like 1960's FBI agents but, rather than undermining the Civil Rights Movement (thank you, J. Edgar Hoover), these ones are respectful of otherness.
Which they'd better be since they are interracial partners, a southern good ole boy who likes cowboy music and apple pie (Tommy Lee Jones) paired with a polished urban black man (Will Smith). I find it comforting the degree to which Jones accepts his confusing post-modernist world. He's not a Tea Partier ranting about how America doesn't look like it did when he was growing up.
Along these lines, there's an interesting contrast to be drawn with Invasion of the Body Snatchers, the 1956 film in which pod people descend upon a small town. As in Men in Black, you never know if your next door neighbors are actually who you think they are or if they are aliens. The film plugged into American fears that, as they moved into homogeneous suburbs and began working for large corporations like IBM, they would lose their individuality. They projected this fear onto the Soviet Union, imagining it to be sterile and faceless, but they were actually most concerned with protecting their own unique personalities.
What the sixties and seventies taught America (although not everyone was willing to learn the lesson) is that diversity makes for a healthier and more vibrant society. We can move beyond the Tea Party paranoia of Body Snatchers ("They're here already! You're next! You're next, You're next…!") and accept that we're living in a new world with a new set of challenges that we need to work on together.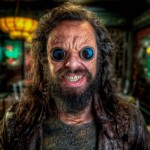 I think this is why Men in Black III, when it travels back in time, travels back to 1969, a year when America was in the midst of major identity change. In the best Hollywood style, it manages to find a villain that everyone, left and right, can agree to hate: a thuggish Hell's Angel. By choosing him, it's as though the film is saying, "The Sixties were going so well, what with the flower children of Haight Ashbury and the "three days of fun and music" at Woodstock, and then the motorcycle gang showed up at a Rolling Stones concert in Altamont and killed a man.
Hell's Angels weren't the only thing wrong with American in 1969. In fact, the most improbable thing about the movie—more improbable even than a strange creature escaping from a maximum-security fortress on the moon (okay, so maybe not that improbable)—is the fact that the commander in charge of the Cape Canaveral launch site is African American. This would not have been the case for such a high profile event, segregation still being alive and well (although technically illegal) at the time.  I believe it was 1969 when a mixed race couple was escorted by shotgun out of a pizza joint (Tubby's) a couple of miles from Sewanee, Tennessee where I was living. America still had a ways to go.
I mention this particular instance because my son Toby has married a Trinidadian of African and Carib descent and I await (any hour now as I write this) the birth of a mixed race granddaughter (Breaking News: Esmé Eleanor Wilson-Bates was born last night at 2:58). This makes issues of tolerance particularly urgent for me. So I appreciate that Men in Black, which Toby and Candice recommended, takes for granted a broadly diverse population. Taking for granted is a deep form of acceptance.
At the end of the film, a security shield is set up to protect the world from the hate that would devour it and a white man and a black man can sit down together in a diner to eat pie.  I wonder how the film is playing in Arizona, Alabama, and those other states with hardcore racial profiling and deportation laws.
Addendum
There is one very painful part of the film for me: reliving the epic collapse of the Chicago Cubs to the Amazin' Mets. It was the most traumatic sports loss of my childhood. On the other hand, it was fun reliving the moon landing. Somehow Vietnam, which was uppermost in our minds, never gets mentioned.